Here Is What Needs To Happen on TNA Impact Wrestling in the Next Few Weeks
October 6, 2011
Let's see, it is reported Hulk Hogan will not retire tonight on TNA as expected, as PW Insider (h/t WrestleZone) says he will re-sign.
Let's see, that means Hogan and presumably Eric Bischoff are still in the upper echelon of executives within the company.
Let's see, there is a Bound for Glory PPV coming up where we are expecting a new TNA World champion to be crowned.
Let's see, there is a Four Way Dance for the TNA Knockouts title.
Let's see...ugh, I am tired of seeing—let's just talk about it.
Tonight should be one of the more interesting Impact shows we have seen in a bit. And judging from the issues over in the "other" promotion, now would be a good time to get a little more creative with their wrestlers and their ideas on how to build the brand.
So much is happening right now with wrestling in general.
The Hardys are either in jail or in trouble with the law. Hogan decides not to retire and now raises questions about the BFG match with Sting. Kurt Angle is training for the Olympics and has to put the title on someone else. The divas have lost a little momentum and of course, there is always the X-Division that needs to be utilized more.
Since we are not sure what the "conspiracy theory" is or when it will happen, the WWE is really looking like Civil War (of course it's an angle) and those of us who love TNA want to see more from its wrestlers and creative team.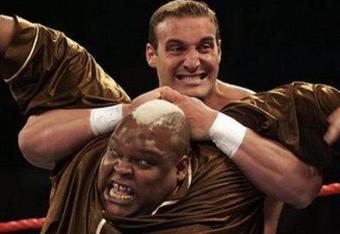 Sans Vince Russo.
Now would be a great time for change in TNA. Cut the fat (Robbie E, Eric Young, Rob Terry) and bring in a few new faces (Chavo Guerrero, Chris Masters, bring back Gail Kim). I would love a chance to play with the roster, deal with the budget cuts and get creative with their writers. Yes, a pipe dream, but nonetheless, I and others have ideas that would work if someone would listen.
I agree, put the title on Bobby Roode, but do it in such a fashion that wrestlers like Gunner, Austin Aries and yes, James Storm become instant challengers. 
Get AJ Styles back involved in main-event matches.
Bring in more tag teams and of course, build with the players you have. Kid Kash and Aries would make for a great team. So would Matt Morgan and Crimson. Find a way to get The Pope the television title and continue the Bubba Ray and Mr. Anderson angle.
While you are at it, get Jerry Lynn on the show more and give RVD more of a spot. Cut out Scott Steiner and Jeff Jarrett. Keep Karen Jarrett on but keep her mouth shut. She looks good but sounds awful.
Give Kazarian a better role as well.
And the best thing you can do right now is live in the glory of the moment. Fans want to see the changes that can happen. That should start with Roode and a title run. What ever else happens should be mandated by how the fans receive changes one step at a time.
And for God's sake, please no more AJ Styles and Christopher Daniels. I can't take it anymore.