NFL Picks Week 5: Houston Texans and 3 Teams That Will Win Ugly Games
October 6, 2011
Thomas B. Shea/Getty Images
Oakland Raiders owner Al Davis said it best when he said "Just win baby!" Maybe his reasons for saying that were a little different than mine, but it holds true.
It doesn't matter how you win in the NFL so long as you win. No one is judging the wins on style.
That's good for the following three teams. These teams will win ugly games this week.
Finesse teams with explosive offenses like the Texans don't often win ugly, but they will this week against the Oakland Raiders.
They will be without Andre Johnson and that means that they will be turning to the running game for more production. That's fine since they have Arian Foster back there, but it will make for a much more physical game.
The Raiders defense is also underrated. Without Nnamdi Asomugha, their secondary is a mess, but their front seven is still solid and they like to get physical. I don't know that the Raiders are good enough to give the Texans a big challenge, but they will at least be able to get the Texans to play their style of football.
With an offense that is built around a rookie quarterback and a defense that has been better than advertised, the Bengals are the poster child for winning ugly games.
Their opponent in this game, the Jaguars, plays ugly games as well, but that's largely because they haven't been any good this season.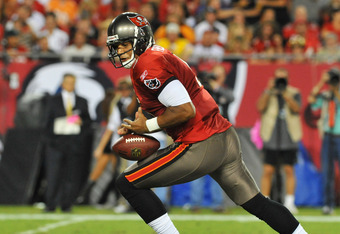 Al Messerschmidt/Getty Images
Expect the Bengals defense to bottle up the Jaguars offense, led by Maurice Jones-Drew, on the way to getting a win.
The Buccaneers are playing well this season, but for many, they still need to do more to prove they are real contenders in the NFC South. The 49ers, their opponent this week, are one of the biggest surprises this season.
Both teams play a brand of football that is not particularly aesthetically pleasing. Both prefer to get their points on the ground.
The Buccaneers will end up getting a win this week in a physical game that will come down to which defense forces the quarterback to make mistakes, taking potential points off the board.