Penguins vs. Canucks Live Blog: NHL Opening Day Analysis and Reaction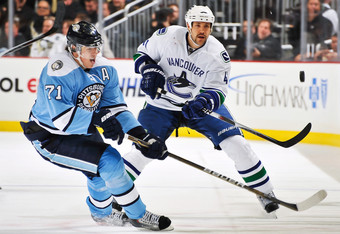 The Penguins beat the Canucks, 3-1, in their last meeting.
Jamie Sabau/Getty Images
Evgeni Malkin's Pittsburgh Penguins open the season in Vancouver to take on Roberto Luongo and the Canucks, last year's Western Conference Champions. Opening day's late game will pit early favorites from each conference against each other. The Penguins took the only matchup last season 3-1, in Pittsburgh.
For the Penguins, the big story is the return of Evgeni Malkin from a knee injury. In Vancouver, the goal is to repeat last year's regular season success. Look for a spirited battle between two of the most balanced lineups in the league, and keep up with the live blog for more in-depth analysis, witty banter, world-class writing and can't-miss predictions.
When your goaltender always ends up with his head parallel to his leg pads, you know patience will get you a goal. Penguins win 4-3 (SO) on goals from Letang and Malkin. Also, Marc-Andre Fleury is the best shootout goaltender in the game. Good game from both teams. Concerning that the Pens slowed down near the end, but held on nonetheless. Looks like the Canucks haven't missed a beat, and Pens seem to have figured out their PP woes. Good seasons ahead for each team. Thanks for following.
The Penguins are in a shootout. Did not see that coming.
Overtime, folks. Good game. Big saves by Fleury late, looks like everyone's wearing down near the end.
3-3. Penguins excelled in third-period collapses a year ago. Guys were tired on a delayed call, still not a goal you want to let up. Another power play may make the difference here, one way or the other.
Staal just limped off the ice. No clue what that was about. Not looking good.
Versus still using the old Kings logo for tomorrow's preview. This is the new NBC/Versus?
James Neal with a beast mode shift, then the Canucks come right back and seize momentum. Big period coming up.
3-2 Penguins. Ballard rips one past Fleury skating at full speed. No defense in front of him, game tightening up again.
Completely related, but the Yankees just went down as Alex Rodriguez struck out. The Evil Empire is now out of the MLB Playoffs. Bummer, as its ammunition for my friends who argue that an MLB salary cap is unnecessary. #Morons
Burrows and Letang trading hooking minors right now. So far, Pens winning the special teams battle by a mile. A little four on four for you.
Matt Cooke (2) (SH) Matt Cooke now leading the Rocket Richard race after blowing one over Luongo's shoulder on the penalty kill. Luongo can't be happy with that one, but good job by Cooke to disguise the shot then pick his corner. #WhoNeedsCrosby
Second period underway, and the Canucks are flying. Dam hasn't broken yet, though.
Fleury with an insane glove save on Sedin, though it came within a hair's breadth of crossing the line. A save like that should take the stink off that goal allowed.
Canucks with their first, 2-1 Pens. Fleury and Luongo now going puke for puke on terrible goals allowed.
Matt Cooke (1) (PP), Assist: Dupuis Penguins now have two power play goals on two chances, from James Neal and Matt Cooke—two guys who did not appear in last year's playoffs. BOOM.
If you're a defensive player in this game, you're probably happy these teams are meeting now, and not mid-season. Plenty of pretty plays that won't connect due to early-season timing, though both clubs are still getting up and down the ice quickly.
First power play of the game. Pens' PP improved mightily during the preseason, but the Canucks' PK is no joke. Strength vs. wild unknown.
—
I guess that answers that. Neal getting off to an early start. Not a goal that should have gone in, though.
Penguins forward lines, consistent through most of training camp:
Sullivan - Malkin - Neal
Kunitz - Staal - Kennedy
Cooke - Letestu - Dupuis
Asham - Vitale - Adams
Marc-Andre Fleury to start in goal.
Orpik won't be playing tonight. Deryk Engelland to take his spot in defensive pairings. Looks like Letang-Engelland, Martin-Michalek, Lovejoy-Niskanen. Need to confirm.
Almost game time. Wonder how many goals Luongo will whiff on. Also, at least one forward line of Penguins is due to fall to injury. #2010-11blog
If the Bleacher Report comment system just isn't fast enough for you, berate me on Twitter, @slewfooters.
Pens' PK last year finished first overall, Vancouver second overall. Vancouver PP finished first overall, Pen's man-advantage didn't manage to cross the finish line. I believe they quit accepting power plays in mid-March and began keeping track of who could flip the most Murphy dumps off the torn-out pages of Maxim girls taped to the bottom of the jumbotron. Special teams should be interesting tonight.
Unrelated to Pens-Nucks, but Marchand's goal in BOS-PHI was pretty. Great breakout pass by Tyler Seguin on the man-advantage.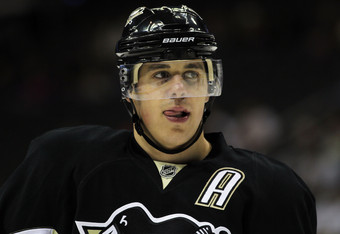 Thanks to all those following. First game for two very good teams. Going to be a great match for fans not only of both teams, but of the game of hockey.
This article is
What is the duplicate article?
Why is this article offensive?
Where is this article plagiarized from?
Why is this article poorly edited?

Pittsburgh Penguins: Like this team?