Fantasy Football Week 5 Rankings: Matt Forte and Top 3 RBs
October 6, 2011
Wesley Hitt/Getty Images
A number of running backs are set to have major days for your fantasy football team this week. Here, I will detail three of them set to make big contributions should you have them on your roster.
Matt Forte, Chicago Bears (at Detroit Lions)
Matt Forte has single-handedly given life to the Bears offense, and that should continue this week. Though he fell relatively flat in Week 2 and 3, he dominated in his team's Week 4 win over the Carolina Panthers, running for 205 yards and a touchdown.
On the season, he has 324 yards on 60 rushes and one touchdown. He's an asset in the Bears' otherwise underwhelming passing game as well, with 26 receptions for 310 yards and a touchdown.
It goes without saying that he's tremendously valuable in PPR leagues, especially this week; while he won't likely have another 200-yard game against the tough Detroit Lions defense, he will be heavily involved in pass plays.
The Lions defense is tough against both the rush and the pass, and it's a long shot that the Bears can win on Monday night. However, Forte is the Bears' best offensive weapon and will have as good a day as he can while facing such a difficult squad.
Adrian Peterson, Minnesota Vikings (vs. Arizona Cardinals)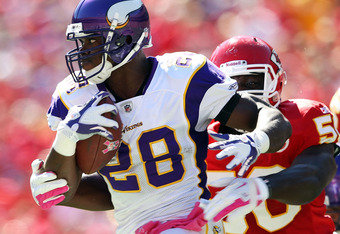 Jamie Squire/Getty Images
Another player carrying his team's poor offense on his shoulders is Vikings running back Adrian Peterson. It says a lot about his skills that no matter how well or poorly the team around him performs, he remains a No. 1 overall fantasy draft pick year after year.
Age and overuse have yet to catch up with him, which is good news for his fantasy owners; even better is the matchup he faces this week against the 25th-ranked Cardinals run defense.
While the similarly poor Kansas City Chiefs run defense had a bit of success stopping him last week, with 23 rushes for just 80 yards, one three-yard reception and no touchdowns, I don't see the Cardinals coming to town and repeating that performance this week.
One hundred yards and a score or two is not out of the question from Peterson, while his team continues on its quest to notch its first win of the season.
Cedric Benson, Cincinnati Bengals (at Jacksonville Jaguars)
Cedric Benson might begin serving his three-game suspension as soon as Week 6, but this week he will take the field with his team against a struggling Jaguars squad that's allowing an average of 107 rushing yards per game.
The Bengals have been surprisingly competent and balanced this year, which means the entire offense doesn't hinge on Benson's production to keep them in games. While this isn't a liability for Forte or Peterson, Benson benefits more from a balanced offense and a well-timed play to make an impact.
On the season, Benson has 77 rushes for 348 yards and a touchdown, and is averaging 87 yards per game. I would not be surprised if he meets or exceeds those 107 average rushing yards put upon the Jaguars this Sunday, with another touchdown.
His owners should try to get value out of him while they can, since they are likely to be without him for the next three weeks of the season.