The Best Dunks of All Time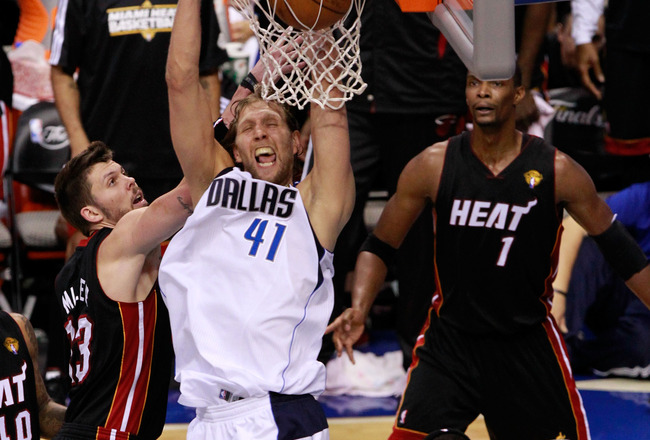 Dallas Maverick Dirk Nowitzski dunks in the 2011 NBA Finals.
Tom Pennington/Getty Images
Whether it's Julius Erving soaring through the air from the free throw line or 5' 7'' Spud Webb showing his vertical leap, the NBA Slam Dunk Contest is a staple of All-Star Weekend. Here are the best slam dunks of all time. Some of the players included are Julius Erving, Spud Webb, Michael Jordan, Nate Robinson, Dee Brown and Vince Carter. Carter truly became "Vinsanity" after his 2000 display, where he even told the judges that the competition is all over.
Julius Erving Replicates His 1976 Free Throw Line Dunk in 1984
Julius Erving establishes the free throw line dunk in 1976 and repeats it in 1984.
Julius Erving Rocks the Baby on the Los Angeles Lakers
Vince Carter 2000 Slam Dunk Contest
Vince Carter puts on a show at the 2000 Slam Dunk contest.
5' 7'' Spud Webb Defeats Teammate Dominique Wilkins in the 1986 Contest
Spud Webb may only be 5' 7'' tall, but he sure has some hops. He is able to fend off teammate Dominique Wilkins in the 1986 Slam Dunk Contest.
Michael Jordan Tops Dominique Wilkins in the 1988 Slam Dunk Contest
Michael Jordan defends his Slam Dunk Contest title against "The Human Highlight Film" in the 1988 competition.
Michael Jordan Free Throw Dunk
Michael Jordan does his rendition of Julius Erving's free throw line dunk.
1991 Dee Brown No-Look Dunk
It looked as if the Seattle Supersonics' star Shawn Kemp was going to win the 1991 Slam Dunk Competition. That was until Dee Brown performed his famous no-look dunk and stole the trophy.
Nate Robinson Jumps over Spud Webb
Who can forget Nate Robinson over Spud Webb in the 2006 Slam Dunk Contest?
Keep Reading