Week 6 College Football: Michigan Wolverines Look to Break New Ground on Road
October 6, 2011
Leon Halip/Getty Images
The Michigan Wolverines football team is off to a terrific start.  Brady Hoke looks like the right man for the job as he leads his 5-0 Wolverines away from the familiar confines of the Big House for the first time this season.
This game will be more telling than it looks.  Rich Rodriguez was able to take Michigan to 5-0 last year before finishing 2-6.  He also took the Wolverines to 4-0 in 2009 before finishing 1-7.  Starting 6-0 will be a huge step in the right direction since Michigan has started fast and deflated even faster the last two years under Rodriguez.
Another trend Hoke would like to amend is the Wolverines' failure to win Big Ten games on the road.  They have compiled a 3-9 conference road record ever since Lloyd Carr stepped down following the 2007 campaign. 
The Wolverines have an exciting and talented team of youngsters who are fine-tuning new offensive and defensive schemes still as the season grinds on.  As they look to start 6-0 for the first time since 2006, they will more importantly try to prove they can win tough games on the road.
If they want to be a major player in the Big Ten this year they will have to.  They only play four games on the road all year, which is a huge benefit for a young team, but they will have to try to win at Michigan State, Iowa and Illinois after this meeting in Evanston, Ill.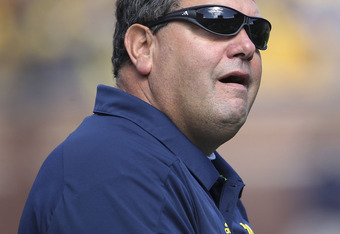 Leon Halip/Getty Images
Denard Robinson has been electrifying as expected, but has also looked a lot more inconsistent through the air so far this year.  He has completed just 55 percent of his passes on the year with six interceptions, though optimism shines through after a nice 15-of-19 tune-up in his Big Ten opener against Minnesota last week.
The story with Robinson is always his legs, and he leads the Big Ten with 603 yards on the ground while Michigan leads the conference with 272 yards per game on the ground.  Michigan is still going without a lead back, but it has worked effectively using a plethora of fresh legs to run all over opponents.  Northwestern enters the game giving up 174 yards per game, which makes this a great matchup the for Wolverine ground game.
Dan Persa, the senior quarterback for the Wildcats, will play in his second game after returning from injury.  He came out firing in Northwestern's loss to Illinois last week, throwing four touchdowns in the first 38 minutes of the game on only 14 attempts.  The Wildcat's will need him to be sharp again to get past the much improved Wolverines defense.
After giving up more than 35 points a game last season, Hoke's regime has started out giving up only 10 points a game, a real testament to the changes he and defensive coordinator Greg Mattison are setting in motion.  They are also tops in the conference in turnovers forced, with three per game.
Being away from home for the first time this year, the ground game will be Robinson's best friend to calm the early nerves of the road.  Even if Persa is on his game and Northwestern poses an early threat, Robinson has proven his nerves are made of steel.
This one will be another lopsided victory for the Wolverines, charging them to 6-0.