College Football: No. 19 Illinois vs Indiana: Who Wins and Why
October 6, 2011
Illinois has only been to five bowl games in the past 16 years.  Additionally, it has been 19 years since the Illini have been to consecutive bowl games.
A win on Saturday against Indiana, and the Illini will become bowl eligible for the second straight year.  And they will have accomplished the feat by Columbus Day.
While there have been good Illini teams throughout the years, the type of success they are having is foreign to nearly everyone who is watching.  The Illini haven't been 5-0 since 1951, when they started 7-0.
Credit belongs to a variety of factors.  The stifling defense, the ability to win close games (they've won three in a row by three points), play-making ability on offense, and a schedule tailor-made for success.
Now, they need to take all the talent and success they have had onto the road for the first time this year.  They travel to Bloomington, where they are only 1-2 under Ron Zook.
While such a statistic may be grim, and is not a large enough sample size to indicate much, consider this: the Illini are 8-20 in true road games under Zook.  They're 10-26 if you include games played at a neutral site.  If you take away the four road wins they had in 2007, Zook is averaging less than one road win per year in his tenure.
The Illini certainly have a chance to begin to reverse that trend on Saturday, however.  Indiana comes in banged-up and beleaguered.  To begin with, they are sort of an "anti-Illini" when it comes to close games—they've lost four games by fewer than seven points this season! 
There's a reason they've been so unfortunate.  They've turned the ball over eight times, and are giving up an average of 402 yards per game.  Even last week, when they held Penn State to just 16 points, they gave up 464 yards, and were never really in control, despite the six-point final margin.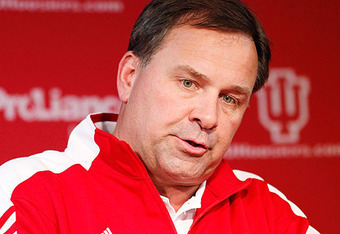 The rush defense for Indiana has been especially bad, giving up 4.29 yards per carry, and 169 yards per game.  North Texas ran 48 times for 226 yards against the Hoosiers.
This could spell especially bad news for the Hoosiers, as the Illini have one of the better rushing attacks in the nation, and is on the verge of exploding. 
The Illini are averaging 210 yards per game on the ground, and have been looking to get the running game kick-started.  They currently have four players with over 200 yards rushing on the season (Ford, Pollard, Young and the QB, Scheelhaase).  Expect to see all of them in full force against Indiana.
The offense for Indiana hasn't fared much better.  They lost starting QB Edwin Wright-Baker two weeks ago to an injury against North Texas, forcing Dusty Kiel to step in.  Kiel didn't look sharp against Penn State, completing only 49% of his passes.  Despite this, Kiel figures to be the starter Saturday against the Illini. 
If Indiana has one strength, it is the receiving corps.  The unit is led by Demarlo Belcher, who is the best athlete on the team.  The Hoosiers have five wide receivers that have caught more than ten passes, and gotten more than 100 yards.  With no running game to speak of, it is no wonder that Indiana has thrown the ball 100 times the past two games combined (48 against PSU, and 52 against North Texas). 
It should be noted that this is the way Coach Kevin Wilson wants to play.  Wilson was the offensive coordinator for Oklahoma the past eight years, and was offensive coordinator for Northwestern the three years prior to that.  Both were pass-happy, spread teams.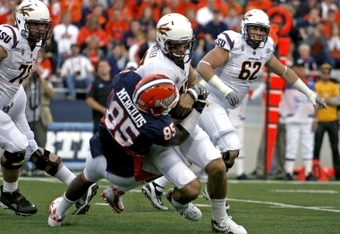 Illinois is 11th in the nation in rushing defense, allowing just 79 yards per game, and 2.4 yards per carry.  Therefore, look for Indiana's inability to run the ball to continue. 
Illinois will try to make Indiana one--dimensional, and make the Hoosiers throw the ball around 50 times once again.  If Indiana falls into the predictable pattern, Illinois can pin their ears back, and get to the inexperienced Kiel.  Illinois is sixth in the nation in sacks, at 3.4 per game. 
Surprisingly, Indiana has forced 11 turnovers this year, good for 21st in the nation.  If they are to have a chance in this game, they will have to force the Illini into early mistakes.  Illinois is making their first road trip, and have come out of the gates sluggishly the last two weeks.  Therefore, Illinois could be susceptible to an early mistake or two that swings the balance of the game. 
That remains the only chance I see of Indiana winning.  Illinois does not need to re-invent the wheel to come away victorious in this game.  They should be able to run the ball, and they should be able to stop the run.  Additionally, they should get pressure on Kiel, and force a few mistakes out of the young quarterback. 
As long as Illinois doesn't shoot themselves in the foot, they get their first road win of the year, become bowl eligible for the second straight season and move to 2-0 in the Big Ten.
Illinois 34     Indiana 13