Quarter Report Card for Every Houston Texans Rookie
October 7, 2011
Bob Levey/Getty Images
With four games of the 2011 NFL season in the books, this is the first instance of the year when people like to start tracking and judging the progress of all of the rookie players on their teams.
I still feel that it is kind of early to do such a thing, but there are plenty of things that you can assess from a first year player at this point. There are those guys, like a Steve Slaton, who look to be a home run as a rookie and then fall off the map. Then there are those who seem to be just another guy and then become a mainstay in the league, like Nnamdi Asomugha.
Grading the Texans 2011 draft class is rather difficult because there are guys who have made an immediate impact, some who have yet to get much playing time, one who is on the injured reserve and another who didn't even make the final roster. But nevertheless, let us see how each rookie Texan has looked through the first quarter of the 2011 NFL season.
Round 1: J.J. Watt, Defensive End
Watt has been a revelation for the Texans so far this season. He is making big plays and is as active as any defensive end in the league. Even the Texans fans that were unhappy with the pick when it was originally made, like yours truly, have come around on Watt in a big way. He doesn't miss tackles and he bats down a ton of passes at the line of scrimmage. He has been as advertised to this point and should only improve over time. A-
Round 2: Brooks Reed, Linebacker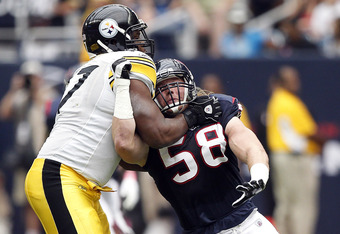 Bob Levey/Getty Images
Brooks Reed showed a lot of promise in extended playing time this preseason, but has seen little time on the field in the regular season outside of special teams. So it is a bit hard to put a real grade on him here. However, based off of the few snaps he has seen, he hasn't impressed. He got into the game against Miami and promptly blew his assignment. Gary Kubiak quickly yanked him out of the game and he's been used only on special teams since.
He'll get another chance, but as long as the current starters are healthy, Brooks probably will spend most of the season learning from the sidelines. C
Round 2: Brandon Harris, Cornerback
The team thought enough of Harris' talent to trade back up into the third round to take him. However, no one really knows if he is not impressing the coaching staff or if they just want to bring him along slowly. Because he has seen next to no time on the field outside of special teams. Personally, I think the team just wants to bring him along very slowly to avoid having the same result with him that they had with Kareem Jackson. He'll likely watch and learn for most of the 2011 season, barring injury. INC
Round 4: Rashad Carmichael, Cornerback
Even if "Roc" hadn't of been placed on the IR this season, I think his fate would have pretty much been the same as Harris'. They want to bring the two of these guys along slowly, as the staff believes they both have the talent to be the No. 2 corner behind Johnathan Joseph. However, unlike Harris, Carmichael won't even be available to possibly get some reps this season. INC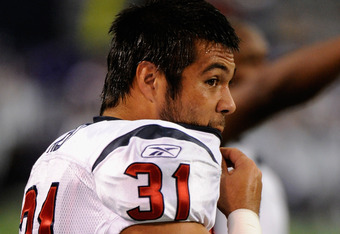 Hannah Foslien/Getty Images
Round 5: Shiloh Keo, Safety
What an awful selection. Keo is the only player in the draft that was selected in the fifth round or prior to not make the final roster for the team that picked him. This one was a wasted pick, and the fact that he is on the practice squad was to just save face. He isn't an NFL level talent. F
Round 5: Tyler Yates, Quarterback
Yates was drafted for one of two things; either to start being groomed to be Matt Schaub's replacement down the road or to be flipped for draft compensation at a later date. He was obviously never in the teams plan this season. His job is to hold a clipboard and learn from Schaub and Leinart this season. And no one besides the coaching staff know how well he is doing at that point. So it would be unfair to give him any kind of grade here. INC
Round 7: Derek Newton, Offensive Lineman
Does anyone ever really expect much out of a seventh round selection? Newton hasn't seen the field yet, and unless there are some devastating injuries to a group that many consider to be the best in the league, he won't be seeing time out there anytime soon. He's depth, at best, and likely isn't in the future plans. INC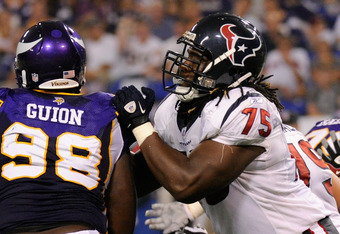 Hannah Foslien/Getty Images
Round 7: Cheta Ozougwu, Defensive End
Mr. Irrelevant proved to be just that: irrelevant. He showed some flashes in camp and the preseason, but he was always a long shot to even make the team. An injury prevented that outside chance from even coming up as the team reached an injury settlement with him and he was on his way. INC
I hate to hand out so many incomplete grades, but the truth is that at this point, most of these guys have yet to play and I can't criticize them based off of how they look standing on the sidelines. Perhaps at the middle point of the year, we will have gotten more looks and I can give a more definitive grade.
But until then, I'm pretty happy with J.J. Watt and I think that Brooks Reed will end up being a pretty good player. Brandon Harris learning under Johnathan Joseph can only be a good thing in his development, too. Time will tell.
Mike Kerns is a featured columnist for the Houston Texans at Bleacher Report. Feel free to follow him on Twitter at @Zepp1978 and catch his latest Texans podcast at State of The Texans.