Auburn Football 2011: A Preview of the Arkansas Game
October 6, 2011
Kevin C. Cox/Getty Images
The Auburn Tigers travel to Fayetteville, Arkansas this Saturday to play another game in a relatively new, but hotly contested rivalry. This game has some very interesting twists that might pique the curiosity of some fans.
The Auburn family has cultivated some strong friendships and ties to the Razorbacks. Former players Lee Ziemba and Kodi Burns were from Arkansas, as are current players Michael Dyer and Keihl Frazier.
Arkansas is also the original home of legendary Auburn offensive coordinator Gus Malzahn.
During his many stops along the way in a very successful coaching career, coach Bobby Petrino was once the offensive coordinator of the Auburn Tigers. Some members of the current Auburn staff actually coached with him back then. There is a ton of respect for his play-calling ability on the plains.
There are likely to be some new emotions as these coaches and players reunite in the setting of Fayetteville, Arkansas. There will be close friends and family in the stands before and after the game, but it will be an intense rivalry during the contest. Fans can expect these ties between the two programs to grow even closer in coming years.
Both teams will face this game with a long list of injuries. Both teams have played extremely physical contests this season that have exacted a toll.
Arkansas is not a team that thrives on physicality or grinding out yards on offense. It is a team built around speed and depth at the wide receiver position. It uses that speed and depth to simply wear down opposing teams in the secondary. This usually leads to several big plays in the passing game.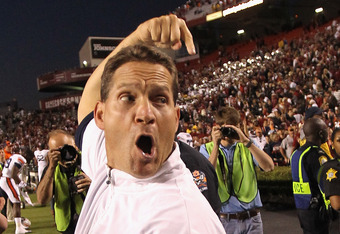 Streeter Lecka/Getty Images
In previous seasons, adjustments by opposition defenses to counter this passing attack have led to big plays in the rushing attack for Arkansas. This has not developed so far this season, but the ability is certainly there.
The Arkansas offensive line has been a work in progress this season. At times, it has performed well and, at other times, it has not been the quarterback's friend. There has been a curve of improvement and it does seem to be gelling some.
Arkansas will field the best quarterback that Auburn has faced so far in Tyler Wilson. He can make all of the throws and is very accurate, but does not have the arm strength of the team's last starter. He might have better decision-making ability.
Arkansas is very solid in the special teams area. Its kick and punt coverage is very solid. The punting has been good and it has a very talented sophomore kicker.
Auburn has been a team of surprises this season. This was expected with so many new faces in the starting lineup. It struggled for an identity on defense for the first four games and that ended in a loss to Clemson. The Auburn staff believes that loss could have been avoided by some simple adjustments it failed to make.
The last two weeks have been all about making those adjustments.
The entire Auburn team is a work in progress at this point of the season. It comes into this game off of a big, but unspectacular win over a Top 10 team.
The Auburn offense has been pushed out of its comfort zone for the last two weeks by Gus Malzahn. It has worked very hard on inside rushing plays and it seems to be showing some improvement. In the first three games, Auburn had the majority of its success rushing on the outside and perimeter.
Improvement in the conventional inside rushing attack, as well as in the wildcat set, opens up more options for the Auburn offense. Auburn has a fairly competent offense at this point with the exception of a deep passing attack.
The Auburn defense was a mixture of brilliant individual play mixed with incompetent fundamental football and poor alignment in the first three weeks. This seems to have been improved upon in its last game.
Auburn should have some success up front with its very physical offensive line. It has the talent, size and ability to rotate offensive linemen and wear opposition defensive lines down. This will likely be one goal in this game.
The Malzahn offense was able to get the tempo where it wanted it in the last game. It accomplished this by using the rushing attack inside. Unless Arkansas loads up the line and commits to stopping the run cold, it is likely Auburn will use this same approach until it does.
It is unlikely that Arkansas has the defensive depth necessary to play an entire game in this manner. It will likely commit to stopping the run. If it succeeds, this will become a contest of the Auburn perimeter rushing attack and short passing game against the passing attack of Arkansas.
Auburn will try to control time of possession in this game. If it can keep Arkansas under 26 minutes of possession time, its chances for a win go up exponentially.
This will be the first year since Coach Patrino arrived and installed the pass attack at Arkansas where Auburn has both the depth and speed in the defensive secondary to cover the Arkansas receivers. The problem is that Arkansas has exceptional and exceptionally experienced receivers and Auburn has a fairly inexperienced secondary.
It is likely this game will produce some jaw-dropping big plays from the Arkansas passing attack mixed in with some spectacular defensive plays from the Auburn secondary. The most effective way to keep Arkansas from scoring is to simply keep its offense off the field as much as possible.
Quarterback pressure will be crucial for both teams. It is very likely that the team that gets the most pressure on the quarterback while stuffing the run will win the game. This game, as most SEC contests, is likely to be won and lost along the line.
Auburn has very good special teams in every area. This has been a strength of the team all year and it will be a weapon utilized against the Hogs.
Key Matchups
The inexperienced Arkansas offensive line facing the inexperienced Auburn defensive line.
If Arkansas can keep pressure off of Tyler Wilson, it is likely game over for Auburn.
The powerful Auburn offensive line facing the injury depleted Arkansas defensive line
If Arkansas fails to stop the Auburn inside rushing attack, it will likely have little opportunity to win this game with its potent offense.
Prognostication
Auburn has an improving defensive secondary, but no secondary can shut down the Arkansas passing attack if Tyler Wilson is given time. Auburn must and will get pressure on the quarterback.
Arkansas must establish some proficiency running the football or Tyler Wilson will have a long day. Arkansas must force Auburn to blitz to get pressure on the quarterback and make it pay with the short pass and rushing attack.
Arkansas will have little luck stopping the inside rushing attack of Auburn. This will be supplemented by an effective perimeter rushing attack and short passing game to control the clock.
Arkansas has been exceptional this season in allowing third-down conversions. Auburn will challenge this very strength of the Arkansas defense. The official line on this game is Arkansas -10.
Auburn will likely win this game using control. It will control the tempo and flow of the game on offense and defense. Arkansas will strike with some big plays, but will fail to make the consistent drives needed to cover the spread.