Eagles vs. Bills: Michael Vick, Steve Johnson and Marquee Matchups to Watch
October 6, 2011
Rick Stewart/Getty Images
The Philadelphia Eagles travel to Orchard Park, New York, to take on the Buffalo Bills in this crucial Week 5 matchup featuring two surprising teams. The Eagles were Super Bowl favorites during their around-the-clock free-agency movement, while the Bills were completely off the radar. 
However, the Bills are sitting atop the AFC East division with a 3-1 record, while the Eagles are at the bottom of the NFC East with a 1-3 record. Eagles quarterback Michael Vick recently stated that Philly isn't the dream team they thought they were, and are looking to rebound from their subpar September. 
This game will be a big test for both teams, and there are several player matchups that will ultimately determine the outcome.
Bills WR Stevie Johnson vs. Eagles CB Nnamdi Asomughua 
Stevie Johnson burst onto the National Football League scene last year, and has continued his success throughout the first four games of the 2011 season. The Bills' leading receiver, Johnson has caught 24 passes for 314 yards and three touchdowns. 
He will be faced with one of the toughest tasks in his career on Sunday, as he will line up with Nnamdi Asomughua, who is arguably the best cornerback in the National Football League. Asomughua has eight tackles and an interception, but his stats don't tell the whole story.
If you take away his eight-interception year in 2006, he has recorded just three in his nine-year career. Opposing offensive coordinators shy away from passing in his direction, and with Johnson nursing a groin injury, it's hard to imagine him having a big day against Asomughua.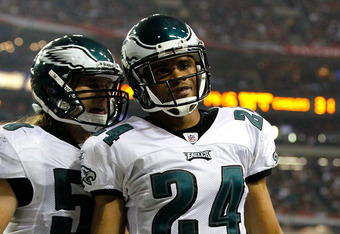 Kevin C. Cox/Getty Images
Bills WRs Donald Jones, David Nelson vs. Eagles CBs Dominique Rodgers-Cromartie, Asante Samuel
Bills' head coach Chan Gailey has shown that he loves utilizing four- and five-wide-receiver sets, which has benefited Donald Jones and David Nelson greatly. Jones is a solid No. 2 receiver on the outside and has the speed to get open on a lot of routes, while Nelson excels in the slot receiver position and has accounted for 10 first downs. 
Jones has caught 14 passes for 149 yards and a touchdown, while Nelson has caught 22 passes for 251 yards and a touchdown. 
Dominique Rodgers-Cromartie was acquired in the offseason via trade with the Arizona Cardinals for quarterback Kevin Kolb, and is the nickel corner, while Asante Samuel is third on the Eagles in tackles with 25.
Only Samuel has recorded an interception, but the Eagles' 11th-ranked pass defense, which has allowed an average of 217.8 yards per game through the air, could easily contain the Bills' wide receivers with their depth in the secondary. 
Bills OT Erik Pears vs. Eagles DE Jason Babin
Another marquee free-agent acquisition, defensive end Jason Babin will be lining up with Erik Pears, an unproven right tackle who hasn't really performed well throughout the first quarter of the year. Babin leads the league in sacks with seven, and should be licking his chops at the chance to get to Bills quarterback Ryan Fitzpatrick, who has only been sacked three times this year.
Bills Run Defense vs. Eagles RB LeSean McCoy
While containing Eagles quarterback Michael Vick is a huge part of Sunday's game plan, containing running back LeSean McCoy could be just as important. McCoy has rushed 66 times for 363 yards, scoring four touchdowns, and is the team's third leading receiver, making 15 receptions for 83 yards and two more touchdowns. 
The Bills rush defense looked awful last week against the Cincinnati Bengals, and have allowed an average of 129.5 yards per game on the ground—making them 25th in the league. Defensive coordinator George Edwards really needs to make sure the front seven hold their gaps and prevents McCoy from any big gains.
Bills Secondary vs. Eagles Wide Receivers
The Bills secondary has been attacked by injuries, with veteran cornerback Terrence McGee out for the past few weeks with a hamstring injury, and rookie corner Aaron Williams suffering from a chest injury.
However, that hasn't stopped Drayton Florence, Bryan Scott and George Wilson from making big plays. The odd man out has been Leodis McKelvin, the former first round pick who has been far too inconsistent to trust, especially against a receiver with the caliber of DeSean Jackson.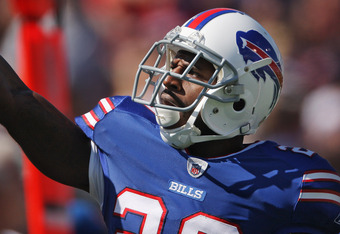 Tom Szczerbowski/Getty Images
Jackson has just 16 receptions this year, but has gone for 324 yards and a touchdown. Jeremy Maclin, who was suffering an unknown illness through the offseason, has fought back to become the Eagles' leading receiver, with 26 receptions for 334 yards and two touchdowns. 
It has been reported that McGee has been limited in practice, but that isn't a sign that he is ready to compete at a high level, especially against the ninth-ranked pass offense in the National Football League. 
Bills RB Fred Jackson vs. Eagles Run Defense
While the Eagles have a great pass rush and a solid pass defense, stopping the run has been their Achilles heel. Ranked 30th in the league against the run, Philadelphia has allowed 139.5 yards per game on the ground. 
Bills running back Fred Jackson has been one of the best tailbacks in the league thus far, carrying the ball 64 times for 369 yards, scoring four touchdowns and adding another 13 receptions out of the backfield for 147 yards. If the Bills can pound the ball throughout the game and keep Michael Vick and the Eagles offense off of the field, then Buffalo has a shot to win this game. 
Prediction
Eagles: 20
Bills: 24