MLB: Top 10 Most Dramatic Home Runs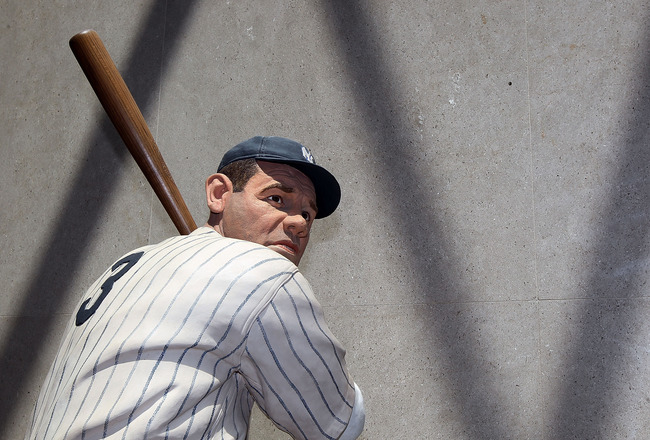 Jim McIsaac/Getty Images
What makes September and October baseball the most intense, nerve-wracking, most awesome game there is? It's a few things:
1. These teams play 162 games. Not 16 games. Not 82 games. 162 games. They play every day for six months and often a team's fate comes down to one pitch or one swing of the bat.
2. Baseball is the one sport where they can't run out the clock on you. As long as the game is still going on, the team that is trailing still has a chance. On the odd occasion where that chance becomes an amazing comeback, it is really magnified when it happens in late September or October.
3. Since baseball is a thinking man's game as much as an athletic contest, fans can think right along with the players and managers on what they should do. Should he throw the curve here? Or should he throw the high heat? Does he get the "take sign" or "swing away?" Since there is no right or wrong answers to these questions until we see the outcome, this makes baseball the ultimate "second-guessers" game.
Add all this tension up and have a meaningful game end on a home run, and you have the stuff of legends. There is no more dramatic way to win a game and/or a pennant than with a home run. Some happen at the end of the game and some happen in the middle; either way they put a dagger through the heart of the opposing team.
Here is a list of ten of the most dramatic home runs in baseball history.
Chris Chambliss Wins the 1976 ALCS with a Walk off

Chris Chambliss Wins the Pennant for the Yankees

George Brett had hit a three run shot to tie Game 5 in the top of the ninth. But Chris Chambliss had an answer in the bottom of the ninth. Gotta love the call from Keith Jackson. Gotta love any call from Keith Jackson.
Len Dykstra Hits a Walk off to Win Game 3 of the 1986 NLCS

Len Dykstra Hits a Walk off to Win Game 3 of the 1986 NLCS

As a Met's fan, one of my happiest moments. I high-fived the wall next to my TV and put a hole in it! An awesome moment!
Mike Scioscia Hits a Series Changing Home Run in 1998 NLCS

Mike Scioscia Breaks the hearts of the Mets in 1988

This one was a heart breaker for Met fans everywhere. What was Davey Johnson thinking? This situation screamed for Jesse Orosco. But he sticks with a tiring Dwight Gooden and Scioscia made him pay.
Ozzie Smith Sends the Cardinal Fans Home Happy in the 1985 NLCS

Ozzie Smith ends the 1985 NLCS game with a Walk Off

Some great moments on this video. One of them is the legendary call of the late Jack Buck on Ozzie Smith's walk off to beat the Dodgers in 1985. GO CRAZY FOLKS!!
Bobby Thompson's "Shot Heard 'Round the World" to Beat the Dodgers in 1951

THE GIANTS WIN THE PENNANT!!

One of the greatest moments in baseball history and perhaps THE greatest home run call ever! If you're a true baseball fan, Bobby Thompson's walk off homer off Ralph Branca will give you a lump in your throat. It does it to me even though I wasn't even born until 13 years later.
Evan Longoria Hits a Walk off in the 12th to Send Tampa Bay to the Playoffs

From the fans perspective, Evan Longoria's HR against the Yankees

Too bad this cameraman couldn't keep his hands out of the way. This was a pretty good video, giving fans a perspective of what it's like to be in the stands for one of baseball's historic moments. The video was shot earlier this month when Evan Longoria put Tampa Bay into the post season, capping off the greatest September comeback (or collapse) in baseball history.
Bucky Dent Hits a Home Run to Break the Hearts of New England and Decide 1978

Bucky Dents the Sox in 1978

The Red Sox once led the Yanks by 14 Games. The Yanks came roaring back to tie the Sox with 99 wins. The two would play a 163rd Game at Fenway Park to decided which would go to the ALCS. Light-hitting infielder Bucky Dent hits a soul crushing HR over the Green Monster to take his place in baseball lore. He will be forever known in New England as Bucky "Bleeping" Dent.
Carlton Fisk's Game Winner in the 1975 World Series

The Sox Win one of the Greatest Games Ever

The Sox didn't win the World Series in 1975. But they captured the hearts of baseball fans everywhere with their dramatic win in Game 6. The Sox players often joke that they actually won that World Series three games to four, because when 1975 is brought up, it's all about Carlton Fisk.
Kirk Gibson Hits a Walk off Homer to Win Game 1 of the 1988 World Series

Kirk Gibson walks us through the events of his dramatic HR

Dennis Eckersley was baseball's best closer in the late 1980s. When he came in to pitch the ninth with a lead, it was a done deal. Kirk Gibson takes us back to that historic night in 1988. The next slide will show you what happened.
Gibson's Home Run Continued

Classic Vin Scully call

If you have a chance to hear Jack Buck's radio call of Gibson's home run, by all means do it. He uttered the famous words "I don't believe what I just saw."
Hank Aaron Passes Babe Ruth to Become Baseball's All Time Home Run Leader

Hank Aaron breaks Babe Ruth's career home run record

As far as most of us are concerned, "Hammerin' Hank" is still baseball's All-Time leader in home runs. Most of us still consider Roger Maris the single season home run champ too. If you want to know why Mark McGwire and Barry Bonds are not on this list, one word. Steroids.
Here we have three legendary baseball announcers' call of Aaron's 715th career home run in April of 1974.
Hammerin Hank's 715 Continued

Video of Aaron's historic shot

There are so many that could have made this list. We have Reggie Jackson in the 1977 World Series hitting three in one game. There is Joe Carter in the 1993 Series to beat the Phillies. How about Bill Mazeroski in 1960 to beat the Yankees in Game 7 of the World Series? Dave Henderson hit a couple of memorable shots in 1986. Billy Hatcher had one too. How about Reggie in the 1971 All-Star Game? Or Mickey Mantle's final home run at Yankee Stadium.
Speaking of final home runs, how about Ted Williams hitting one out in his final at bat? Or Wade Boggs getting a homer on his 300th hit? Didn't a guy wearing #2 do that earlier this year?
Narrowing this down to 10 is probably one of the toughest lists I've had to do. Many of you are going to scream about Dykstra being on the list, but that one is merely a personal favorite. The Mets don't win the Series often. So when they do, it's a big deal in my world.
Keep Reading

Tampa Bay Rays: Like this team?