5 Reasons Why John Fox Will Not Play Tim Tebow This Season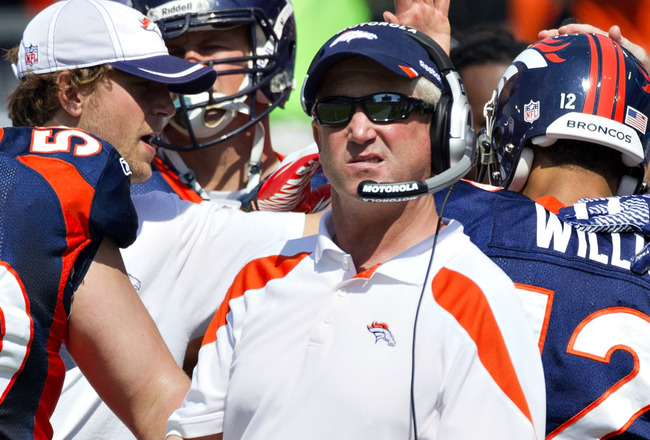 Wesley Hitt/Getty Images
There are billboards calling for Tim Tebow in Denver. Even the national media is starting to say it's time for John Fox to pull the plug on Kyle Orton. There will be chants on Sunday during the game vs. the San Diego Chargers for Tim Tebow.
I hate to break the news, but John Fox isn't going to play him.
And here are five reasons why.
5. Tebow Doesn't Know the Offense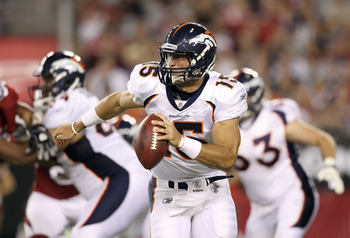 Christian Petersen/Getty Images
Fox has to believe that Tebow just doesn't have enough of a grasp of the offense. And to be fair, Tebow does need to improve his footwork and his read progressions. He's a young inexperienced quarterback who checks his first receiver and then looks to run if that option isn't available.
Then again, it isn't like Orton is making the right decision every time. And Tebow would only get better, wouldn't he?
4. He's Afraid Tebow Might Put More Pressure on His Defense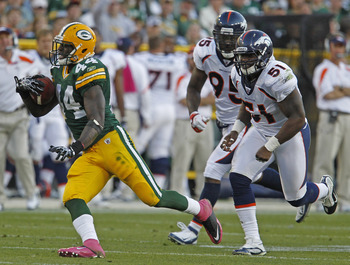 Matt Ludtke/Getty Images
If Tebow were to play and turn the ball over it will make for short fields against an already-hurting Denver defense. Fox also worries if the offense failed to generate first downs, the Broncos defense is going to get even more worn down.
John Fox is a defensive coach. I have a feeling the defense is his top priority.
Forget the fact that the Broncos are currently ranked 15th out of the 16 AFC teams in the giveaway/takeaway ratio. The Broncos have fumbled the ball five times and Kyle Orton has six interceptions through just four games.
Fox apparently thinks it could be worse.
3. Fox Doesn't Want To Admit He's Made a Mistake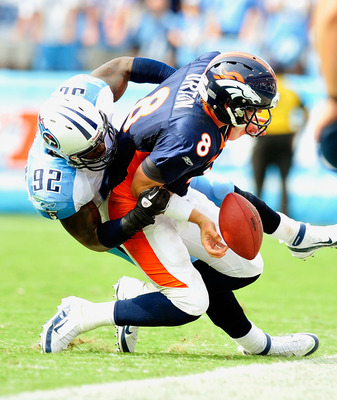 Grant Halverson/Getty Images
Pride has befallen better men than John Fox. Admitting you have made a mistake is a very difficult thing to do. It's even harder when all of the fans in Denver apparently knew more than you did.
It's okay, John. We forgive you. But come on, Stevie Wonder can see you have made a mistake.
Just admit it.
2. He Doesn't Want To Lose His Team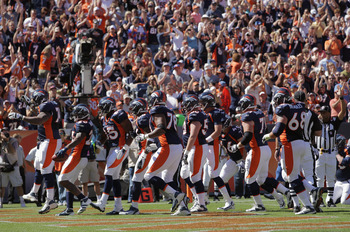 Doug Pensinger/Getty Images
Fox is afraid that by going to Tebow, it will be a statement to the team that he is giving up on this season.
Veterans like Willis McGahee and Brandon Lloyd have stated that Kyle Orton is their quarterback. Fox can't risk losing those veterans, can he?
Well first off, what else can those starters say? Should the veterans say "We'd rather have Tebow," it probably wouldn't go over too big.
If I'm an offensive player I will tell Ryan Leaf he's my guy if it would mean more balls thrown my way.
Secondly, those veterans aren't stupid. They see the struggles too, and at the rate this team is going, they know the playoffs aren't going to happen.
1. He Wants To Lose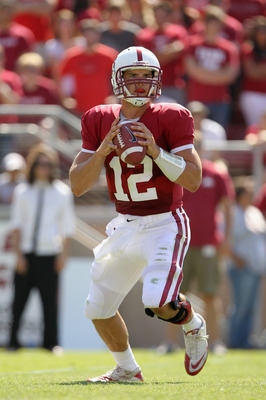 Andrew Luck Stanford QB
Ezra Shaw/Getty Images
Hold on a second. Hear me out. I know it seems insane. It doesn't make any sense that an NFL franchise would actually want to lose.
Think back to the Broncos game against Tennessee. Four straight runs at the goal line with an offense that is 25th in rushing in the league.
Think back to last week when the Broncos faced the Green Bay Packers. The Packers are ranked No. 5 overall in total offense. Yet the Packers defense allows 4.2 yards per rushing attempt. Even the struggling Broncos rushing game was managing a whopping 5.2 yards per carry against the Pack.
So the game plan would be to play ball control, right? Rush the ball, work the clock and keep Aaron Rodgers and Company on the sideline. It would seem to be a plan that would have some credibility.
So the Broncos ran the ball only 22 times. Kyle Orton threw the ball 32 times.
That's a recipe for disaster. And it was, as the Broncos lost 49-23, in a game that wasn't as close as the score indicated.
Maybe the Broncos are serious about trying to "Suck for Luck." Stanford quarterback Andrew Luck is deemed to be a "can't-miss" prospect by most experts. John Elway, Stanford alum, is the executive vice president of football operations.
Maybe if the Broncos continue to lose Elway will get Luck and Fox will get another draft to beef up the defense that much more.
Naaa...that's just crazy.
Isn't it?
Keep Reading

Denver Broncos: Like this team?