Milwaukee Bucks: How Will Stephen Jackson Fit into the Team's Offense?
October 6, 2011
Kevin C. Cox/Getty Images
In any type team, there needs to be a leader. Without a leader, there is no universal direction for the team to move in.
You will have a collection of personalities with their own ideas as to how the team should be run. Without a leader, the Bucks' offense was awful.
In steps Stephen Jackson.
Love him or hate him, there is a reason he is called "Captain Jack." There is a reason that despite his bad boy reputation, he has consistently been elected by his teammates to be their leader. Jackson has great fire and passion for the game of basketball. You can see how much the game means to him on nearly every trip up and down the court.
His skills on the court nearly match up to his passion. He can flat out score the ball from anywhere on the court. He can step back and hit a deep three, or he can take the ball off the dribble and get to the rim.
With Jackson's leadership, passion, and skill, what could his addition to the stagnant Milwaukee Bucks' offense mean?
The Bucks' offense will be better next season. Without a doubt, Jackson will be the Bucks' leading scorer. Having Jackson will take some pressure off of Brandon Jennings to be the primary scorer on the team. Jennings can then focus on distributing the ball.
You cannot create chemistry on offense. It is something that will have to occur naturally. As we saw last season, guys like John Salmons and Corey Maggette were not leaders. They were not emotional. They played a big role in why the Bucks' 2010-2011 season was a failure.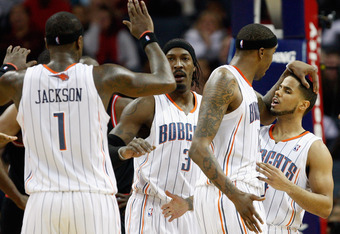 Streeter Lecka/Getty Images
Bucks GM John Hammond realized this, and traded both players away for the polar opposite in terms of personality. Good or bad, Jackson will tell you what he feels. If he thinks you should have taken a shot, he will let you know. He will hold the other Bucks on the floor accountable. He will help coach them.
Excitement and passion can be contagious. How often did the Bucks look hungry last season? How many times did you see a Bucks player truly passionate on the court? The answer is hardly ever. Far too often, the Bucks were simply going through the motions.
Jackson will change that for the Bucks, and it should translate to success on the offensive game.
Stephen Jackson was not brought here for his skill. He was not brought here for the X's and O's of running an offense. He was brought to Milwaukee to give the Bucks a personality on offense. He was brought in to give this boring offense a kick in the pants and wake up the team.
Jackson is a great overall player, but the intangibles that you can't teach are what makes him such a key acquisition for the Bucks.
At the end of the day, Stephen Jackson will not fit into the Bucks offense: he will redefine it.