Oklahoma vs. Texas: 5 Bold Predictions for Red River Rivalry 2011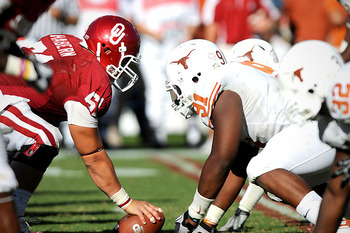 Photo: Jackson Laizure | Getty Images
We are two days away from witnessing one of the biggest rivalries, not just in college football, but in all of sports: the Red River Rivalry.
Every year, the Red River Rivalry is played between the Oklahoma Sooners and Texas Longhorns in Dallas, Texas at the Cotton Bowl.
The Cotton Bowl is exactly 195.23 miles away from Norman and 199.73 miles away from Austin. Playing on a neutral field is a huge deal for this rivalry, as thousands of fans and students from each school gather in Dallas for a memorable weekend.
Coming into this weekend's matchup, both the No. 3 Oklahoma Sooners and No. 11 Texas Longhorns are undefeated, but Oklahoma has to like its chances. The Sooners are currently a 10-point favorite in the game, but the Longhorns aren't going to back down.
After a disappointing 2010 season, coach Mack Brown has his Longhorns back to their winning ways. Texas will look to ride its momentum, as the Longhorns are coming off a dominating 37-14 win against a surprising Iowa State team.
The Sooners have been doing a fair share of routing as well. Last week, the Sooners demolished Ball State, 62-6.
This has the makings to be a great game, so hopefully I don't spoil anything with my five bold predictions.
Case McCoy Will Throw More Than 1 Touchdown Pass to Jaxon Shipley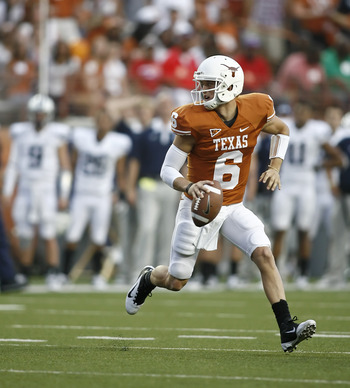 Erich Schlegel/Getty Images
Ever since Mack Brown decided to bench quarterback Garrett Gilbert, the Longhorns' offense has looked a lot more impressive.
Sophomore Case McCoy has been splitting time with freshman David Ash, and the two have been playing off each other rather well. However, there is a definite gap when it comes to passing the ball.
McCoy has already attempted 37 passes, whereas Ash has only thrown 19. Texas is a run-heavy offense this season with freshman RB Malcolm Brown, but McCoy has proven to be a better-than-average option if they choose to pass.
However, McCoy has only thrown for two touchdown passes in three games. So what makes me think that he'll fire at least two to the same receiver this game?
Two reasons.
First, Oklahoma's secondary has looked suspect at times this year. All-Big 12 cornerback Jamell Fleming hasn't produced as well as he should, same with sophomore cornerback Gabe Lynn and sophomore strong safety Aaron Colvin.
In Oklahoma's season opener, Tulsa was able to score only twice. How did they score, you ask? Blown coverages in the secondary.
How did Florida State's backup quarterback throw for over 100 yards in just one quarter of play? Blown coverages in the secondary.
How did Missouri QB James Franklin throw for almost 300 yards against a normally stingy Oklahoma defense? A few blown coverages in the secondary, but mainly, the Sooners were just getting beat by Missouri receivers.
That's the first reason, here's the second.
If you weren't aware, Case McCoy is the younger brother of former Texas and current Cleveland Browns QB Colt McCoy. If you weren't aware, Jaxon Shipley is the younger brother of former Texas and current Cincinnati Bengals WR Jordan Shipley.
If you weren't aware, Colt and Jordan had a history of playing well against the Sooners. Namely in 2008, where Colt found Jordan 11 times for 112 yards and a touchdown. They played a major part in beating the Sooners two years in a row (2008, 2009).
If you weren't aware, announcers LOVE IT when history repeats itself. They also LOVED pointing out that Colt and Jordan had such good chemistry because they were roommates in college.
If you weren't aware, Case and Jaxon are roommates, as well! So, they must have good chemistry, too! At least, that's what we'll be hearing more than a few times throughout the broadcast, I'm sure.
If you weren't aware, this college football season hasn't been chocked full of surprises. The good teams are winning games like they should, the bad teams are losing.
I'm telling you I wouldn't be surprised if Case and Jaxon hook up for at least two touchdowns, so why shouldn't it happen?
I guess we shall see.
The Running Game Will Decide the Winner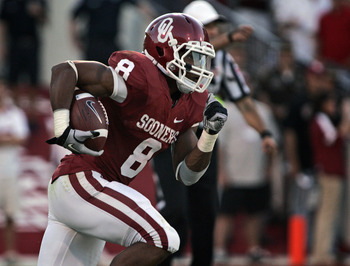 Brett Deering/Getty Images
This is what should scare you the most if you're an OU fan. Over the past eight years, the winner of the game has been the team who ran the most and for the most yards.
The only exception to this statement was in 2006. The Sooners ran the ball four more times than the Longhorns that year, but they both rushed for 124 yards total. Texas ended up winning that game, 28-10.
I'm quite aware that Oklahoma has faced better opponents than Texas so far, but here are a few interesting statistics:
Oklahoma is ranked No. 44 in terms of rushing, averaging 177.3 yards per game. Texas is No. 25, averaging 206 yards per game.
Oklahoma's defense is giving up 129 rushing yards per game. Texas's defense is giving up 110.8 rushing yards per game.
Oklahoma is, by far, the better passing team, and the Sooners will surely use that to their advantage on Saturday.
However, the numbers don't lie.
Former QB Sam Bradford threw the ball a lot, too, and the Sooners still won because they were able to establish the best run game while he was under center.
Here is a chart mapping the last eight years of the Red River Rivalry and how the ground game has played a huge role in each matchup:
| | | | | | |
| --- | --- | --- | --- | --- | --- |
| Year | OU R/A | OU Yds | TEX R/A | TEX Yds | Final Score |
| 2003 | 47 | 189 | 34 | 171 | 65-13, Oklahoma |
| 2004 | 52 | 301 | 40 | 154 | 12-0, Oklahoma |
| 2005 | 33 | 77 | 40 | 203 | 45-12, Texas |
| 2006 | 36 | 124 | 32 | 124 | 28-10, Texas |
| 2007 | 41 | 170 | 29 | 61 | 28-21, Oklahoma |
| 2008 | 26 | 48 | 35 | 161 | 45-35, Texas |
| 2009 | 22 | -16 | 40 | 142 | 16-13, Texas |
| 2010 | 52 | 124 | 22 | 107 | 28-20, Oklahoma |
I have no doubt in my mind that Oklahoma is going to win this game, but they have to get the team's running game established in order to do so. Luckily, junior walk-on Dominique Whaley has shown that he has what it takes to be one of the next great Oklahoma running backs.
Hopefully, sophomore RB Roy Finch will be more involved in this game, as well.
Lee Corso Will Pick the Longhorns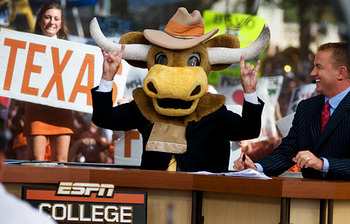 Jeff Lautenberger/Senior Staff Photographer at The Maneater
In the past, to be picked to win by Lee Corso was a haunting revelation. The man almost always picked incorrectly, and he almost always goes for the underdog.
This year, however, Corso is a strong 4-1 with his GameDay selections. This includes picking Oklahoma to beat Florida State in Tallahassee during Week 3.
How many times can he get lucky, though?
His first incorrect pick came last week, as he concluded the Nebraska Cornhuskers would go on the road to defeat the Wisconsin Badgers. Final score of the game: 48-17, Wisconsin.
Corso just can't turn down a good underdog story. That's why when the Sooners arrive in Dallas a 10-point favorite this weekend, Corso will surely summon his inner Pavlov and start salivating at a chance to pick an upset.
Oklahoma fans can only hope that he's wrong.
The Game Will Be Tied Going into the Fourth Quarter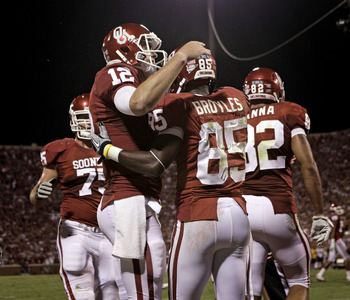 Brett Deering/Getty Images
The game will be tied going into the fourth quarter, 17-17, and things will start to get rather heated on both sides of the ball.
If both teams have only scored 17 points apiece by now, then both defenses will have stepped up in a major way. The way I foresee it, it goes a bit like this:
The first half is actually rather tedious and boring. The score will be knotted at 10-10, or one team will be up, 10-7. Either way, the halftime show will allude to how well both defenses are playing.
The Longhorns will have a few big pass plays in the first half (McCoy to Shipley, anybody? I heard they're roommates...), but they will mostly try to establish a ground attack in order to wear down Oklahoma's defense and keep Landry Jones off the field.
Because of this, Oklahoma's time of possession will likely be a solid four to six minutes less than Texas, and Jones and the rest of the offense are going to get impatient. He'll start trying to hurry the offense, make throws he normally shouldn't make and get rattled after he gets knocked down a time or two.
Both teams will be feeling okay going into the half, but Mack Brown and the Longhorns will definitely feel like they have the advantage.
The third quarter will result in a more composed Oklahoma team, taking care of business on both sides of the ball. The Longhorns will match their intensity, and both teams will finish with 17 points.
McCoy will have thrown his two touchdown passes to Shipley by now, and Dominique Whaley will also have two touchdowns for the Sooners.
Then the fourth quarter happens. Landry Jones and Ryan Broyles take over, and there's no looking back.
This will lead to...
The Sooners Will Win by Double Digits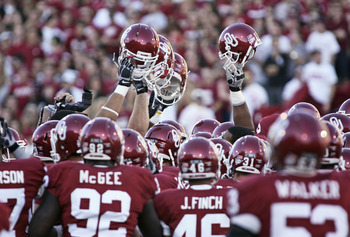 Brett Deering/Getty Images
Didn't I just say they're going to be tied going into the fourth quarter? Yes, yes I did.
Will the winning margin be by an impressive double digits? Maybe not.
However, 10 points is still double digits, and that's what the spread is.
I got a text earlier in the week from an OU fan stating, "The Sooners really need to lay it on the Longhorns this weekend. A 62-6 victory would be nice two weeks in a row." This text came in response to Oklahoma dropping down from No. 2 to No. 3 in the AP Poll.
My response: "No, they don't. They just need to win."
There's no way that the Sooners are going to pull off a Ball State-esque type of victory, but could they win by 10 to 20 points?
Absolutely.
While the Sooners have looked vulnerable at times this year, they still have more experience than their opposition. Mack Brown has true freshmen running amuck in Austin this year, and while they may be 4-0, who have they really beaten?
Rice, BYU, UCLA and Iowa State? When compared to Tulsa, Florida State, Missouri and Ball State, especially this year with BYU being down, the schedules don't even compare.
Oklahoma has been tested, the team has a better all-around offense, the two defenses are comparable and the Sooners have experience and depth on their side.
Final Prediction: 31-20, Oklahoma
Keep Reading