Green Bay Packers: Aaron Rodgers and the Impact of Brett Favre's Comments
October 6, 2011
Jonathan Ferrey/Getty Images
Brett Favre received national media attention for his comments about Aaron Rodgers and the Packers given to an Atlanta radio station. During the interview, it appeared that Favre was taking some slight digs at Rodgers. Whatever Favre's intent was, the comments will add to the already blazing fire that is Aaron Rodgers. 
Speaking with 790 The Zone in Atlanta, Favre was asked to talk about what was going through his mind as he watched the Rodgers-led Packers go on their playoff run and win the Super Bowl. His response:
"I'm going to be quite honest, I was not surprised. The biggest surprise, for me, was that they didn't do it sooner," Favre told the radio show. "He's got tremendous talent, he's very bright and he got a chance to kind of sit and watch and he saw successful teams do it right. And so he just kind of fell into a good situation."
The radio station later made a statement informing the public that the comments had been taken out of context and were being twisted. The full interview has been posted here. It is clear Favre's major intent was not to bash Rodgers, but the comments contain definite, but subtle shots at Rodgers. 
Favre has proven over the years and is experienced enough to know how to manipulate the media. For years, he played on the media's need for a story with his annual retirement/unretirement parade. He carefully selected words to squeeze himself out of commitment. When it came time to investigate claims of sexual harassment, Favre again carefully selected his words and skated around the topic.
With the lengthy amount of time between his last interview and these comments, there is no way Favre was caught off guard. He had been waiting to voice his opinion about the 2010 Packers, since they won Super Bowl XLV.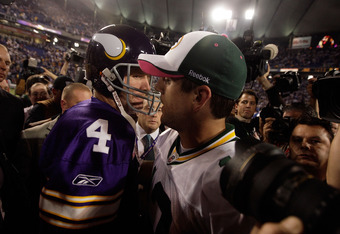 Jamie Squire/Getty Images
While the Packers were in the middle of their magical playoff run to the Super Bowl, Favre was at home recovering from the beating he took as the Minnesota Vikings quarterback. Favre probably did think the Packers were going to win but not because of his faith in Rodgers and the talent surrounding him but because of the two games in which the Packers beat the Vikings in 2010, 28-24 at home in Green Bay and 31-3 in Minnesota. 
Once again, the Packers are rolling on another hot streak, and Favre is at home attempting to stay relevant. While the comments came from good intention or not, the biggest question becomes whether or not they will have an affect on Rodgers and the rest of the Packers. 
Throughout his career, Rodgers has shown a Michael Jordan-esque ability to hold a grudge taking any slight and turning it into fuel and extra motivation. From being completely ignored by Division I schools out of high school to his free-fall on draft day, Rodgers has pushed himself to prove his doubters wrong. 
Facing these different types of adversity, Rodgers has always shown the highest level of class. Since he first came to Green Bay, Rodgers has respected Favre and what he accomplished during his time with the Packers. When asked about the comments, Rodgers once again took the high road and responded with class.
"The only thing I want to say is that I'm really proud of our guys and what our team did last season," Rodgers told reporters in front of his locker. "It was a great accomplishment that took all 53 of those guys and it obviously got the attention of a lot of people. We're proud of the fact that we achieved the ultimate goal as a team." 
Rodgers was adamant to avoid getting into any type of war of words with Favre as he reiterated the statement above when he was asked a follow-up question. Rodgers is quiet with his statements and would prefer to let his on-field performance do the talking for him. 
The comments that Favre made should fuel Rodgers to push himself and further separate himself from Favre. Although the two will be forever linked, Rodgers would cover massive amounts of ground in terms of his legacy with the Packers if he could do what Favre couldn't—provide Green Bay with a second Super Bowl title.