Arsenal Managerial Prospects: 6 Likely Replacements for Arsene Wenger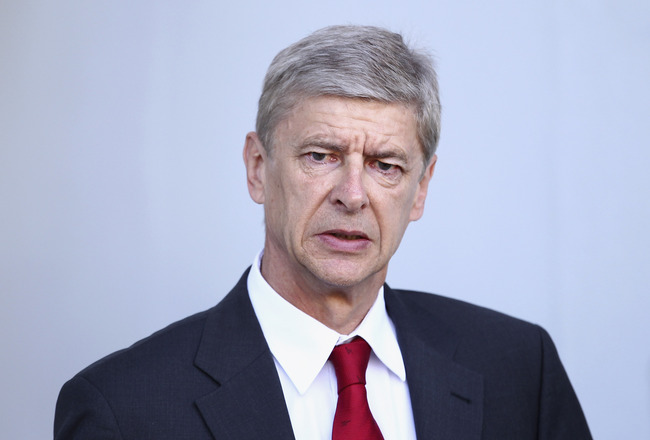 Julian Finney/Getty Images
Arsenal have endured their worst start to a season in over 35 years, and it is the first time Arsene Wenger has appeared lacking control over his squad since his tenure in North London commenced 15 years ago.
With four losses in the opening seven EPL encounters, it is hard to foresee just what that outcome will be for Arsenal in 2011-2012, but what is even more uncertain is how much longer Wenger's era will continue, particularly as his errors continue to emerge.
The Arsenal board has repeatedly stated during the Gunners' current demise that Arsene Wenger has their full backing, whilst the Frenchman is contracted to 2014.
Upon achieving his 15 years at Arsenal last month, Wenger stated his desire to potentially complete another fifteen seasons at the front of the Gunners' helm.
However, if problems persist and Wenger's young squad do in fact fail to secure a top four Premier League finish this season, the Arsenal board may finally lose patient in the Frenchman.
Furthermore, it has been six successive seasons in which Wenger has failed to achieve silverware, and, with his squad severely weakened from last season, it appears harder for the Gunners' to find success.
What is also a factor is that in the last seven seasons, there have been ongoing defensive problems, which, despite long calls for changes, Arsenal maintain their frail defence tactics.
Change is a superb way to find success but it is risky, especially considering Wenger is such a vital part at Arsenal.
However, his position would be desired worldwide and the board would have no such problems acquiring a quality servicemen. But would Arsenal really consider releasing such a man?
Nonetheless, BleacherReport establishes the best replacements for Arsene Wenger.
Claude Ancelotti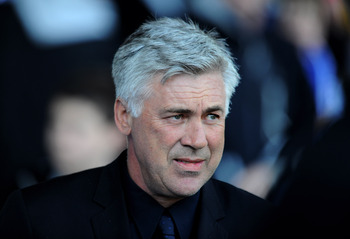 Chris Brunskill/Getty Images
The manager who in his first season in English Premier League football took Chelsea to the English Premier League and FA Cup double, terminating Manchester United's three-season reign.
Although a tough second season last campaign which ultimately resulted in the ambitious Chelsea board sacking the Italian, Carlo Ancelotti is a fantastic manager.
The former Juventus manager is renowned for his dominance with AC Milan during 2001-2009. The Italian twice achieved the UEFA Champions League alongside the UEFA Super Cup, won the Serie A, Coppia Italia, the FIFA Club World Cup and the Italian Super Cup.
Furthermore, Ancelotti has been named UEFA Manager of the Year and the World's Best Club Coach in 2007.
Ancelotti has expressed his desire to manage Arsenal, particularly if they inquired for his services.
Dragan Stojković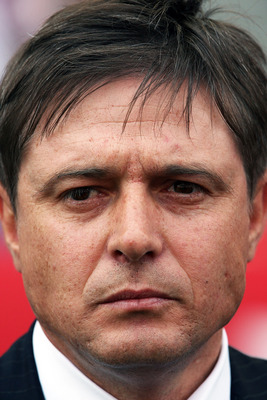 Koichi Kamoshida/Getty Images
The man Wenger named as the manager he would most like to succeed him at Arsenal.
Stojkovic has thrived in Japan with Nagoya Grampus, the club Wenger arrived at Arsenal from and also coached where the Frenchman managed Stojkovic.
The Serbian recently achieved the J-League and the J-League Manager of the Year.
Wenger admires Stojkovic's attacking, creative style alongside his willingness for youngsters and smart financial work.
The Arsenal board would surely take into consideration Wenger's views on a replacement and particularly one that could come cheaply.
Jurgen Klopp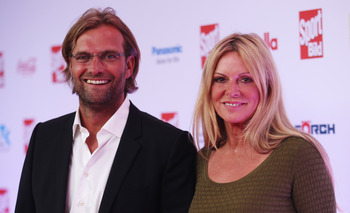 Joern Pollex/Getty Images
Jurgen Klopp took Borussia Dortmund to German Bundesliga success last season with a strong, young, attacking mind team that had been created and nurtured for a number of seasons.
The German, who was also impressed when managing German outfit Mainz 05, is highly regarded throughout Europe and Wenger has expressed his admiration for the former defender.
Klopp was subsequently named German Football Manager of the Year in 2011 and would greatly suit Arsenal's attacking and young style.
Furthermore, Klopp is a smart and efficient transfer manager whose presence could help attract his young teenage sensation Mario Goetze to the Emirates.
Klopp will be able to further prove his worth to Wenger and Arsenal as the Gunners encounter Borussia Dortmund in the UEFA Champions League Group F.
Guus Hiddink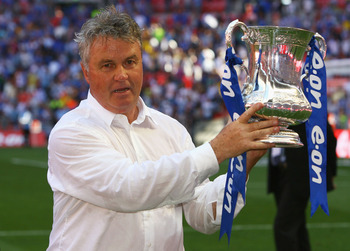 Alex Livesey/Getty Images
The Dutchman who seems to command success where ever he ventures. Guus Hiddink is a respected, experienced manager who has achieved impressive results on both the domestic and international stage.
Best renowned for his Dutch treble with PSV Eindhoven, when the Dutchman achieved the Eredivisie, UEFA Cup and Dutch Cup, Hiddink is able to establish unknown players and create stars.
When called upon to save Chelsea's fortunes in 2009, the former Australia manager achieved the FA Cup and impressed with the way he commanded form and respect from his players.
Hiddink would be eager to take up the Arsenal role if emerged, and the Arsenal fans would not be short of confidence should the proposition arise.
Rudi Garcia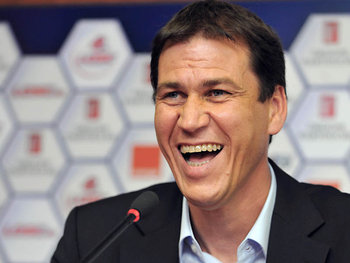 Rudi Garcia has single-handedly made OSC Lille one of the best attacking sides in Europe and France.
Last season, his hard work came to fruition as the Mastiff's achieved their first Ligue 1 title in 57 years alongside the Coupe de France.
An impressive eye for youngster alongside a creative, incisive attacking approach hold the Frenchman in good stead to thrive at the Arsenal post.
Furthermore, a French speaker looms as the best fit for Arsenal as Wenger has created a large French environment with a number of players hailing from either France or French-speaking countries.
Garcia is continuing to thrive with OSC Lille but would need little convincing to join the Gunners.
Brendan Rodgers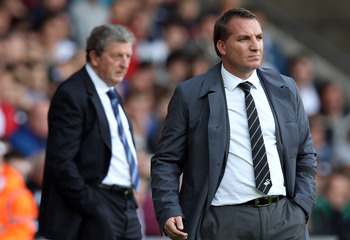 Clive Rose/Getty Images
Rodgers took Swansea City to the English Premier League after an outstanding first season with the Welsh side last season.
The Englishman has shown an ability to achieve results with little funds but young, talented players.
The former Watford manager was highly regarded by former Chelsea manager Jose Mourinho, who appointed Rodgers as the Blues' youth and reserve manager during his tenure.
With an impressive defensive and attacking record alongside an English presence, the Arsenal board may be tempted by an unlikely candidate like Rodgers.
Keep Reading

Arsenal: Like this team?