UFC 136 Fight Card: 5 Fights That Will End in a Knockout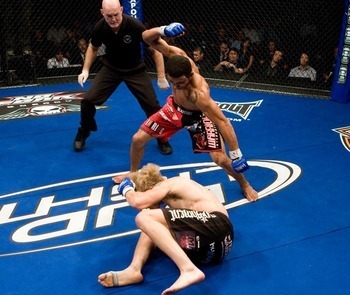 With UFC 136 right around the corner, UFC fans across the globe have begun counting down the hours for what has the potential to be one of the best fight cards of the entire year.
UFC 136 will take place in Houston on October 8th in front of a sold-out Toyota Center.
The entire fight card consists of four main card fights and seven preliminary bouts.
The main card is headlined around lightweight champion Frankie Edgar, who will attempt to defend his title against No. 1 contender Gray Maynard.
Also putting his title up for grabs is Jose Aldo, who will take on Kenny Florian in a featherweight championship bout.
What makes this card even more exciting is the high possibility of knockouts that could take place throughout the evening.
The following slides discuss five fights that will end in a knockout at UFC 136.
Let's take a look.
Aaron Simpson vs. Eric Schafer
Aaron Simpson and Eric Schafer will square off at UFC 136 in one of the more underrated bouts of the evening.
Simpson, a knockout artist, will look to be the aggressor when action begins as Schafer has displayed sub-par striking skills in his previous fights.
Of Simpson's nine career victories inside the Octagon, six have come by way of knockout.
Schafer, a specialist in the submission game, has shown he can be knocked out in the past.
Joey Beltran vs. Stipe Miocic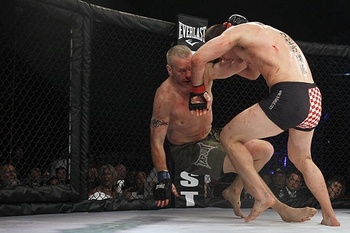 Joey Beltran and Stipe Miocic will meet at UFC 136 for what has potential to be an electrifying heavyweight fight.
Both Beltran and Miocic specialize in the knockout, as 16 of their combined 19 victories have been by way of knockout.
Beltran will come out swinging for the fences in an attempt to overwhelm the UFC newcomer.
Miocic, who will be making his UFC debut, will look to oppose his will via leg kicks and strikes.
Anthony Pettis vs. Jeremy Stephens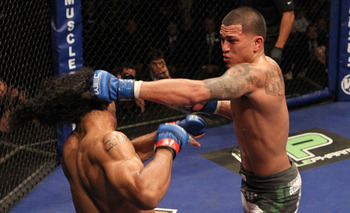 In a 155-pound fight, Anthony Pettis will meet Jeremy Stephens for the first time in Houston.
Pettis and Stephens hardly ever go to the judges' scorecards, as they have compiled a combined 19 career knockout victories.
Heavy-hitter Stephens will make every last effort to keep the fight in the stand up as Pettis shows exceptional submission skills.
The only problem for Stephens is that Pettis is also a talented striker.
This lightweight fight has potential to end as Fight of the Night.
Melvin Guillard vs. Joe Lauzon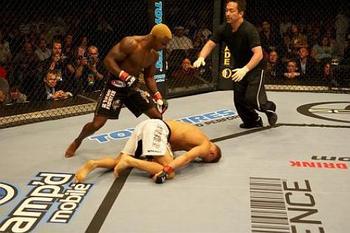 Melvin Guillard will once again get to prove why he is worthy of a lightweight title shot when he squares off with highly dangerous Joe Lauzon at UFC 136.
Arguably one of the best knockout artists in the UFC today, Guillard will have to keep the fight on his feet if he has plans of knocking out Lauzon.
Lauzon, a highly skilled grappler and submission artist, has only been knocked out twice in 26 career fights.
Still, he has yet to face an opponent with Guillard's knockout power.
Jose Aldo vs. Kenny Florian
Jose Aldo will look to defend his featherweight title when he takes on No. 1 contender Kenny Florian at UFC 136.
Behind Edgar vs. Maynard, this 145-pound bout is the most anticipated fight of the evening.
Arguably the best pound-for-pound fighter in mixed martial arts today, Aldo demonstrates world-class speed and knockout power.
Florian, also a world class talent, has only been knocked out once in his entire career.
Even still, he's yet to fight an opponent with the striking skills of Aldo.
Keep Reading