Air Force vs. Notre Dame: TV Schedule, Live Streaming, Radio, Game Time and More
October 6, 2011
Gregory Shamus/Getty Images
After a very discouraging 0-2 start, the Notre Dame Fighting Irish are starting to find their confidence again, but they have a very tough matchup against the Air Force Falcons and their daunting triple-option offense coming up this week.
The Irish have bounced back with a big win at home against a ranked Michigan State team and then on the road against tough Pittsburgh and Purdue teams.
Air Force is coming in with an offense that scores 38.5 points per game, though, and can cause any defense fits with their triple-option play calling.
Notre Dame is 3-2 and looking to continue the momentum, and Air Force is 3-1. This is going to be a huge game for both teams.
Where: Notre Dame Stadium, Notre Dame, IN
When: Saturday Oct. 8. 3:30 p.m. EST
Watch: NBC
Listen: CBS Radio Air Force, NewsTalk 960 WSBT-AM, Sunny 101.5 FM South Bend
Stream: goairforcefalcons.com, und.com
Betting Line (Bodog.com): Notre Dame -15
Key Storyline:
This is a winnable game for the Falcons even on the road in South Bend. If they can utilize their offense effectively I think they will have the Irish pretty confused. That being said, Notre Dame has a pretty good hot-streak going on, and they are going to want to keep up the momentum.
Who Might Not Play for Air Force: Offensive lineman Michael Hester questionable (ankle), fullback Mike DeWitt questionable (undisclosed), linebacker Ken Lamendola questionable (hamstring), defensive back Brain Lindsay questionable (groin).
Who Might Not Play for Notre Dame: Defensive end Ethan Johnson questionable (ankle), wide receiver Daniel Smith questionable (leg), linebacker Danny Spond questionable (hamstring).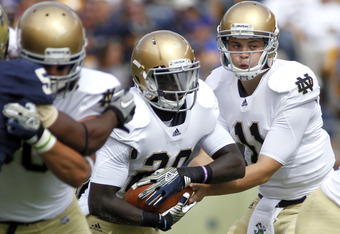 Justin K. Aller/Getty Images
BCS/Top 25 Implications:
Neither team is ranked coming into this game, but a win would mean a lot for both teams, obviously. Notre Dame is trying to bounce back from its bad start, and it would be a huge program win for Air Force.
What They're Saying: Bill Wagner of HometownAnnapolis.com writes about Air Force quarterback Tim Jefferson and compares him to Ricky Dobbs. Dobbs is the record-setting quarterback for Navy, while Jefferson has made his mark with the  Falcons.
Neil Hayes of the Chicago Sun-Times writes about Notre Dame's defense and the improvement it has made under head coach Brian Kelly. The defense was considered to be a weak link under former coach Charlie Weis, but has grown and become very good under Kelly.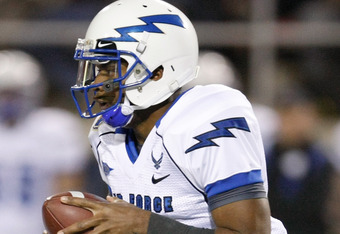 Ethan Miller/Getty Images
Air Force Player To Watch: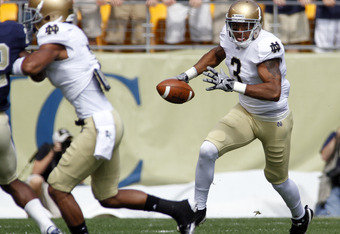 Justin K. Aller/Getty Images
Quarterback Tim Jefferson is the guy that makes everything run for the Falcons. The triple-option is a complicated system, but Jefferson has run it to near perfection so far. He's going to have to run it to perfection against Notre dame.
Notre Dame Player To Watch:
If receiver Michael Floyd can get open and take over the game early than there is no way that Air Force can hang with Notre Dame. Floyd has the ability to dominate the game, and I think he will.
Key Matchup:
How is the triple-option going to hold up against Notre Dame's defense? Consequently, how will the Irish defense handle such a complex  system?
On the Hotseat:
Fighting Irish coach Brian Kelly is going to be on the hotseat for his whole career with Notre Dame, but especially because of their bad start. He needs to prove he can keep his composure and pull this team together.
Prediction:
Air Force's offense is going to be real tricky for Notre Dame to reel in, but in the end the better team will win.
Notre Dame: 31 Air Force: 27