Yankees vs. Tigers: Robinson Cano and Ivan Nova Will Carry the Yanks to ALCS
October 6, 2011
Chris Trotman/Getty Images
Postseason baseball calls for bold, borderline-insane predictions, and you can't get any bolder than saying Ivan Nova will pitch the New York Yankees into the American League Championship Series.
Heck, I wasn't even 100 percent confident Nova was going to stay in the rotation when the season started.  I expected Andy Pettitte to make a comeback more than I expected Nova to stay in the majors.
But here we are in October, with a 16-4 rookie in Nova going against a no-name prior to this season in Doug Fister.
Not exactly C.C. Sabathia versus Justin Verlander, but this matchup will definitely be as interesting.
It's Game 5 of the American League Division Series, with both teams' postseason hopes resting on virtual unknowns.  I'm pretty sure Hollywood's got Brad Pitt on speed dial in case they can make a movie out of this, too.
But back to Nova—he's been great during the regular season.  Look at his eight-game win streak from July to September and his September ERA of 2.67.  And he was stellar in his "relief" of Sabathia in Game 1.
I'd normally be worried that nerves would get the best of rookies in the postseason, but he's already shown what he can do with Game 1.  Besides, he has said himself that he's not nervous and wants to have fun—which is a better outlook than saying they're pretty much screwed tonight.
Then there's Fister, who was basically the The Dark Knight to Verlander's Batman Begins for August through September.  Since when is the number two pitcher supposed to be better than the number one?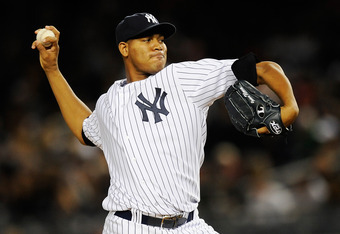 Patrick McDermott/Getty Images
Compare Fister's five walks and four home runs in that two-month period to Verlander's 21 walks and 10 home runs in the same time span.  Don't forget Fister's September ERA of 0.53, or his five-game win streak to close the season.
Looking at those numbers, not many people are giving Nova a chance, despite the results of Game 1.
However, Nova has a slight advantage in that he has Robinson Cano on his side, and Fister doesn't.
Both teams have excellent offenses.  But at the same time, both teams have also had some troubles offensively in the series.
However, after exploding for 10 runs in Game 4—with six of them coming in the eighth inning—it's safe to say the Yankees have found their bats.  After all, Phil Coke and Al Alburquerque aren't your run-of-the-mill relievers.
The Yankees' offense is highlighted by Robinson Cano, who's hitting .294/.368./.588 with 8 RBI and that monster grand slam.  He's got the liveliest bat in the team—other than Brett Gardner and Jorge Posada, whose career we all thought was eulogy-worthy a month ago.
The other guys are having some struggles, unless they're Mark Teixeira, Alex Rodriguez or Nick Swisher—in which case their combined batting average should be and probably is a criminal offense.
But Cano's bat has kept the team alive, along with timely contributions from everyone else.
Not to mention they're back in the Bronx, and Yankee Stadium will be all too happy to help out their left-handed hitters.  This goes for both teams, but Cano and Teixeira will benefit from it more than, say, Ramon Santiago or Alex Avila, who's a good hitter but is hitless so far.
I expect a close game—even a well-pitched game.  But in the end, Cano and Nova will carry the Yankees to the ALCS.
It's like it's written in the stars or something (and yes—I would like to thank TBS for ruining that song).