Oklahoma vs. Texas: TV Schedule, Live Streaming, Radio, Game Time and More
October 6, 2011
Erich Schlegel/Getty Images
The annual game between the Oklahoma Sooners and Texas Longhorns, also known as the Red River Rivalry, is one of the best traditions in college football. Both teams are always top contenders in the Big 12, but no matter the situation, there is never any love lost.
Oklahoma has fallen from their preseason ranking of No. 1 to No. 3, but still hold onto their destiny with a 4-0 record.
On the other sideline, No.11 Texas is once again hosting the game and is boasting a 4-0 record as well.
It's not certain, but the winner of this game could capture a strangle-hold of the Big 12.
Where: Cotton Bowl, Dallas, TX
When: Saturday Oct. 8, 12 p.m EDT
Watch: ABC
Listen: KOKC AM 1520, KRXO 107.7 FM Oklahoma City, KMOD FM 97.5, KTBZ AM 1430 Tulsa; KLRD 1080 AM Dallas, KFNC 97.5 FM Houston.
Stream: soonersports.com, texassports.com
Betting Line (Bodog.com): Oklahoma -10
Key Storyline:
There is no doubt that the Red River Rivalry is one of the best in football. The  No. 1 spot in the Big 12 is on the line, and possibly more. It's a huge game for both teams.
Who Might Not Play for Oklahoma: Defensive back Jamell Fleming probable (head), offensive lineman Tyler Evans probable (shoulder), runninb back Brennan Clay probable (shoulder), kicker Jimmy Stevens probable (quadricep), defensive back Aaron Colvin probable (head).
Who Might Not Play For Texas: Linebacker Chet Moss questionable (back), safety Nolan Brewster out for season (concussion).
BCS/Top 25 Implications: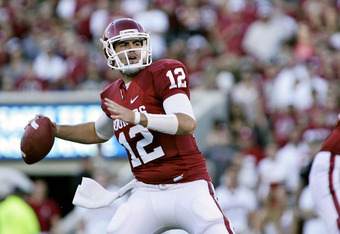 Brett Deering/Getty Images
This game means everything for the Big 12. The winner of this game will essentially have the upper hand in the conference and a clear road to a bid for  the national championship.
What They're Saying: Travis Haney of NewsOk writes about an anti-Texas hat that Barry Switzer used to wear. Haney writes about the rivalry that exists between both teams and their fanbases.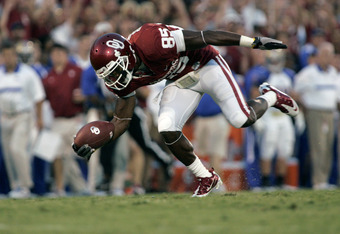 Brett Deering/Getty Images
Berry Tramel of NewsOk writes on the long history of the rivalry, especially between Texas coach Mack Brown and Oklahoma's Stoops.
Oklahoma Player to Watch: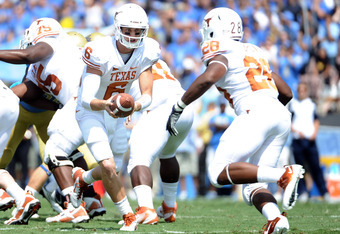 Harry How/Getty Images
Receiver Ryan Broyles is going to be the key to this game. He has the ability to spread Texas' defense, and he should be able to improve on his 476 yards and six touchdowns on the year.
Texas Player to Watch:
Sophomore quarterback Case McCoy is trying to follow in his older brother's footsteps as the man under center for the Longhorns. He's going to have to play like his brother in this matchup, though. This going to be a huge test for McCoy.
On the Hot Seat:
Case McCoy is going to have a ton of pressure on him. His older brother Colt was a star in this rivalry, and now he's going to have to carry the Longhorns on his back at home.
Prediction:
Oklahoma is the No. 3 team in the country, but they are highly overrated. This is their first real test, but I think the Longhorns have an upset of epic proportions in them.
Texas: 24 Oklahoma: 21