5 Adjustments Stan Van Gundy Must Make for the Orlando Magic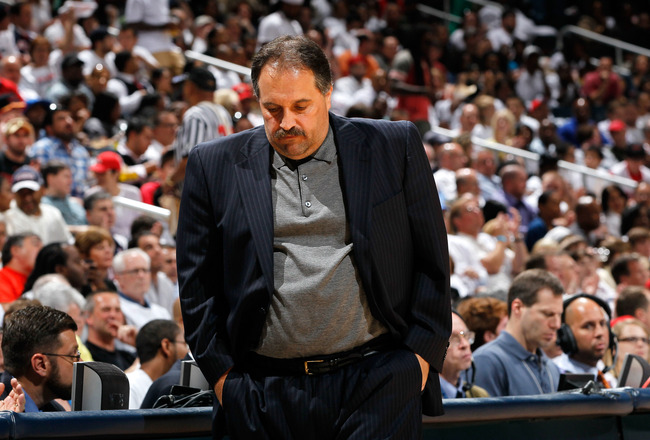 Kevin C. Cox/Getty Images
The Orlando Magic, led by head coach Stan Van Gundy, will once again be in quest for the franchise's first and only NBA title once the 2011-12 season starts (assuming the lockout is lifted).
Stan Van Gundy has been dealt a somewhat tough hand by general manager Otis Smith who has elected to change the Magic roster dramatically each year since their finals appearance in 2009.
The Magic have the second highest payroll in the entire NBA, trailing only the L.A. Lakers. With such a high payroll the expectations are higher than they have ever been in Orlando, making first round exits from the playoffs unacceptable.
Regardless of what moves the Orlando Magic make in the front office, it's Stan Van Gundy's job to lead a successful team on the court.
It will be an uphill battle heading into the new season for Van Gundy, but these five adjustments will help the Magic in reaching their ultimate goal—a championship.
Involve Gilbert Arenas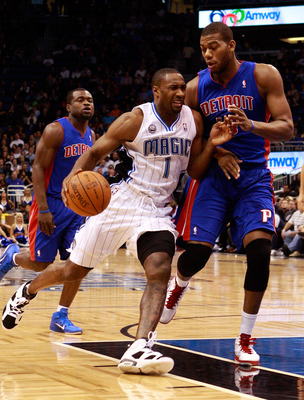 Sam Greenwood/Getty Images
Gilbert Arenas is by far the biggest area of concern for the Magic.
Arenas is due nearly $21 million next season and going off of his performance from last season he is far from a player worthy of making Kobe Bryant money.
It's clear that Arenas will never be his All-Star self he once was, though that does not mean Van Gundy should not put No.1 in a better position to succeed offensively.
Arenas was averaging over 17 points and six assists in 34 minutes of action each night for the Washington Wizards before being traded to the Magic 21 games into the season.
Once Arenas arrived in Orlando, his numbers dropped to eight points and three assists in just 21 minutes of game-time each night.
For Van Gundy, there is not point in having a $21 million player sitting on the bench.
Van Gundy must find ways to get Arenas involved on the offensive side of the ball, whether it's running the point or playing some two guard—he needs to be on the court more.
Push the Tempo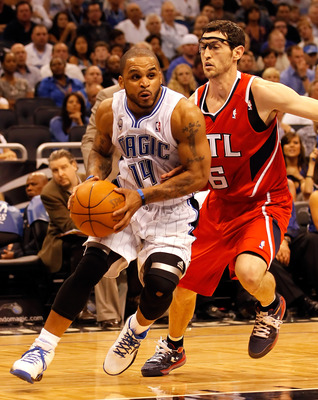 J. Meric/Getty Images
The Orlando Magic do not take advantage of pushing the tempo of the game which does not make much sense considering they have the quickest and most athletic center in the world on their team.
There are few, if any centers in the league that can keep up with Howard in the open court though the Magic will rarely take advantage of this. Even good centers such as Andrew Bogut and Andrew Bynum have no chance at keeping up with Howard running the court.
If Van Gundy pushes the tempo of the offense and speeds things up on fast breaks, the Magic should find themselves getting more and more easy baskets as the season goes on.
Lay off the Officials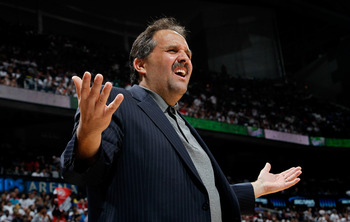 Kevin C. Cox/Getty Images
We all know NBA officials make bad—sometimes terrible—calls. Stan Van Gundy has to do a better job of just letting it go, rather than getting technicals and fines from the NBA.
Don't get me wrong, I love how he stands up for his players, but when it gets to the point where your getting a bad rapport around the league with other officials—it could really begin to hurt your team.
Anyone who watches the Magic consistently can see the officials have a quick trigger on any kind of arguing the Magic do, whether it's Van Gundy or Dwight Howard.
Officials are human. If you call them out in a post-game new conference, as deserving as it may be, they hear and remember those things. Whose to say next time the same officiating crew ref's a Magic game they won't have an ever quicker trigger when throwing out technicals'?
Game Day Matchups
Mike Ehrmann/Getty Images
Just because a certain player is making more money than another player on the roster does not always mean they should be starting a head of that player.
For certain games the Magic play throughout the year, a new starter might be better suited than one of the regulars.
For example, when the Orlando Magic had their first stab at the Heat after the mid-season trades last year, Van Gundy elected to put Hedo Turkoglu on Lebron James. Every fan in the building and every viewer watching from home could tell that this was trouble for Orlando.
Sure enough, LeBron James scored 23 of his game high 51 points in the first quarter seemingly lighting Turkoglu up from every angle.
In these special situations, a better defender such as Quentin Richardson might be a better fit to start simply for his defensive ability..
Giving Dwight Howard More Touches Late in Games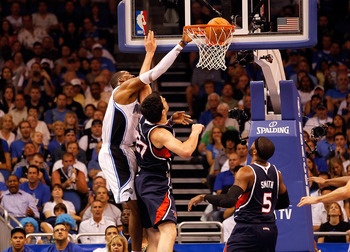 J. Meric/Getty Images
Dwight Howard had his best year in the NBA during the 2010-11 season, averaging nearly 23 points per game while grabbing over 14 boards per contest.
For as good as Dwight Howard would start some games, he would for some reason find himself getting less and less touches as the game went on.
Every time the Orlando Magic dribble down the court and take a shot without Howard touching the ball, they're doing the defense a favor, in fact, they're bailing them out.
Howard must touch the ball nearly every time down the court regardless of whether or not he shoots it. At the very least he will keep the defense honest and help open up the three point line for Orlando's shooters.
Continue feeding the he big man the ball, plain and simple.
Keep Reading

Orlando Magic: Like this team?