Georgia Bulldogs Football: Tackling the Noise out of Neyland
October 6, 2011
Grant Halverson/Getty Images
It's Tennessee time at Georgia.
And if you're a Georgia fan who bought tickets to this weekend's away game, it might be in your best interest to bring tissue and some earplugs.
Oh, and one more tip for the traveling Bulldog fans: There are no hedges in Knoxville.
When it comes to intimidating stadiums in this country, the Tennessee Vols' rank is lofty.  You see, there are times when the decibel level in Neyland Stadium can be off the charts.  That's when Smokey—the team mascot—starts barking and fans begin using their fingers as ear protection (while shielding their eyes with their knees if they're losing). 
Yep, the noise level in this storied stadium that holds 100,000-plus is loud.  And that's a topic that's been chewed-up by many a college football fan who has sat amid the clouds of the visitors' section. You see, it has been said (but not confirmed) that ESPN once got a decibel reading of 119 in 2009.  In the South, we say, "That's pretty dang loud." 
Mark Richt knows all about the noise in Knoxville.
He's been there and done that.  He's already heard the broken record of "Rocky Top" chants.  The memories are still fresh from the last time his team visited Neyland Stadium in 2009 when they were stomped by the Volunteers 45-19. 
But the Dawgs are a feisty bunch, returning the beating in 2010 at home with the score reversed in Georgia's favor, 41-14.  This year Richt comes into town with a 3-2 record (2-1 in the SEC), seeking revenge that will fuel his quest toward an Eastern Division championship.  Still attainable with both South Carolina and Florida losses, he and his team know this game is a must-win to keep them in contention.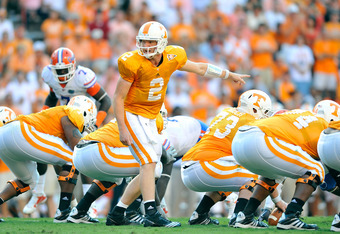 Grant Halverson/Getty Images
Richt also knows that it won't be easy beating Tennessee in a stadium notorious for its clamor.  But he declares his team is ready to give it a try.  In his weekly press conference, he admitted that the noise has been a factor in the past.
"It's a very tough place to win—at least it has been for us the last two times we were there," Richt said. "We pretty much got drubbed there. We didn't put up much of a fight the last two times we were in their house, so we need to try to hopefully change that. It will be a challenge for us; we know that and we are looking forward to it."
Richt went on to say:
Playing there at their place—having to deal with all the crowd noise, having to deal with the things you have to deal with on the road, it's going to make for a heck of a ballgame.  I know that two years ago we got beat pretty bad.  Last year, we beat them pretty good here, so you can't go by what happened last year.  You have to play this year's game and that's what we are getting ready to do.
So just how good is this Tennessee team?  According to Richt, they are close to being the best in the league in many ways.  Those include: No. 2 in the league in total offense, No. 2 in passing and No. 1 in pass efficiency.  Oh, and they're tied for first in the country for third-down conversions.  Calling the Vols quarterback Tyler Bray "fantastic," Richt says he's also "a very smooth, effortless passer, who is also very accurate."
On defense, Richt says the Dawgs will be challenged.    
They've got a couple of corners that are really outstanding.  They are very confident.  They play man coverage on almost every down and they've given up very few plays, period.  Their defensive backs are the most experienced group.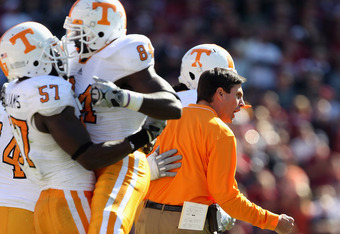 Streeter Lecka/Getty Images
So what do the Dawgs have to do to keep the scoreboard in their favor?
Quarterback Aaron Murray's got one suggestion.
"They're going to be loud and they're going to be screaming.  You've got to be prepared…it requires a little more focus."
Christian Robinson, a junior Bulldog linebacker echoed Murray's prediction.
"…If they're feeling momentum, they're going to do well.  We've got to take out the factor of the fan.  That'll be the biggest thing for us."
You can bet your earplugs on that.