Brett Favre: Why Green Bay Packers Fans Need to Forgive and Forget
October 5, 2011
Jim Prisching/Getty Images
There was a Brett Favre sighting Wednesday in Atlanta.
No, he's not trying to make another comeback. He actually took an interview with a local radio show, where the subject matter included current Green Bay Packers quarterback Aaron Rodgers. 
In the interview, Favre stated that he was surprised that Rodgers had not led the Packers to a Super Bowl sooner, citing the tremendous talent of the team that he once led. He also made sure to compliment Rodgers' abilities as a player and went on to say that he hoped that Rodgers had taken some good things away from his time as Favre's backup. 
The interview in itself was open to interpretation. Favre rambled for a good time, saying a lot, and leaving many wondering exactly how he feels about Rodgers. 
I personally viewed the interview as complimentary. Favre sounded like a proud older brother, albeit an estranged one. His tone was that of a man who knew his time had passed.
But sure enough, regardless of Favre's true intentions, there was immediate backlash from Packer nation on Twitter. Some said Favre was jealous, some said he was bitter and others went into further, darker elaboration. It seems that Favre hatred is alive and well in Green Bay.
But why?
Sure, Favre "retired" from Green Bay only to return as a New York Jet later that year and ultimately played two seasons with arch-rival Minnesota Vikings before finally (maybe) hanging up the cleats for good.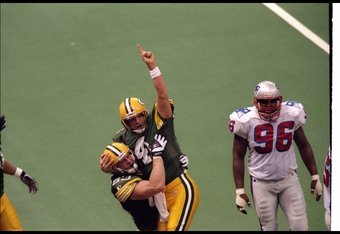 Stephen Dunn/Getty Images
But can you really blame him?
Favre didn't think he was done in Green Bay. He had just led the Packers to the NFC championship game and fell painfully short of a trip to the Super Bowl. But Green Bay was ready to move on to Rodgers, their young gun in waiting. So Favre did what he had to, as any fierce competitor would.
Consequently, he has drawn the ire of Green Bay fans everywhere. But how quickly they forget all that Favre has done for them. It was he that led the revival of a Green Bay franchise that had been irrelevant since the days of Vince Lombardi and Bart Starr, rewarding the Packers faithful with a Super Bowl championship in the 90's. He set numerous NFL and team records during his tenure, and was perhaps the most entertaining quarterback of his era, always wearing his emotions on his sleeve. 
Packers fans should take a look back at the past and remember the old Favre. They should respect him for the sacrifices he made to be one of the best and appreciate all that he did for their franchise. Favre is one of the greatest players in NFL history, and deserves to be celebrated as such.