National Football League: Weak Week 4 Post-Dictions
October 5, 2011
Ronald Martinez/Getty Images
Week 4 of the sixteen game NFL regular season is over now, and we've hit the quarter mark in the season. There were four games played between teams from both conferences—New Orleans at Jacksonville, Minnesota at Kansas City, Denver at Green Bay and Indianapolis traveled to Tampa to play the Buccaneers.  All of the other games played were conference games, as there were no games played between division rivals.
I don't make predictions and hindsight is always 20-20, so without further adieu, here are some weak week 4 "post"dictions.
New England Patriots 31, Oakland Raiders 19: The Patriots flew 3,099 miles across all four time zones and played the Raiders in Oakland.  The Raiders were the team that suffered (does anyone actually enjoy it?) from jet lag evidently, as they could not keep up with Wes Welker and company, although Oakland quarterback Jason Campbell threw for more yardage than Patriots QB Tom Brady. Last week against Buffalo Brady threw four interceptions in a loss to the Bills, then the next day we hear the big news that Tom-Terrific cut his hair short. We can conclude from this that his hair was in his eyes last week when he threw all those picks, right? Of course this means that someone else besides Justin Beiber will play Brady in the after school special on ABC.
Tampa Bay Buccaneers 24, Indianapolis Colts 17:  The Colts miss future Hall of Fame quarterback Peyton Manning terribly, and started third-stringer Curtis Painter against Tampa Bay in Manning's absence since reserve Kerry Collins was out due to a concussion.  The Colts didn't need Painter to be a Picasso, but they did need more than a paint-by-number performance.  What they ended up getting from Painter fell somewhere between a homeless waif on black velvet and an abstract finger painting.  This year's Colts are now 0-4.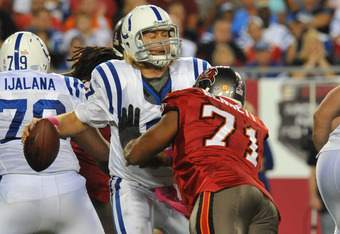 Al Messerschmidt/Getty Images
Houston Texans 17, Pittsburgh Steelers 10: I saw this game, and the score is not indicative of how Houston manhandled the Steelers.  Pittsburgh quarterback Ben Roethlisberger was sacked five times, twice by Houston linebacker Mario Williams, and the Texans had two TDs nullified by penalties. One bright spot for Pittsburgh was the play of wide receiver Mike Wallace, who led all players in receiving yards with 77.  Not bad for the former host of the CBS news show 60 Minutes.  What is he now, about 90 years old?
Cincinnati Bengals 23, Buffalo Bills 20: Well, thanks to the Cincinnati Bengals beating the Bills, I am now eliminated from the NFL Survival league that I'm in. Excuse me, the NFL Survival league that I was in. That's the last time I drink Buffalo Kool-aid.  Sounds gross, doesn't it?
San Diego Chargers 26, Miami Dolphins 16: San Diego quarterback Philip Rivers flooded all over the Dolphins, to the tune of over 300 yards passing and a touchdown toss.  San Diego was without injured tight end Antonio Gates for this game.  Wait a minute—Rivers? Gates? There's a really bad pun about a flood in there somewhere….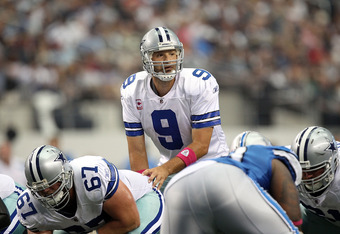 Ronald Martinez/Getty Images
Detroit Lions 34, Dallas Cowboys 30: The Detroit Lions are the real deal folks.  For the second time this season, Detroit came back from 20 points behind or more to win a game, this time on the road in Big D.  The "Mr. Hyde" version of Tony Romo showed up this week for Dallas, as Romo threw three interceptions, two of them for scores, in the loss to Detroit. I would be remiss if I did not mention Romo dissing Cowboys owner Jerry Jones on the Dallas sideline late in the game.  I don't have anything of worth to add about it, but I don't like being remiss.
Kansas City Chiefs 22, Minnesota Vikings 17: This game featured a rematch of the two teams that played in Super Bowl IV in 1970.  It's appropriate that the Roman numerals for four is IV because as of late, these two teams have played like they needed an IV drip.  Both teams were winless until Sunday.  There goes the quest for a perfect season, right?  I mean, somebody had to win.  Minnesota is 0-4, and the Chiefs are 1-3.
Green Bay Packers 49, Denver Broncos 23: This game was between two other former Super Bowl teams.  This was a rematch of Super Bowl XXXII.  Denver wide receiver Brandon Lloyd led all players in receiving yardage with 136.  I did not see this game, so I wonder if there was any clamoring for Bronco third-string QB Tim Tebow?  Probably not, since the game was in Green Bay, but if Bronco starter Kyle Orton were to go down it would mean only one thing—backup QB Brady Quinn would get his uniform soiled, only this time it would have been from the outside.