Jim Harbaugh's 49ers To Pan For Gold in the Den Of the Detroit Lions
October 11, 2011
Rich Schultz/Getty Images
I don't know about you, but as a fan of the Detroit Lions, both Alex Smith and Frank Gore simply scare the hell out of me at the moment. 
Now, don't get me wrong, the undefeated Detroit Lions are a very good team.  They have an extremely solid passing attack, plenty of weapons, an adoring and exhilarated home crowd advantage and a mean streak that will undoubtedly carry them into the playoffs for the first time in many, many years.  
So what am I worried about? 
I am worried about the simple things that win football games in the NFL. Things that the Lions still need to improve upon if they are going to be real contenders once they get to the promised land of the playoffs. The commentary that follows identifies a few of the issues I continue to see as threats to the Lions newly found success:  
PENALTIES
You can't continue to win in the NFL if you have a propensity for stupid penalties. Like it or not, Jim Schwartz continues to watch his Lions take dumb penalties.  I am talking about simple mistakes based upon timing, concentration and temperament..
The Lions need to eliminate them now (think about how many first downs the Lions gifted Chicago last night). If the Lions continue to take stupid penalties, a more balanced and composed team will take them to task. 
Rookie 49ers head coach Jim Harbaugh comes from a disciplined football legacy and his team will be ready.  If Schwartz hasn't got his team's attention, penalties will be a factor in this game.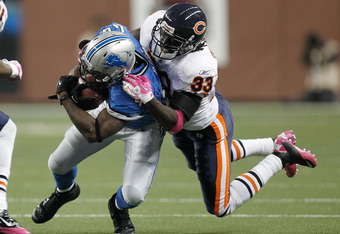 Gregory Shamus/Getty Images
THE RUSHING GAME
Don't be fooled by last night's output on the offensive side of the ball.  The Detroit Lions continue to have a lackluster running attack. And while Jahvid Best made the best of some open lanes last night, this is not a trend that anyone can expect to become "the norm". 
Best has great breakaway speed and once he get's into open space, he's ever so dangerous.  However, he continues to lack the strength to break tackles inside and I am somewhat confused at how the Lions have limited his use as a mid to deep threat receiver.  
He has great hands and his speed creates mismatches against linebackers and safeties. Periodically, the Lions need to stretch the field with Best to take advantage of his arsenal.
On the defensive side of the ball, teams continue to exhibit an ability to rush the ball effectively against these Lions.  While I absolutely love the defensive line of Detroit (WHO WOULDN'T?),  I continue to see a number of long runs each and every week. 
The Detroit Lions need to temper their fever-pitched rush attack and control teams who use the run effectively.  San Francisco is one of those teams.
LATE GAME "COASTING"
I absolutely hate the way the Lions continue to sit on the leads they do eventually develop?  I completely understand ball control, time management and how a team uses an effective rushing attack (which they've yet to do yet), but I also know that Stafford has demonstrated his ability to limit turnovers and hit the short and moderate depth routes. 
I can't understand why the Lions are not attempting to continue to score on every opportunity.  This will bite them down the road if they don't continue to push for points.  
SLOW STARTS
Somehow Stafford and the offense needs to put it in high gear right from the start. They still haven't figured out this piece of the puzzle.  The Lions offense seems to be lackluster and lackadaisical when they are not in a two minute-type offense.  
You can't come from behind at the half every week and this is becoming a bad habit.
Don't worry, I still have faith in the Lions and am still picking them to win. However, this game will be close if the Lions can't get their motor revved up from the start. 
The Detroit Lions will move ahead to 6 - 0.
Final Score Prediction
Detroit Lions 34 - San Francisco 49ers 24