Chargers vs. Broncos: Why This is a Winnable Game for Denver
October 5, 2011
Matt Ludtke/Getty Images
In Week 5 of the '11 NFL season, we will see two AFC West division rivals battle it out at Mile High Stadium in Denver.
The 3-1 San Diego Chargers will take on a reeling 1-3 Denver Broncos team in the first of their two matchups on the season.
On paper, it appears the Chargers might have their way with their divisional neighbors to the east.
However, games are obviously decided on the field and not on paper. The Broncos could definitely win this game, and here are my reasons why:
1. Philip Rivers has struggled so far this season.
The struggles of San Diego All-Pro quarterback Philip Rivers have been well documented through the early part of the '11 campaign.
Rivers has already thrown six interceptions, which is nearly half the number that he threw in the entire 2010 season.
He has also only managed to throw for five TD passes, and just one in his last two games combined.
Clearly something is off with him to begin this season, and it could easily continue into this weekend's game as well.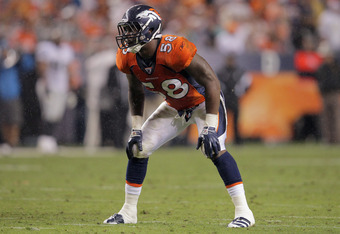 Doug Pensinger/Getty Images
2. The Chargers have been playing down to the level of their competition in 2011.
Yes, the Chargers are 3-1, but that doesn't mean that they have played great to this point.
In Week 1, they beat the winless Vikings by just a TD at home.
In Week 3, they barely defeated the 1-3 Chiefs at home after a gift interception by Kansas City QB Matt Cassel.
And then we have last week, when SD only got by the Dolphins—who are also winless and are arguably the worst team in the league—by just 10 points.
This is something that has plagued the Chargers in the past, and if they play down to the Broncos on Sunday, it could bite them in the end.
3. Von Miller has been nearly unblockable this year.
Rookie OLB Von Miller is already starting to prove that he is worth the hype so far in the early part of the 2011 NFL season.
He already has amassed 16 tackles, four sacks, two pass deflections and two forced fumbles in just four games of play so far.
Couple this with the fact that the San Diego offensive line has given up at least two sacks to Rivers in each game, while only going against just two elite pass rushers thus far in Minnesota's Jared Allen and KC's Tamba Hali.
Sunday could be Miller's chance to make an early statement in his second career game within the division.
4. Mile High Stadium is a tough place to win.
The Broncos have the best home record in the NFL since the '74 season, which stands at 208-82.
They also have one of the loudest stadiums in all of the league, which is never a good thing for an opposing team. Mile High can be a very intimidating place to play because of how noisy the crowd can get at times.
San Diego better come prepared or it will overlook the Broncos too much this weekend and be sent home with a 1-1 record in the AFC West.