Eric Foster Injury: How Is Colts Star's Right Ankle?
October 5, 2011
Andy Lyons/Getty Images
Shortly before Monday night's game between the Indianapolis Colts and Tampa Bay Buccaneers reached halftime, Colts defensive tackle Eric Foster suffered one of the more gruesome injuries in recent memory.
Replays revealed that Foster's right foot got trapped underneath teammate Tyler Brayton, and it twisted to the side as both players fell to the ground.
One did not need a medical degree to deduce that Foster had suffered a very severe injury. He was carted off the field, and word eventually came out that he had suffered a dislocated ankle.
On Tuesday, more updates about Foster's injury have come out.
Injury Update
Phillip B. Wilson of The Indianapolis Star was the first to reveal that Foster had suffered a dislocated ankle on Monday night. Earlier today, Wilson reported that Foster had surgery on Tuesday, and that he will remain hospitalized for the next three or four days.
Colts head coach Jim Caldwell said:
The surgery went well. He's going to be there for probably three or four days or so, then he's going to come on back. From what we understand, it went as scheduled and as planned and we're praying for a speedy recovery for him.
Colts owner Jim Irsay tweeted that he plans on bringing Foster back to Indianapolis on his private plane when he is released from the hospital.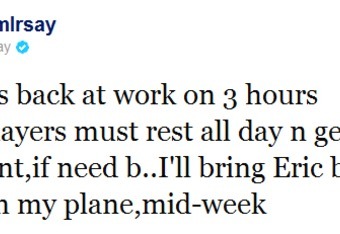 When's He Ready to Return?
According to a report from the Associated Press, the Colts are expecting Foster to miss the rest of the season.
Roster Implications
The Colts were already thin at defensive tackle before Foster got hurt, and they are perilously thin at the position now. They were forced to use two defensive ends as defensive tackles by the end of the game, and one assumes they don't want to do that again. Expect them to try and find some healthy bodies this week.
What They're Saying
Despite the fact they were clearly shaken up by his injury, Foster did his best to rally his teammates as he was being carted off the field. He was shown pounding his chest and screaming at them, clearly in an effort to pump them up.
Nevertheless, ABC News published an interesting article today about how injuries can take a toll not just on the injured player, but his teammates as well.
"When you're a band of brothers on a team, when one hurts, they all hurt," says Dr. William Parham, a sports psychologist in Irvine, California. "They'll definitely feel that missing link."