2011 ALDS Game 4 Live Blog: New York Yankees vs. Detroit Tigers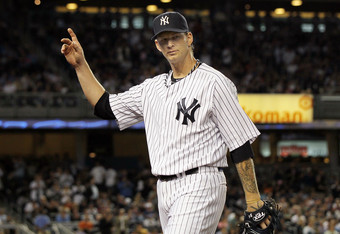 Jim McIsaac/Getty Images
Update Score: Yankees 10, Tigers 1
Good evening baseball fans!
Elimination game time for the Yankees in what will likely be forever known as "The A.J. Burnett Game" regardless of the outcome.
The Texas Rangers beat the Tampa Bay Rays earlier this afternoon to secure their second consecutive berth into the ALCS. Last year they beat the Yankees to advance to the World Series. Tonight will determine if there is still a possibility for a rematch.
A.J. Burnett vs. Rick Porcello. Game 4 ALDS. Live Blog. Drama. Heartbreak or Redemption. Let's do this.
Chat Topic for tonight: Who do you want the NY Giants or NY Jets to take in the 2012 draft? Leave your choice in the comment section below!
Leon Halip/Getty Images
Final Thoughts
The New York Yankees took care of business in Game 4 tonight, defeating the Tigers 10-1.
A.J. Burnett turned in what will likely be considered the second most clutch performance of his career by pitching 5 2/3 innings, allowing only one run.
The bats finally came alive as the Yankees put together 13 total hits on the night, including two hits each from Russell Martin, Brett Gardner, Jesus Montero and Alex Rodriguez.
MVP of this game has to go to AJ Burnett. He had the weight of the world on his shoulders and if he had pitched a bad game his career might not have ever recovered.
LVP goes to Ramon Santiago who was 0-4 with a double play while only seeing 10 pitches.
Game 5 is slated for Thursday evening in New York with rookie Ivan Nova battling Doug Fister.
I'll be there behind home plate and hope to see you guys there as well.
Boone Logan strikes out the side and the Yankees live another day!
Game 5 is Thursday in Yankee Stadium!
I'll be back with final thoughts in a few minutes.
Strikeout! One out to go for Game 5 in the Bronx!
Victor Martinez strikes out and we're two outs away from Game 5.
Tomasso Derosa/Getty Images
I just got goosebumps over that Sparky Anderson/Ernie Harwell thing. That's really awesome.
6-4-3 Double Play to end the inning. Here we go, bottom of the ninth!
I'm excited that - barring an epic comeback - this game will end before midnight.
Whew. I need sleep!
The Jesus with another base hit.
One on and one out.
Christopher Pasatieri/Getty Images
Former Cincinnati Redleg Chris Dickerson grounds out.
I always thought he was a really cool guy. Mediocre player, but cool guy.
Three outs and we're heading to the ninth! Three outs to go until Game 5.
Who's excited?
Fly out for the second out. Four outs until Game 5.
Santiago strikes out. Five outs until Game 5.
Tex drills one to right, but it's caught and the inning is over.
10-1 Yankees. Six outs to go until Game 5.
Join me at the game for Game 5. Stub Hub still has tickets in the $70 range. These will be plus $100 tomorrow....probably.
http://www.stubhub.com/new-york-yankees-playoff-tickets/
A-Rod with his second hit in the inning. Two on, two out and Tex at the plate.
Gregory Shamus/Getty Images
Yet another clutch hit by Robby Cano. 10-1 ball game.
8 RBI for Cano in the four games so far. He stepped up.
Wild Pitch with Granderson at the plate scores another run. 8-1 Yankees.
This one is turning ugly for Detroit.
Gregory Shamus/Getty Images
Jeter strikes out on ball in the dirt. Mixed game for him, but he did come up with a huge hit earlier in the game so that's an improvement at least.
Just bought my Game 5 ticket from Stub Hub. I'll be way up behind home plate, but that's okay by me. Can't wait to see my first Postseason Game!
I didn't have too many chances when I lived in Cincinnati.
7-1 Yankees! Single by Gardner keeps the bases loaded.
Ball four to Russell Martin and the Tigers are self destructing.
Bases loaded, nobody out.
Single by Montero makes it 6-1! Clutch hit!
Runners on the corners and still nobody out.
Al Alburquerque balks in a run!
Yankees take a 5-1 lead and runners at 2nd and 3rd.
3-1 count on The Jesus.
Nick Laham/Getty Images
Swisher with a single and the bases are juiced with nobody out.
Hip Hip Jorge due up and Girardi is going to pinch hit with The Jesus.
Tickets up to $64 for Game 5 now. They will be over $100 tomorrow, guaranteed.
http://www.stubhub.com/new-york-yankees-playoff-tickets/
@Stephen - Definitely! The good news is that the weather forecast for Thursday's game is 66 and sunny. Hopefully the Yanks can get a game in without any weather problems.
Tex gets himself on base and we have two runners on base with nobody out.
Great time for some insurance runs here.
Nick Swisher at the plate.
Alex Rodriguez with a base hit, that of course comes with nobody on and nobody out.
This article is
What is the duplicate article?
Why is this article offensive?
Where is this article plagiarized from?
Why is this article poorly edited?

New York Yankees: Like this team?