Minnesota Vikings: Why Percy Harvin Needs to Be More Involved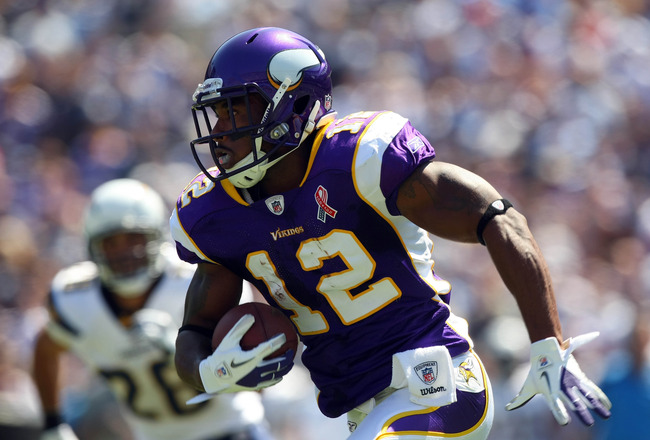 Donald Miralle/Getty Images
Let's dispense with the pleasantries shall we? The Vikings are 0-4, and the team absolutely needs to get Percy Harvin more involved in the offense if they are to even think about turning this season around.
I don't want to hear about how great Adrian Peterson is, because he is only one man, and I don't care much for the stellar play of the defense if they are on the field too much anyway.
Percy Harvin was supposed to be "more involved" this year, but we have yet to see it, and there are more reasons than the aforementioned as to why he should be more involved. But for that, you'll have to read further.
Player Shelf Life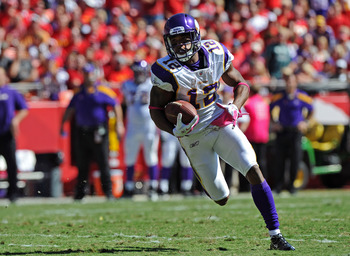 Peter Aiken/Getty Images
There are plenty of other players on this team to use on certain returns, Minnesota—get Harvin out of there!
Harvin has already dealt with a few bouts with injury, particularly those migraines, and having him in the return game in any capacity just begs for something bad to happen.
Don't talk to me about how the Vikings "are giving themselves the best chance with Harvin in the the return game," because the minute he goes down, you not only lose a return man with huge potential, but also your primary receiver in the sporadically used three-wide sets.
There's just too much liability mounting here, and the Vikings are pressing the issue each week.
Offensive Diversity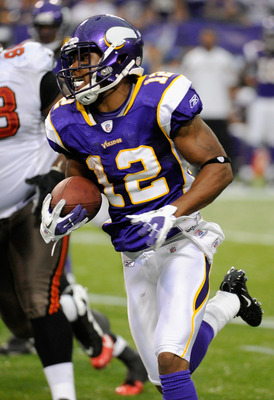 Hannah Foslien/Getty Images
I get the whole "run the offense through Adrian Peterson, then counter with double tight end set" thing, but it isn't working.
There was a team last year that also tried their best to run through their elite running back first, and didn't do so hot in the Tennessee Titans.
Why? Because you cannot feature a running back exclusively for 16 games, and not expect opposing defense to bring seven or eight guys to the line, that's why!
Teams are already showing that they are not afraid to bring an extra defender against Peterson, whether it is at the second level, or even in the box, and it is showing weekly.
Conversely, the Vikings have actually shown success running the three-wide sets, which does feature Harvin a bit more.
So let's delve into the strategy behind that three-wide set, shall we?
The Three-Wide Set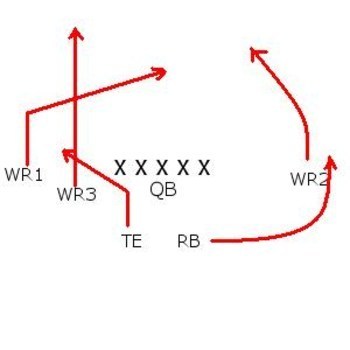 The three-wide set is one of the most versatile offensive attacks in the NFL.
It can expose the gaps within zone coverage, exploit man-to-man weaknesses, and provide a quick-release solution for the quarterback if his main options are removed from the equation.
Percy Harvin would mainly play in the slot position, shown as "WR3" above.
This would allow Harvin a plethora of options, from the shown stretch route, to a simple drag route, to even the always effective post-pattern over the middle.
This set needs to be utilized more with Harvin included, due to his knowledge of the offense, speed, stellar hands and ability to run after the catch.
And even if Harvin is covered or focused on, inevitably one of the other receiving options are bound to be open, whether it be a back on the flats for five, or an outside receiver that isn't taken as serious as Harvin for 15 or more.
But Harvin himself isn't just the issue here either.
Harvin Makes Those Around Him Better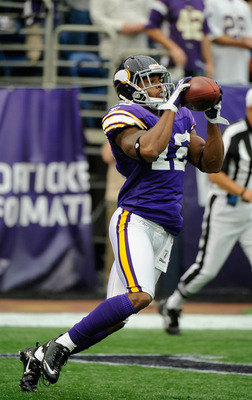 Hannah Foslien/Getty Images
Percy Harvin is a player that commands respect on the field, and teams make sure that he is accounted for.
But the Vikings are in possession of a few receivers who aren't perceived as much of an offensive threat as Harvin, such as Devin Aromashodu and Michael Jenkins.
What's important here isn't whether or not teams view these other players as significant; rather, the fact that they put so much emphasis on Harvin that his fellow teammates tend to benefit form his presence on the field.
Quick! You're a DC! Who are you going to focus your rolling coverage on: Percy Harvin, or Chicago Bears cast-off Devin Aromashodu?
You only get to choose one!
Of course you are going to focus on Harvin, but that also means that the underestimated Aromashodu is likely to burn you good for six, which is my whole point.
Get Harvin on the field more consistently, and the other players occupying the field suddenly become more valuable.
Final Thoughts: Admit the Mistakes and Move on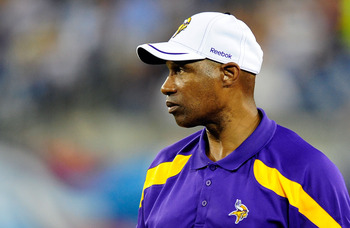 Grant Halverson/Getty Images
Running the offense through Adrian Peterson isn't as effective as perhaps the coaching staff thought it was going to be, but last week in particular, we all saw what can happen if Dovovan McNabb is able to throw on first down rather than hand off.
The double-tight end sets are not an offensive set that should be exclusively used when the opposing defense knows they can in fact bring an extra man in the box, nullifying the element of surprise that set is supposed to bring. But when the Vikings go to three wide and use Harvin, they almost always have success.
The point is, the staff has to admit that their initial strategy isn't working and simply move on to the elements that have brought success.
Percy Harvin is one of those elements.
If the coaching staff continues to roll with the current roster members they have been featuring, it's going to very difficult to win each week, let alone, garner a win from the more elite teams of the league.
The moral of the sotry is, Percy Harvin MUST be more involved in this offense if the Vikings are to effectively, and successfully, move forward from this point on.
Keep Reading

Minnesota Vikings: Like this team?