ESPN the Magazine Body Issue: Photo Spread Will Expand Hope Solo's Marketability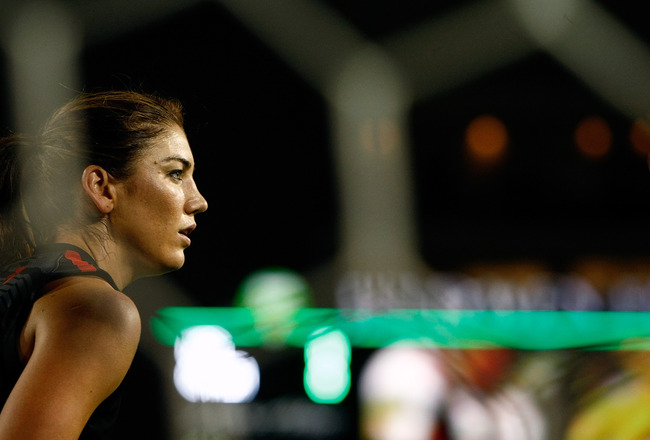 Jonathan Ferrey/Getty Images
ESPN The Magazine fourth installment of the annual "The Body" issue features 20 athletes in their photo spread, with the headlining athlete being USA women's soccer goalie Hope Solo. She is on the cover of the annual issue following such athletes as Serena Williams, Carl Edwards and Amare Stoudemire to just name a few.
It is just another notch on the Hope Solo marketing bedpost. Since the end of the 2011 Women's World Cup, she has been on a public relations whirlwind.
From appearing in video game commercials, making talk show guest stops, to being one of the contestants on ABC's Dancing With the Stars, Solo has been in high demand and finding ways to meet every single media request while continuing her starting role as the starting goalie on the US women's team.
This nude photo opportunity for Solo is just the tip of the marketing iceberg for the soccer star. It's her way of using her sexuality to gain more attention towards her Women's National Team.
In "The Body" issue, both male and female athletes show off their chiseled physiques while covering up their private parts. It's like a tasteful version of the adult magazine Playboy.
In previous issues of "The Body" such female featured athletes have gone onto increasing their popularity long after the release of the issue.
Back in 2009, cover athletes Serna Williams, of tennis fame and Gina Carano, of mixed martial arts fame used their posing in the magazine to help launch careers outside of their spots.
For Williams, she was already an international superstar because of her performance in tennis. She was a fashion trendsetter on the tennis court and had a legion of female fans, but it was because of her posing in the magazine that helped gain the attention that ESPN needed to help sell the issue to advertisers and consumers.
For Carano, posing in the '09 issue launched a career outside of the Octagon. Now Carano has a future in movies, as she is staring in a featured film coming out this year called Haywire.
Who knows where this ESPN "The Body" issue will lead Hope. Could she have an even bigger career after this magazine and Dancing With the Stars?
You could bet that she will as she has proven since the World Cup that she is able to find new ways to attract fans to herself and to women's soccer.
It will be interesting to see what her next move will be.
This article is
What is the duplicate article?
Why is this article offensive?
Where is this article plagiarized from?
Why is this article poorly edited?