NFL Week 5 Power Rankings: Division Rivals Clash at the Top
October 4, 2011
Matt Ludtke/Getty Images
Week 4 is in the books which means the NFL regular season is 25 percent complete. The Colts are 0-4 and the Lions are 4-0. Whaaaaaat? The 49ers, Redskins, Bills, and Titans are all 3-1. The Cowboys, Steelers, Falcons and Jets are all 2-2, and the self-proclaimed 'dream team' from Philly is 1-3.
But the madness doesn't end there. The NFL is turning into the NBA; everyone makes a comeback! The Bills have rallied from 18 and 21 in back-to-back weeks, only to be outdone by the Lions who have overcome second half deficits of 20 and 24 in back-to-back weeks. The Bengals, 49ers, Giants and Falcons have all made fourth quarter comebacks of double digits as well.
But wait, there's more! Week 1 had more total passing yards than any week in NFL history prior to the 2011 season. So did Week 2. So did Week 3. And yes, so did Week 4. That's right, each of the first four weeks of the 2011 season had more total passing yards than any week in NFL history prior to the 2011 season.
And while we're talking about records, how can we forget the Sunday Night game between the Jets and Ravens, which featured five return touchdowns, the most in a single game in league history (four defensive scores, one special teams return). And oh yeah, Aaron Rodgers became the first quarterback ever to have four passing touchdowns and two rushing touchdowns in the same game. What a week it was, and what a month it has been so far.
Here is a shout-out to the Houston Texans, who finally got a monkey off their back: Winning against a top-tier team, and doing so in dominant fashion. They only won by seven, but their defense was absolutely awesome, and they would have had two defensive touchdowns had they not been called back for silly penalties.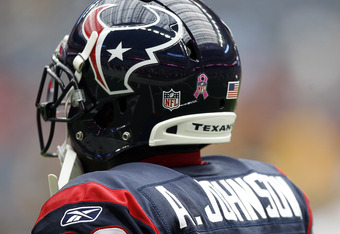 Bob Levey/Getty Images
I think I've said enough, so without any further rambling from me, here are the Week 5 Power Rankings.
Teams' previous ranking in parenthesis.
1. Green Bay Packers (1): I guess Jermichael Finley wasn't kidding when he said their offense should score every time they have the ball.
2. Detroit Lions (5): Three total points in their last two games in the first half. Fifty-seven points in their last two games in the second half (and overtime). Not to mention they handed Dallas their biggest single-game collapse in terms of scoring, in franchise history. Thanksgiving Day against the Packers can't come soon enough for this rivalry.
3. New Orleans Saints (3): Break-out game for Jimmy Graham. Yeah, because Drew Brees didn't have enough weapons as it was.
4. New England Patriots (4): It wasn't the spectacular Tom Brady we're used to, but it also wasn't the four-pick Brady we saw last week. The Pats get back on track as the favorite in the AFC.
5. Baltimore Ravens (6): To quote the great Benjamin Franklin, "But in this world, nothing can be said to be certain, except death, takes and a dominant Ravens defense." OK, I added that last part myself, but you know it's true.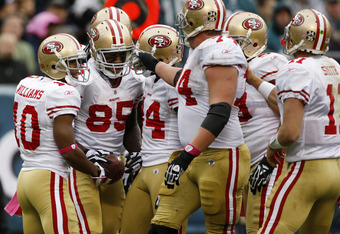 Rich Schultz/Getty Images
6. Buffalo Bills (2): Apparently the Bills only know how to come back from a big lead, not how to hold one.
7. Houston Texans (9): They play in a weak division. True. They are an improved football team. Also true. Andre Johnson will miss time with an injury. Unfortunately true.
8. New York Giants (10): The Giants should petition the NFL to let them play all their home games in Arizona. We'd be in for a "did that just happen" moment every week.
9. San Diego Chargers (11): Antonio Gates' health is the most important thing in San Diego right now. They can win the division without him, but the playoffs are another story.
10. Tampa Bay Buccaneers (12): Last year Tampa was 1-6 against winning teams, with the only win coming in Week 17 against a Saints team that had nothing to play for. Through four weeks this year their three wins are against teams with an overall record of 2-10. I have them in the top 10, but I just can't take them seriously until they prove they can beat elite teams.
11. Pittsburgh Steelers (7): According to James Harrison, "We stink right now." That pretty much says it all.
12. San Francisco 49ers (17): Don't look now, but the 49ers are a 48-yard field goal away from being 4-0.
13. Washington Redskins (16): In the last three years, the Redskins are the only team in the NFC East to not win the division. I can't believe I'm saying this, but they might just do it this year.
14. Tennessee Titans (20): The Titans have pretty much come from nowhere to challenge the Texans in the division. They could hang around awhile if Chris Johnson continues to return to form.
15. New York Jets (8): After allowing 34 points in each of the last two games (both on the road), the Jets get to travel to Foxborough to take on Brady and Co.
16. Chicago Bears (19): You can be sure the next time Chicago sees Cam Newton will be too soon. They somehow pulled out a victory. Props to Devin Hester, officially the greatest punt returner in the history of the NFL.
17. Atlanta Falcons (18): Outscored 21-6 in the second half against Seattle and have allowed 28 or more points in three of their four games. Their offense can be explosive, but it may not be enough to overcome their defensive woes.
18. Oakland Raiders (14): Believe it or not I think this team could actually be a legitimate playoff threat—if they had a quarterback.
19. Dallas Cowboys (15): Why is Tony Romo getting so much blame? He single-handedly won them both of their games. And yes, he may have single-handedly lost both as well, but let's put a little more blame on the defense and the offensive play calling please.
20. Philadelphia Eagles (13): Philly has allowed 84 points in their last three games, and subsequently have lost all three. With road games at Buffalo and Washington coming up before the bye, the Eagles had better get going or they will find themselves in a 1-5 hole.
21. Cincinnati Bengals (29): The Bengals move up eight spots with their impressive win over Buffalo. They are still a couple years away but Andy Dalton is one of the bright young quarterbacks of the future.
22. Cleveland Browns (21): If Cleveland could play a winless team every week, they'd be pretty damn good. Unfortunately they can't and may be at the bottom of the rankings before the season is over.
23. Jacksonville Jaguars (22): The Jags play hard, and Blaine Gabbert showed promise against the Saints. They must get a win against the Bengals this week or it could be over a month until they have a chance at another win.
24. Seattle Seahawks (23): Tarvaris Jackson showed why the Seahawks wanted to bring him in. He must show some consistency if he wants to be a starter in this league beyond this season.
25. Arizona Cardinals (24): Three consecutive tough losses. It won't get any easier this week as they head to Minnesota to play a winless Viking team that is sure to be angry.
26. Carolina Panthers (26): Newton to Steve Smith looks to be an excellent connection. Call me crazy but I can see this team winning six or more games this season. I expect them to contend for a playoff spot next year.
27. Kansas City Chiefs (32): Fantasy owners everywhere hope that Week 4 was a sign of things to come for Dwayne Bowe.
28. Denver Broncos (30): Overall their defense had been playing pretty well this season. Giving up 42 points to the Packers offense shouldn't hinder their confidence.
29. Indianapolis Colts (27): Barring some type of injury, the Colts should stick with Curtis Painter the rest of the season. He showed a little bit of promise on Monday Night. If however the Colts want Andrew Luck, they should start Kerry Collins.
30. St. Louis Rams (28): The bad news is they are 0-4. The worse news is they face Green Bay, Dallas and New Orleans after their bye. The good news is, all six divisional games are still left and that could get them back in the race.
31. Minnesota Vikings (25): They just can't hold a lead. I expect a monster game from Adrian Peterson against the Cardinals this week. He won't let them lose their fifth straight.
32. Miami Dolphins (31): I think Miami might be in the cellar for a while. I would not be surprised in the least if they don't win more than two games this year.