Love for Lambeau: Green Bay Packer Fans Recall Titletown Firsts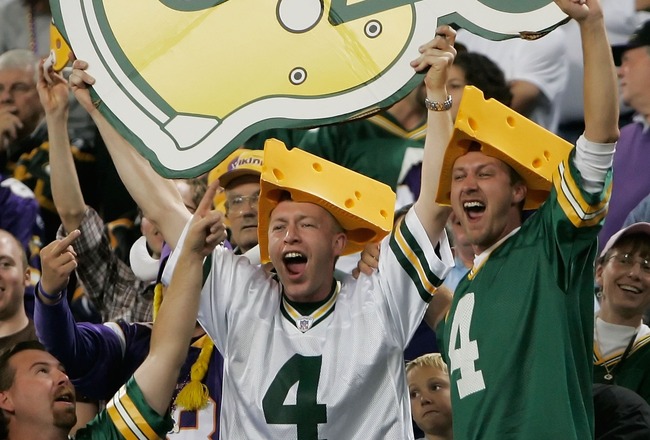 Jeff Gross/Getty Images
This last week I had one story on my mind that I really wanted to do: I wanted to talk to my local Wisconsin football fans.
The day of last week's Wisconsin Badger/Nebraska game, I walked around the Madison State Capital and talked to football fans. After that, I was off to Green Bay for the Bronco game in Week 4. For everyone that I talked to, I only had one question:
"Tell me about your first trip to Lambeau."
Sense of Family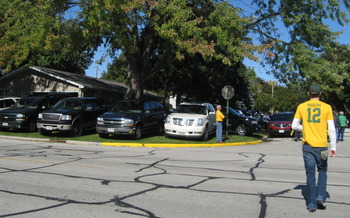 Photo Brooke McGee
As soon as you set your foot onto Titletown turf, you know that things are different here, and I don't mean because of the vibrations from the hundreds of thousands of screaming, jumping, pounding fans you feel under your sole.
One of the intensely unique things about Lambeau Field is the location of the stadium.
The photo above is roughly two blocks south of the stadium. That's right, Lambeau is located in a subdivision neighborhood. The sense of family and closeness is so strong here that you can't fully describe it until you see it. Neighbors let cars park in their front lawns for a few lousy bucks, and even others let you or your children use their bathroom.
No wonder magic happens here.
Common Threads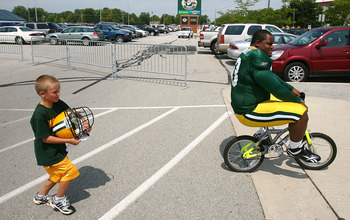 Jonathan Daniel/Getty Images
There were a lot of similarities in the stories that I gathered, connecting strings that tied this close community of people together. Despite the different quarterbacks, Aaron Rodgers or Brett Favre, and no matter who was the head coach, Mike McCarthy, Curly Lambeau or Bart Starr, many of the memories I was shown had an air of familiarity.
The first similarity was the age that the first visit happened. It seems for the masses that the age of six to eight years old was the most common. The other repeating trend was the one who took them, usually a well respected father figure or grandfather.
The memories that I had shared with me were easily retrievable, a valuable item placed right near the top of a chest. Those memories are seared into their hearts and minds like salt is permeated into the ocean currents.
My First Game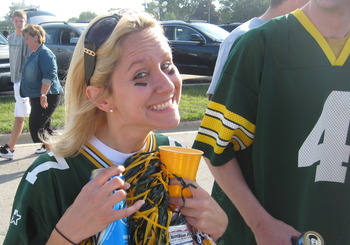 Photo Brooke McGee (My first game)
That cheese head is me. I went to my first game two years ago during preseason. To say that I was excited is an understatement. I'm pretty sure I was a hyper mess despite the fact that I was sleep deprived and beyond exhausted. I can only remember that because of knowing the events of the day prior, I don't actually remember being tired that day; just that in reality, I know I was.
I only knew one of the individuals who was in my group, but the sense of intimacy that was felt between all-those-who-so-enter-here puts a unique sense of closeness within all of you. Like most others, I don't remember at all who they played. I have pictures that I can look at to check, but honestly (unless it's the Chicago Bears), I wouldn't have cared less.
Most couldn't recall whether or not the Packers won during that first imprinting trip; that fact really wasn't as important as merely being there.
Memories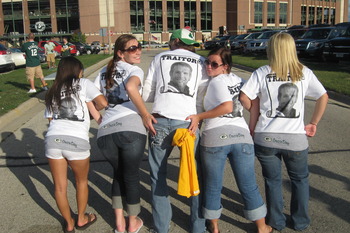 photo Brooke McGee
Mark out of Madison recalled, with his head tilted and a smile, the first time that his father took him to Green Bay as a boy of eight.
"I felt insignificant," Mark said. "Everything was bigger than me."
When I asked him to elaborate, he explained to me the feeling of being pale in comparison to the bigger picture that was going on, the magnitude that was Lambeau Field. I know that sense of reverential awe. Many of us do.
"I remember being so excited to see Willie Wood," he added. "He was an under-reported safety. He did good every game."
Under-reported or not, Wood is now a Green Bay Packer Hall of Famer, so his legend, like Lambeau, lives on.
Tim, another resident of Madison, acknowledged that he was too young at the time to fully appreciate what this legendary location truly meant.
"I was only three or four then," Tim said. "I remember thinking, wow, this is really big."
Tailgaters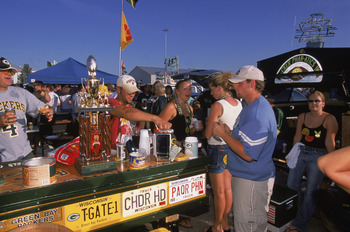 Jonathan Daniel/Getty Images
Tailgating in Green Bay is taken to a level that some sports teams probably could not comprehend.
Tents are rented, generators are purchased. Bars are set up and big screen plasma TVs are hung for all to gather around.
And the food...oh, the food. Simmering, sizzling, marinated menus of decadent football amazingness is prepared on the blacktop outside the main gates.
One group of tailgaters in particular was so saturated with happiness that I could feel their energy when I walked past them. It took me two seconds to turn around and talk to them, and within two minutes, I was at the top of a fan pyramid they were building.
Yes, this is Lambeau. (Insert large, contented smile.)
I was told, with enthusiasm, that they were "Upper Peninsula u-pers," out of Michigan. This was important, I was encouraged. Don't forget that!
Travis' first game was at the age of six or seven, escorted by his enthusiastic grandfather along with his six additional cousins. (What a great grandpa.)
"We were raised Packer fans before we could talk," Travis said. "When I first walked up to that stadium, I felt like I was living in a dream."
Nick, on the other hand, was 27 for his first get-go, not too many years back. Fortunately, he was not a child because the trip was not ideal by any means, but the reward of Lambeau was worth it all.
"We stayed at a ghetto hotel with blood on the curtains and a cockroach on the pillow. It was not a mint," Nick said. Despite this, there was laughter in his voice and a joke reflecting out of his eye.
Travis, above, had been the lucky buddy along with him, sharing a very different first time experience that they now compared as friends.
Josh remembered things slightly differently, however.
"I remember thinking it was a lot smaller than I had thought it would be walking in."
Locals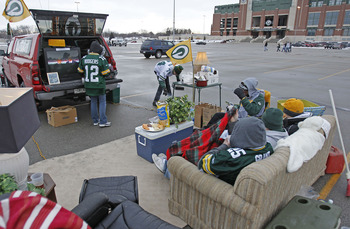 Matt Ludtke/Getty Images
Zach was taken for his first magical experience by his grandfather as well, again, as a child of roughly six. The experience must have resonated well in his mind because, despite wearing a Broncos jersey that day, he lived just four blocks away in the neighborhood that Lambeau is nestled in.
"I'm always down here," Zach said. "I love it."
I'm sad to report that I lost the note pad which held the names and information of a group of two men who talked with me for quite awhile at the Stadium Bar during and after the game. One was here for his first experience and was having what he said was an amazing time.
How could you not? The smell of charcoal from tailgating was in the air, mixing with the slight smell of sweat from a sports bar filled to capacity with Packer fans and the feel of the air, buzzing with the hum of cheers and excitement. I think they put something in the water there, I swear...
The Packers finished the game out by winning 49-23. The entire town celebrated before, during and afterwards. It was a great day to be a Packer fan and a great day for those who held this moment as their own personal first.
Thanks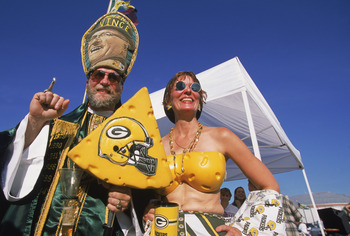 Jonathan Daniel/Getty Images
I wanted to say thank you to all of those who took time out of their celebrations and stepped aside from their friends to speak with me for a moment, and also to the film crew who let me use their camera.
There were countless amazing individuals whom I spoke with to capture this story. Although I may not be able to recall all of the names, and by the end of my trip, the location of one note pad, I remember the energy, the electricity in the air and the way that my one question brought a smile to the face and eyes of everyone that I was able to ask it to.
The memory of Lambeau ended up being a definition of a feeling, an internal caress of the youthful soul paired with flashing impressions of scent, sound and image.
The details that ended up surrounding the memory were by far the least important, with the statistics that usually comprise our sports articles unimportantly lacking.
Keep Reading

Green Bay Packers: Like this team?