College Football Predictions Week 6: News and Analysis for Saturday's Games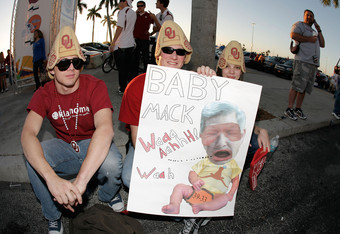 Will Texas coach Mack Brown be crying after Saturday's battle with Oklahoma?
Doug Benc/Getty Images
As we now head into the thick of college football conference play, there are still a ton of questions we need answered.
With 13 undefeated teams still left in the polls, we've got to put on our best detective hats and start separating the true contenders from the many frauds.
Right now, it's the Big 3—LSU, Alabama and Oklahoma—who are dominating the headlines, but there are still plenty of other teams in the national title mix.
Don't overlook Wisconsin, Oklahoma State, Boise State, Stanford, Clemson or even Oregon.
We've still got a lot of sorting out to do and there are still plenty of big games, pitting top-ranked teams against each other.
Oklahoma State-Oklahoma, Stanford-Oregon and LSU-Alabama all have the chance to be spectacular showcase games unlike anything we've seen in college football in years.
This race has a chance to be historic.
The gauntlet is set.
People who complain about the lack of a playoff system in college football don't realize that the regular season is the playoffs in a sense.
It's pure survival.
Could we still use a plus-one title game?
Sure, but let's enjoy the action we have now.
The second half of the 2011 season is shaping up to be monstrous and it all starts this weekend with a few huge games.
Here's a look at some ongoing predictions for Week 6.
Eric Francis/Getty Images
The Huskers went up to Madison to play Wisconsin last week and got worn down and eventually dominated.
Their defense has been lackluster and quarterback Taylor Martinez has not been as explosive running the ball and currently has more interceptions than turnovers.
They need a win against Ohio State not only for the conference race but also for their team's moral.
The Buckeyes simply cannot move the ball on offense, barely averaging over 300 yards per game which is 108th in the country. This is great news for a Nebraska defense with much hype but that has come up short on results.
Ohio State is fresh off a home loss to Michigan State and has two rookie quarterbacks so going to Lincoln will in all-likelihood end in a loss.
The only way this game can turn into a Buckeye win is if Nebraska comes out completely unprepared mentally and physically and turn the ball over a bunch of times.
There is a chance that happens but until Ohio State shows some semblance offense, Nebraska should win this game easily at home.
This article is
What is the duplicate article?
Why is this article offensive?
Where is this article plagiarized from?
Why is this article poorly edited?
Christian Petersen/Getty Images
Following a loss to Arizona State on the road in overtime, many people have forgotten about the Missouri Tigers.
This team had a bunch of returning starters from last year's team that upended then No. 1 Oklahoma.
But now the Tigers are looking to get back in the conversation with a win at Kansas State. The Wildcats are surprisingly 5-0 with a win over a ranked Baylor team as well as a victory of Miami.
Their strength is their defense which is letting up under 300 yards per game on average. Offensively, dual-threat quarterback Collin Klein has taken control of this team and while not the greatest passer in the world, he has burned many teams with his legs.
Missouri's defense has for whatever reason has taken a step back after a promising 2010 campaign but the offense is still high-flying with James Franklin at quarterback and Henry Josey at running back. The Tigers have the eighth best rushing attack in the entire country.
Kansas State was able to beat Baylor by thoroughly dominating the time of possession 38:47 to 21:13. Missouri has one of the best turnover margins in the country and combining that with their potent rushing attack and their experience will likely be the end of Kansas State's undefeated record.
This article is
What is the duplicate article?
Why is this article offensive?
Where is this article plagiarized from?
Why is this article poorly edited?
Ned Dishman/Getty Images
Last week Clemson came to southwest Virginia and put on a show in a 23-3 victory over Virginia Tech. Now the Hokies have to take on Miami and they will be doing it without their starting defensive tackle Antoine Hopkins who tore his ACL.
This is very dangerous because Lamar Miller is one of the best running backs in the entire country. He ran for over 160 yards against Tech last year and is currently averaging 127 yards per game which is eighth in the country.
But outside of defensive tackle, this unit is back to being one of the best in the country and Jacory Harris is still Jacory Harris. The last time he came into Blacksburg, Virginia Tech tore him to shreds and completely took the wind out of his and Miami's sails with a 31-9 victory.
However, the offense is another story. They can put up decent yardage but are one of the worst red zone teams in the entire country with rookie Logan Thomas at quarterback.
An argument could be made either way for this game but it ultimately comes down to who is more mentally prepared and who wants to win this game more. That typically favors the home team.
This article is
What is the duplicate article?
Why is this article offensive?
Where is this article plagiarized from?
Why is this article poorly edited?
Sam Greenwood/Getty Images
After losing their quarterback and then subsequently losing every ounce of their momentum in a rough 38-10 defeat at the hands of No. 2 Alabama last week, the Florida Gators will now have to get themselves prepared for a quick turnaround game against the top team in the country.

Yes, Florida will travel to Baton Rouge to face the SEC's other juggernaut, the LSU Tigers, in what is shaping up to be a lopsided affair.

Because of John Brantley's injury, the Gators will be forced to start inexperienced true freshman quarterback Jeff Driskel against one of the nation's most ferocious defenses.

Driskel is a talented player, but obviously these are not the ideal conditions to make your first collegiate career start in.

If Florida wants to hang around in this game, the Gators are going to need three things to happen.
1. They're going to need their defensive front seven to completely shut down LSU's two-headed rushing attack of Michael Ford and Spencer Ware, as well as getting some heavy pressure on QB Jarrett Lee.

2. The Gators are also going to need for their two star offensive playmakers, Jeff Demps and Chris Rainey, to make a few key explosive plays.

3. Turnovers, turnovers, turnovers!

If those three things happen, Florida might actually have a shot to pull off the upset.
This article is
What is the duplicate article?
Why is this article offensive?
Where is this article plagiarized from?
Why is this article poorly edited?
Jared Wickerham/Getty Images
Here's a look at a few predictions for this weekend's games that feature ranked foes.

No. 1 Oklahoma vs. No. 11 Texas

Texas has rebounded from an embarrassing 5-7 season last year and returned to old form by starting off the year 4-0.

You have to remember, however, that the Longhorns haven't faced a team that in any way resembles Oklahoma.

The Sooners have been steadily plowing their way through mediocre competition to start off the season and they've looked like a dominant offensive machine.

Texas has the defense to slow them down, but the question is, do they have the offense to keep up?
Prediction: Oklahoma 30, Texas 20


No. 17 at No. 1 LSU

So, how awkward is this Jarrett Lee and Jordan Jefferson thing actually going to get?

Well I tell you that it's not going to get awkward enough for Florida to pull off an upset this weekend.

The LSU defense is just too tough and the Tigers won't be kind to QB Jeff Driskel.

Prediction: LSU 47, Florida 10


No. 10 Arkansas at No. 15 Auburn

So I can have a red hot Tyler Wilson and the best receiving corps in the country, or I can have an Auburn secondary that ranks 74th in the country.

Hmmm.

Prediction: Arkansas 39, Auburn 24
This article is
What is the duplicate article?
Why is this article offensive?
Where is this article plagiarized from?
Why is this article poorly edited?
Ronald Martinez/Getty Images
Week 6 of the 2011 college football season offers up a fair share of interesting conference matchups and one of the most intriguing games will be the Red River Rivalry affair between No. 3 Oklahoma and No. 11 Texas.

The two Big 12 powerhouses have trampled mostly weak competition up to this point, and it's hard to get a solid gauge on just how good either of these teams really are.

Oklahoma would seem to have the talent advantage, but Texas is no slouch.

The Longhorns defense is loaded with future pros like linebackers Keenan Robinson and Emmanuel Acho, defensive tackle Kheeston Randall, defensive end Alex Okafor and safety Kenny Vaccaro.

All of them have combined to form the Big 12's top defense.

Plus, Texas also has the luxury of no longer having to deal with Garrett Gilbert running the offense.

The Longhorns are definitely capable of causing Big Game Bob a few headaches this weekend.

Texas may have had a down season last year but this defense has always stayed consistently fierce.

The only problem is, Texas' offense is still light years behind Oklahoma's.

One of these teams is going to get exposed this weekend, we'll just have to wait until Saturday to see who's overrated.
This article is
What is the duplicate article?
Why is this article offensive?
Where is this article plagiarized from?
Why is this article poorly edited?