Jaguars Remain Hopeful as They Prepare for Difficult Gauntlet
October 29, 2014
Mike Ehrmann/Getty Images
Maybe it's a good thing Blaine Gabbert got his indoctrination to the NFL early.
The rookie quarterback needs all the experience to which he can refer, as the Jaguars face the league's top three defenses in the next three weeks. It is a stretch that will ultimately determine the Jaguars season and Jack Del Rio's fate.
For Gabbert, the gauntlet begins this week as Jacksonville hosts the Cincinnati Bengals.
Prior to the season, many in Jacksonville viewed this game as a likely win, facing a team in turmoil that was likely to be starting a rookie quarterback themselves. However, Andy Dalton has played exceptional football in his first four starts, and the Bengals are a surprising 2-2.
You can count me among the many who thought they wouldn't win two games this season.
Cincinnati boasts the NFL's No. 1 defense, having allowed only 275 yards per game. In addition, the Bengals are tied with Tennessee by giving up a league-low 4.4 yards per play.
Following this week's contest against the Bengals, the Jaguars travel to Pittsburgh to take on the Steelers before returning home to hosts the Baltimore Ravens on Monday Night Football.
The Steelers and Ravens are second and third in the league, respectively, in defensive total yardage. Baltimore adds the league's lowest scoring defense, having allowed just 14.4 points per game.
Yet, despite the difficult road ahead, Del Rio confirmed the team's expectations of winning the AFC South in his post-game press conference Sunday. While Del Rio's words seemingly ring hollow, the Jaguars have a chance to rebound if they can find life in a passing game that is last in the NFL.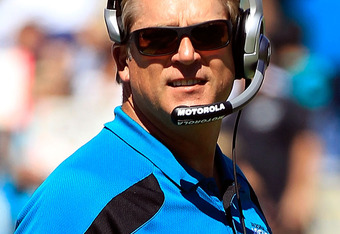 Sam Greenwood/Getty Images
Gabbert promises to face increased pressure over this span, as the Jaguars have failed to threaten anyone offensively. Jacksonville has the league's 31st ranked offense, averaging just 264 yards per game.
While Gabbert has flashed at times, he has largely struggled in his two starts.
Coming off a pedestrian performance in Week 3 that saw him go 12 of 21 in a driving rain storm, Gabbert cooled off against the Saints in Week 4 to finish 16 of 42 with a touchdown and an interception. The Jaguars need more from Gabbert, and they certainly need more from the weapons that surround him.
Yet despite the difficulty ahead, an opportunity remains.
The Jaguars defense has been much improved, and is currently 12th in total yards allowed. If the defense can continue to gel, and Gabbert can spark life into a revamped passing attack to join the running of Maurice Jones-Drew, Jacksonville suddenly will look much more formidable.
With the next three games being followed by a Week 8 match-up against Houston, the Jaguars have a chance, albeit a small one, to catch fire and run their record to 5-3 at their Week 9 bye.
With a softer second half schedule, Jacksonville can merely split the next four games and remain hopeful for football in January. 
Despite what would be a 3-5 overall record, Jacksonville could have a 2-0 division record and likely only trail in the division by two games.
With his primary targets struggling, Gabbert will have to use his athleticism to make plays "off the grid" against defenses that will likely spend most of the afternoon in his back pocket.
The Jaguars desperately need Gabbert to make the next step in his progression, as their only hopes for the season will either die or be kindled to life in the next three weeks.