Yankees' Baseball Season Is in A.J. Burnett's Hands: Can He Come Through?
October 4, 2011
Jim McIsaac/Getty Images
If anyone had told a Yankee fan around mid-August that the entire season would come down to a road game in the first round of the playoffs with A.J. Burnett on the mound, they'd have been met with a pained expression. 
Yet that's exactly where Yankee fans find themselves today. Down 2-1 to the Detroit Tigers, playing on the road, with much-maligned starter A.J. Burnett slated to start tonight against young Tigers pitcher Rick Porcello. 
Should Yankee fans even bother to watch this? Is it a foregone conclusion that this game will cascade into yet another tedious and frustrating outing for Burnett? 
It's worth mentioning that this scenario is not totally unfamiliar to Burnett. Last season it was Game 4 of the American League Championship Series against the Texas Rangers when Burnett got the call. That was not an elimination game, but it was a true momentum shift in the series as the Rangers beat the Yankees 10-3 in the Bronx. 
That 10-3 score suggests that Burnett was exactly the pitcher that Yankee fans have grown to dread in the critical outing last season. The 10-3 score may also add to the sense of dread some Yankee fans may be feeling as tonight's game approaches. 
There are actually a few reasons for Yankee fans to be optimistic tonight, though. First of all, this game is on the road. Generally speaking that's not an advantage, but when your home field is a hitter's paradise like Yankee Stadium is and your primary concern is your starting pitcher, a road game might not be the worst thing in the world. 
In addition, last year's Game 4 loss to the Rangers featured a performance by A.J. Burnett that really was not nearly as bad as the final score would suggest.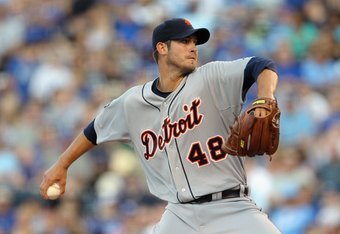 Jamie Squire/Getty Images
Burnett entered the sixth inning of last year's Game 4 winning 3-2. He had worked in and out of a few jams and had the lead. The sixth inning appeared to be headed for a similar circumstance until manager Joe Girardi made a critical error. With a runner on second and two outs, Girardi elected to intentionally walk David Murphy and pitch to Rangers catcher Bengie Molina. Molina, who had a solid track record against Burnett, promptly launched what would prove to be the game-winning three-run home run. Burnett would finish the sixth down 5-3 and not return. The Yankee bullpen would implode and the Rangers would finish with the 10-3 win and go on to win the series in six games.
The important thing to remember about tonight's game is that in an odd twist of fate the pressure has now shifted to Detroit.
The Yankees season could end tonight and they have a suspect starting pitcher on the mound. The Tigers on the other hand have already had one prominent player in closer Jose Valverde declare the series over following Game 2:
It's over already. (Justin) Verlander has it tomorrow. The next day we have the celebration in Detroit. They have a good team, but I think that's it for them.
In addition, Burnett is supposed to lose. A.J. is the most heavily critiqued player on the entire Yankee roster. He's the New York version of John Lackey. He's had a tempestuous relationship with the New York fans and media. There's no way the Tigers could lose at home to a pitcher like A.J. Burnett who has always seemed to not come through when the Yankees needed him to. 
Of course they could. The Tigers could easily lose this game. The Tigers send Rick Porcello to the mound. Porcello is yet another young, highly touted pitcher in the Tigers rotation. He's only 22 years old though. He's facing an experienced and skilled Yankee lineup that is very much due to score some runs. Porcello's Achilles' heel is that he's hittable. His batting average against was .292 this season and he's facing a Yankee team that has plenty of players all to willing to wait for a hittable pitch.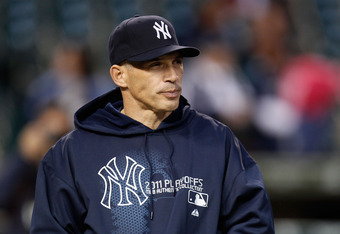 Gregory Shamus/Getty Images
It's not likely that the Yankees launch one of their trademark home run blitzes tonight. Not in the spacious confines of Comerica Park with its expansive outfield. Yet how surprised could we be if the Yanks were able to string together a slew of hits from the likes of Derek Jeter, Curtis Granderson, Robinson Cano, Brent Gardner and crew? Porcello, as I mentioned earlier, is only 22. This is without a question the biggest start of his career. It's his first postseason start and he's got a chance to clinch a playoff series against the New York Yankees in front of the home crowd. He's also got the burden of Jose Valverde's quote hanging on him as well. Should Tiger or Yankee fans be shocked if Porcello ends up wilting a bit under this type of pressure? 
If Burnett loses then Girardi will probably take as much heat if not more than A.J. will. After all, Burnett's supposed to get rocked, right?  That's actually not a bad situation for a guy like Burnett to be in. Can he take advantage of it?