Michael Vick: Philadelphia Eagles' QB Will Never Escape Controversy
October 4, 2011
Rob Carr/Getty Images
Ever since Michael Vick was convicted and sentenced to jail time for the dog fighting ring that happened under his watch, the man has been a lightning rod for controversy.
It doesn't matter what he says or does, people will have a preconceived notion and take anything he says and turn it against him. Fair or not, this is the truth.
With Vick's Eagles starting the season 1-3, the last thing the organization needs is more of the publicity created by the things their $100 million quarterback says.
The latest issue people are having with Vick is that he is backing out of his commitment to host a weekly radio show "Chickie and Pete's Players Lounge" on Monday nights on a local FM Station, 94.1 WIP.
Philadelphia Inquirer beat writer Jeff McClane is reporting on twitter about Vick's status for his radio show on WIP: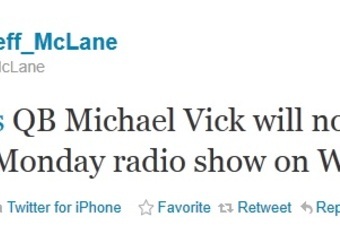 "While this may offend some of the fans in Philadelphia, the vast majority of Eagles fans want their quarterback to concentrate on staying healthy and winning games."
They don't care about a radio show when their "Dream Team" is 1-3.
The truth is that whether Michael Vick pulled out of the show on his own or the Eagles organization respectfully asked him to avoid it like the plague, it's the right move in the big picture.
National columnists like me don't care about local radio shows until the guests say something interesting or provocative that they think no one will hear. In today's media, everyone hears everything.
The only thing Michael Vick should be doing with his time off is studying the tape and trying to figure out a way to put the team on his back and will the Eagles to a few victories.
Check back for more on the NFL world as it comes, and check out Bleacher Report's Football Page to get your fill of the NFL.