Eric Foster Injury: Season-Ending Ankle Surgery Further Dooms Indianapolis Colts
October 4, 2011
Marc Serota/Getty Images
It has been a horrible year for the Indianapolis Colts and their fans. The season was on a downward spiral when Peyton Manning had another neck surgery at the beginning of the season. Now, it's buried six feet underground, and the tombstone is being worked on by the stone mason to read "R.I.P. Indianapolis Colts 2011 Season."  
Last night the Colts' growing roster of injured players continued to add members as Drake Nevis left due to back issues and No. 1 draft pick Anthony Castonzo left in the first quarter with an ankle injury, while his replacement Ben Ijalana left in the third quarter with a knee injury.  
The injury of the night, the injury that everyone is talking about today, is the horrific ankle injury to Eric Foster.  
Those who haven't had a chance to view this injury, don't YouTube it if you have a weak stomach or do not like seeing ankles go backwards.  
The injury was so gruesome to view on television and to the players on the field that teammates of Foster on the Colts and players on the Buccaneers had to fight back tears while watching Foster writhe in pain on the field.  
It's just another reason why this season is over for these Colts. Foster is another starter to have his season ended due to an injury like Manning.  
The Colts are getting better on the field. Curtis Painter is an improvement over Kerry Collins. Last night Painter led not only one touchdown drive, but he had two. That's the first time the Colts had multiple touchdown drives in a game this year.  
The offense is better than some of the other teams in the NFL. They have a star receiver in Reggie Wayne, good options in Joseph Addai and Pierre Garcon and a defense that has put two good games together.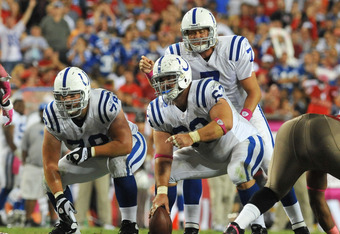 Al Messerschmidt/Getty Images
This Colts team will not go 0-16 and become the second team in NFL history to finish the season winless. However, they do not have enough healthy talent to keep up with Tennessee and Houston, two teams in their division that are off to 3-1 starts.  
The team will finish the year with four wins while having chances to win in those eight remaining losses. It's a shame of what could have been with this team. If healthy they could have been the first team to ever play in a Super Bowl in front of their hometown fans.  
It's a shame that injuries have killed what could have been a special season for a team that has been one of the NFL's elite teams for so long.