How Jeff Ireland, Stephen Ross and Bill Parcells Constructed a Culture of Suck
October 4, 2011
Marc Serota/Getty Images
The Miami Dolphins suck. 
We've all accepted that by now. 
But the question that needs to be answered is: where and how did their demise begin?
After all, this is a franchise just three years removed from an AFC East divisional title and two years removed from a summer shopping spree that bought blue-chip players Brandon Marshall and Karlos Dansby. 
Had the Dolphins followed in a logical trajectory, they would have been Super Bowl contenders by now. 
Instead, they now lie on the brink of utter disarray and total collapse.
And in order to answer the question at hand, we need to look no further than the men who laid the foundation for this team: Stephen Ross, Jeff Ireland and Bill Parcells.
Let's start with Bill Parcells and Jeff Ireland. Because it's impossible to distinguish which personnel moves each are responsible for, it's more fair to group them together. 
The duo arrived together—along with Tony Sparano—in 2008, signaling a new era of hope and invigoration. 
We entrusted our complete faith to Parcells and Ireland, whose first moves were to hand hefty contracts to Ernest Wilford, Justin Smiley and Reggie Torbor. None are still with the team. 
And let's not forget that 2008 Draft, when the duo passed on Matt Ryan for Jake Long, and spent two high second-round draft picks on Phillip Merling and Chad Henne. Both have been huge disappointments. 
But Miami's miraculous 2008 Playoff run overshadowed their early gaffes.
However, things went straight downhill after '08—right around the time Stephen Ross purchased a controlling stake in the team. 
When Ross arrived, he quickly made his presence felt, introducing pointless marketing tactics like the Orange Carpet, Club LIV, and a slew of celebrity owners. He replaced the Dolphins' longstanding and beloved fight song with an abhorrent "Fins Up" jingle, which draws the ire of Dolfans everywhere. 
Ross alienated much of his loyal fan base with this string of changes. Moreover, he stripped the football and tradition-oriented atmosphere out of Sun Life Stadium and replaced it with a party atmosphere, filled with celebrity cameos on the Jumbotron. 
As Ross settled in, Parcells began to usher himself out. 
Perhaps frustrated with Ross' mentality or perhaps prepared to finally step away from the game for good, Parcells began to decrease his responsibilities with the team. But that didn't stop him from sticking around for the 2009 off-season, where he and Ireland whiffed horribly on draft picks Pat White and Patrick Turner, and free agents Jake Grove and Gibril Wilson.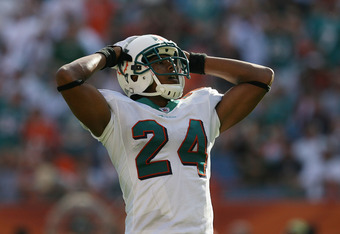 Doug Benc/Getty Images
Even though players like Vontae Davis, Sean Smith and Yeremiah Bell were blossoming into great players, the Dolphins' failure to draft effectively began undermining their success. 
Ross and Ireland tried to mask their personnel mistakes by throwing roughly $100 million at Brandon Marshall and Karlos Dansby during the summer of 2010. Marshall's numbers have declined steeply since his arrival (probably Chad Henne's fault), and Dansby's have as well. 
And then came January 2011 when Stephen Ross so flew out to California in an attempt to woo Jim Harbaugh. All while Tony Sparano was still under contract. 
He embarrassed the organization and, as Omar Kelly of the Sun Sentinel puts it, "created an every-man-for-himself mentality."
And here we are. 
Ross and Ireland are shielded from the media while Tony Sparano gets lambasted for his team's torrential failure.
But is it really Tony Sparano's fault that the Dolphins have literally no depth in their secondary? Is it his fault that the team has failed to acquire a seam-threat tight end for four years? How about a quarterback or a free safety?
Sparano surely shoulders a large chunk of the blame here, but Jeff Ireland should be taking just as much, if not more criticism than his head coach. 
It's safe to assume that Tony Sparano will be fired within the next few weeks, but will Stephen Ross oust Jeff Ireland as well?
In order to cure the Dolphins' depressing woes, the roots of their failure must be ripped out and deposed of. And Jeff Ireland is at the root of all of this team's problems. 
Even if it sets the team back a few years, it's time for a new regime to come in and do things the right way.