8 Best Basketball Movies of All Time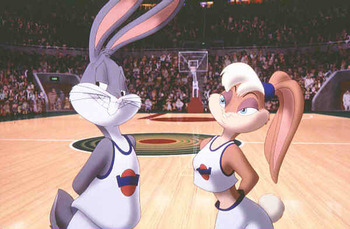 While the sport of basketball is fun to watch, what can be even more fun is a good movie in which the game plays a big role. Given how the lockout is putting the upcoming season in greater and greater jeopardy, I have been turning to many of these films to get my hoops fix.
Let's be honest, folks. How many people here didn't get excited when it was announced that the great Michael Jordan would be starring in a basketball movie with the Looney Tunes? Yeah, I'm talking about the immortal classic known as Space Jam. At the same time, how many of us haven't shed a tear at the inspirational Hoosiers?
That being said, let's take a break from the stats and percentages and look at eight of the greatest basketball movies of all time.
No. 8: Hoop Dreams
Easily one of the best documentaries of all time, Hoop Dreams chronicles the journey of two Chicago high school stars, Arthur Agee and William Gates, on their way from adolescence to high school and up through college as they both look to make their NBA dreams come true. While the two men are the primary focus of the film, it also dives into what an NBA career could mean to them and their families, both of which live in the Cabrini Green housing projects.
While the movie is wonderful and tells an even better story, it tends to drag on at nearly three hours in length. Thus, only watch it if you're prepared to invest that much time. Otherwise, I highly recommend it.
No. 7: Like Mike
For those outraged that I put this over Hoop Dreams, you may start writing the hate mail now. I know that the former film is a classic, but I just really enjoyed Like Mike, a family movie that even adult basketball fans can enjoy.
L'il Bow Wow stars as Calvin Cambridge, a Chicago orphan who one day comes upon a pair of sneakers with the initials "MJ" inside of them. Sure enough, these magic shoes once belonged to His Airness himself and turn him into a star, as in the NBA's first child sensation.
It's a short film that moves pretty quickly, and cameos from NBA greats like Jason Kidd and Dirk Nowitzki make it even all the more worthwhile. Also, a warm performance by Morris Chestnut as Calvin's teammate make this movie solid.
No. 6: Blue Chips
Blue Chips is an interesting move in that it was the first to showcase the darker side of college basketball. I'm talking about the corrupt activity that sometimes goes into recruiting some of the nation's best. In this case, the actions are done by Nick Nolte, who plays the coach of a struggling college basketball team.
Directed by William Friedkin, who made his bones with chillers like The Exorcist and The French Connection, this film chronicles the fictional Western University's rise and subsequent fall from the recruiting violations. Throw in a cameo from Bob Knight and two NBA stars in Shaquille O'Neal and Anfernee "Penny" Hardaway as two of the players paid off to play at the college, and this is a movie definitely worth a watch.
No. 5: Eddie
You know how when people get frustrated at their team's struggles and say that they could do a better job of coaching it to success? Well, Eddie takes that statement and turns it into a drop-dead hilarious movie.
Whoopi Goldberg plays Edwina "Eddie" Franklin, a fanatical Knicks fan who drives limos when she isn't following her team. After winning an "honorary coach" contest, she somehow ends up with the job full-time and is tasked with turning the team around.
As a movie in general, it isn't the best, but I enjoyed it both as a movie lover and a Knicks fan. Plus, the list of actual basketball players who appear as some of the Knicks players is just astounding. Guys like Rick Fox, Mark Jackson, Malik Sealy and a hilarious performance by Dwayne Schintzius make this comedy a must-see.
No. 4: Coach Carter
If you're interested in coaching at any level, this movie is definitely one that you shouldn't miss. The always-amazing Samuel L. Jackson turns in an intensely moving performance as a no-nonsense coach who takes on a group of failing students and tells them that unless they perform well in the classroom, they will not perform on the court.
The movie also takes on issues like gang violence and teen pregnancy, making the players more than just basketball players who need to improve their grades. It makes them human and thanks to a stern yet devoted coach, this movie becomes one so uplifting that it might make you want to become a coach just like Coach Carter, or at least Samuel L. Jackson.
No. 3: Space Jam
The premise of this movie is just ridiculous. Aliens attempt to kidnap the Looney Tunes and bring them back to their planet to work as slaves, so Bugs Bunny challenges them to a basketball game under the terms that if the aliens win, the Tunes will go quietly. Unfortunately, in the live action mixed with cartoon equivalent of taking steroids, the aliens steal the talents of five NBA stars (in this case: Patrick Ewing, Charles Barkley, Larry Johnson, Muggsy Bogues and Shawn Bradley) and go from puny little pipsqueaks to the "Mon-stars."
Thus, Bugs Bunny and friends take the ultimate step and bring in Michael Jordan to help them win. What follows is absolute hilarity. It's not an amazing movie by any means, but any basketball fan who grew up in the '90s will tell you that Space Jam is one that can be watched over and over again. Hell, it's practically my go-to movie when I'm stuck in bed with the flu.
If you're looking for laughs or just want to feel like a kid again, check this one out!
No. 2: Hoosiers
While it is considered one of the greatest sports films of all time, Hoosiers is also vastly underrated. Gene Hackman stars as a now-blackballed college coach who comes to a small town in Indiana to take over the local high school team. In a rare warm performance from someone we're used to seeing be so intense and gritty, Hackman makes us believe in a team that, by today's standards, would be horribly undersized and thus expected to be destroyed in any tournament.
Instead, the film tells us that the final score doesn't matter. As long as one gives their best game and makes an effort from the jump ball up until the final buzzer, they're a winner. Hackman uses this approach in the film and inspires not just a team, but a community.
If you need a movie to fire you up or to just pick you up after a rough day, then Hoosiers could be the one.
No. 1: He Got Game
I picked He Got Game as the top basketball film for a couple of reasons. First, it is directed by who I believe is the ultimate basketball fan, Spike Lee. Second, it gives a very realistic look into the life of a high school recruit.
Denzel Washington plays Jake Shuttlesworth, a convict who is promised a shorter sentence if he can convince his high school star son, played by future Hall of Famer Ray Allen, to commit to a certain university. What follows are all of the decisions some recruits may make in picking a school, along with the factors of playing time and how NBA-ready they could be so that their families could receive better lives. On top of that, it truly dives into a father-son relationship that revolves around basketball and that was instantly snuffed out because of one fateful night.
Cameos by college coaches like Roy Williams, Lute Olsen and John Thompson, Jr. add to the life of this movie, as they make recruiting pitches directly to the camera, though it is never revealed to whom. If you love basketball and the behind-the-scenes aspect of it, this is a movie that should not be missed.
Keep Reading