Hawaii Football: Warriors Feeling Good About Themselves Heading into Bye Week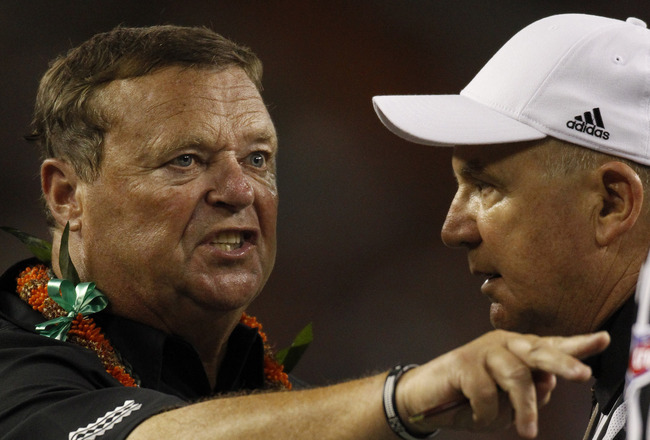 Hawaii head coach Greg McMackin and an official talk things over during a recent game.
Kent Nishimura/Getty Images
Honolulu, HI—University of Hawaii head football coach Greg McMackin was in a noticeably upbeat mood on Monday morning before beginning his weekly press conference. Two days after his team beat Louisiana Tech in their own stadium, McMackin bounced around a small conference room exchanging handshakes and game stories for 10 minutes before sitting down to answer questions.
And who can blame him? After an up-and-down first four weeks to start the season, it appears that McMackin's team is starting to even out after its Week 5 44-26 win in its Western Athletic Conference opener. And they're on the right side of the ledger.
A mere two weeks after the "most disappointing loss" in his coaching career, the Warriors have proven the Nevada-Las Vegas debacle to be the exception, not the norm. And with the meat of its WAC schedule laying straight ahead after their only bye week of the season, it seems logical to expect more of the same out of the 3-2 Warriors.
"I think we're at a good point right now," McMackin said. "We had to make plays and there were some really outstanding plays...The play of (quarterback Bryant Moniz) was unbelievable, I mean he saved us so many times.
"We've got a young football team, but they're all together and we've got great leadership. How about (linebacker) Corey Paredes: hurting his knee and going back in and playing. He's just like (former Warrior) Jeff Ulbrich, he's just as tough...and guys see that, guys see that."
After five weeks, Moniz has completed 64.6 percent of his passes for 1,578 yards and 15 touchdowns. His 315.6 yards-per-game average is steadily increasing towards the 360 yards per game he averaged last season when he led the nation in passing. Meanwhile, Paredes leads the team with 36 tackles and is the anchor of a Hawaii defense that ranks second in the nation with 19 quarterback sacks and third in the nation with 213 interception return yards.
"This bye week is perfect timing because we have to do a couple of things," McMackin said. "Obviously, we've had way too many kicks blocked, and we have really got to get deep into that and get the right people in there...We've got to get that corrected.
"That's the good thing about having a bye week, is we can really look into that. And I've got complete confidence in (special teams coordinator) Dick (Tomey), and I know it will be straightened out."
Hawaii's special teams have had a total of six field goal and point-after attempts blocked or missed.
When asked if he was concerned about maintaining momentum through the bye week, McMackin said, "We're playing for the championship, so every game's really important. So we're not going to take a lot of time off. Some guys give 'em the whole week off and we're not going to do that."
McMackin gave his team Monday off. They will resume practicing today, then take two more days off on Saturday and Sunday.
Next week, Hawaii will depart for San Jose State on Wednesday in preparation for its nationally-televised ESPN matchup against the Spartans on Friday. Kickoff is set for 3:00 p.m. HST.
Royce Pollard
Senior wide receiver Royce Pollard had his second straight game with three touchdown receptions against Louisiana Tech, matching a career high. His 10 catches for 216 yards were both career bests, yet Pollard was unable to garner WAC offensive Player of the Week honors, losing out to New Mexico State quarterback Matt Christian.
"That's one of the best receiver efforts that we've had," McMackin said. "And we've had great receivers around here. That catch he made when he was double-covered and he just went up and got the ball, that was tough. He makes plays, and he made a lot of them. He's my player of the week, I'll tell you that."
This article is
What is the duplicate article?
Why is this article offensive?
Where is this article plagiarized from?
Why is this article poorly edited?