Sergio Martinez: Is His Game As Marvelous As His Looks?
October 4, 2011
Al Bello/Getty Images
This past weekend, Sergio "Maravilla" Martinez finished off Darren Barker with a late round hook to the ear. For a normal fighter, a KO would be considered a successful night against any opponent.
Martinez' performance, however, left many of us in the boxing world unsatisfied. His near flawless bouts against Sergei Dzinzurik and Paul Williams have set too high a standard for Maravilla to finish like an average champion.  We expected Marvelous. What we got from Martinez was above average and a little boring.
In all fairness, high caliber athletes are allowed to have off nights. Kobe Bryant doesn't go for 35 every game.
But in Saturday's fight—as Martinez danced around the ring hands down, covered in his own blood—it's hard not to wonder if Barker was exposing his flaws as a fighter.
Would more experienced orthodox fighters like Miguel Cotto or Floyd Mayweather have done more damage to Martinez and maybe even have won the fight?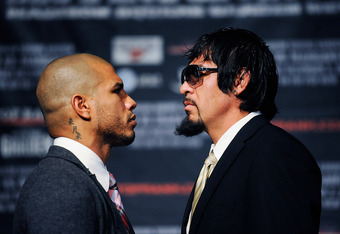 Patrick McDermott/Getty Images
Does Martinez have what it takes to move up to 168 where the big dogs eat?
Does he belong in the same sentence with Pacquiao and Mayweather at the top of the Pound-4-Pound rankings?
In my opinion, I think Martinez has no other option but to pack on a few pounds and move up to 168 super middleweight division.
He's too talented for the rest of the middleweight division—Andy Lee included—and much too big to make a good fight with Manny Pacquiao.
After this weekend's fight, I think Miguel Cotto and Floyd Mayweather could take Martinez, but both of those are fights that Lou DiBella and Maravilla will never see.
Personally, I would love to see a Martinez/Andre Ward showdown. I think its a few fights off in the future—for Martinez' sake especially—but I am confident it would be a great fight.
Until then, let's hope Sergio can get some of the Maravilla swag back.