10 NBA Rookies Not Named Irving or Williams Who Will Produce Immediately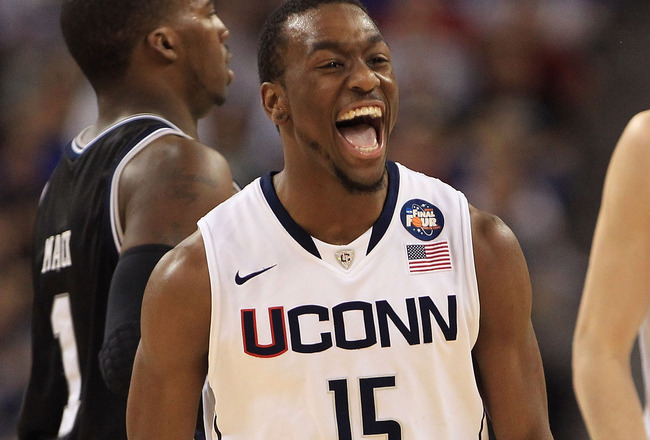 Streeter Lecka/Getty Images
Kyrie Irving and Derrick Williams will produce right away; the Cleveland Cavaliers and Minnesota Timberwolves do not really have any other options but to give the top two picks in the draft significant minutes.
Throughout the rest of the draft, some players will have the ability but not the opportunity. Others will have the opportunity but not the ability. Here are 10 first-round picks in a perfect situation that will produce right away this season.
Enes Kanter: Utah Jazz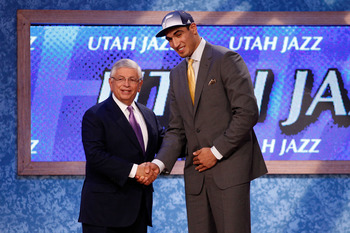 Mike Stobe/Getty Images
Enes Kanter had arguably the most impressive workout of any player in the draft. The seven-footer displayed explosive athleticism and a smooth jump shot while becoming a YouTube sensation.
The Turkish would-be Kentucky product scored 34 points and had 13 rebounds in the last game we saw him play on American soil, at the Nike Hoops Summit.
His 34 points broke the All-Star game's record previously held by another little-known European prospect, Dirk Nowitzki.
Right off the bat, Kanter will form a three-headed monster with Al Jefferson and Paul Millsap, but it will not be long until he has a starting job all to himself.
Jan Vesely: Washington Wizards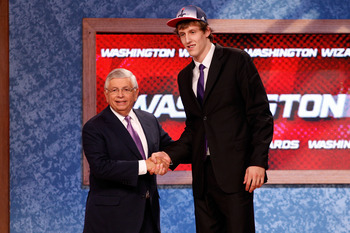 Mike Stobe/Getty Images
Featuring John Wall, the Washington Wizards already had one of the most athletic and exciting rosters in the game. Enter the Dunking Ninja.
Vesely, dubbed the European Blake Griffin, will be an automatic alley-oop partner for Wall as he adjusts the rest of his game to the NBA. His potential at power forward allows the Wizards to finally trade Andray Blatche before it is too late.
Kemba Walker: Charlotte Bobcats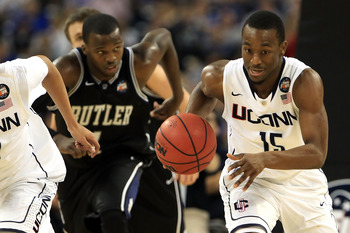 Streeter Lecka/Getty Images
Kemba Walker was the most clutch player in college basketball and now goes to work for the most clutch player in NBA historyMichael Jordan.
It is obvious why Jordan traded for the ninth pick in the draft. With Walker's winning game and assassin's competitiveness, Jordan saw a lot of himself in the guard from UCONN. At the least, Walker will be the third guard on the roster and primary scorer off the bench. He will have a chance to take the starting point guard job from D.J. Augustin.
Jimmer Fredette: Sacramento Kings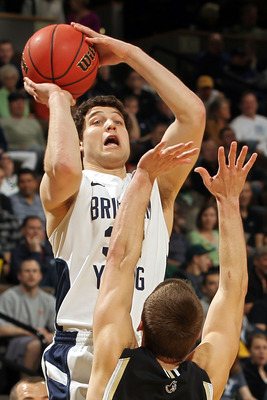 Doug Pensinger/Getty Images
The Sacramento Kings' point guard duo of Beno Udrih and Pooh Jeter are not scaring anyone. At worst, Jimmer Fredette will split time with Udrih at point guard. With his legendary range, Fredette will likely see minutes at shooting guard as well.
The Kings are young and playing in a deep conference. It likely will not belong before we know whether or not Fredette's game translates to the NBA.
Klay Thompson: Golden State Warriors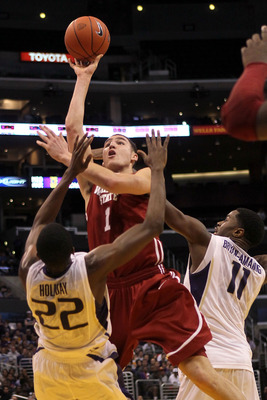 Stephen Dunn/Getty Images
Klay Thompson was one of the smoothest shooters in the draft and will be an immediate threat from three-point land. Enter the free-shooting Golden State Warriors.
New head coach Mark Jackson if vowing to instill more accountability than simply putting the biscuit in the basket. Still, Thompson should fit in as a scorer off the bench and will likely get a few starts sprinkled in.
Markieff Morris: Phoenix Suns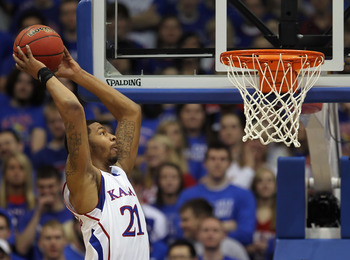 Jamie Squire/Getty Images
With the 13th pick in the draft, the Phoenix Suns had their choice of Markieff or twin brother Marcus. Marcus was generally accepted as the slightly better prospect, but Markieff was known as the tougher of the two and a better rebounder.
The Suns need toughness and knew their prospects were better off with Markieff. The power forward from Kansas will likely do no worse than a time-share with Channing Frye and could step right in as the team's leading rebounder.
Kawhi Leonard: San Antonio Spurs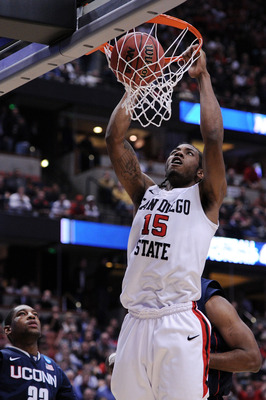 Harry How/Getty Images
The San Antonio Spurs are long in the tooth and short on athleticism. Enter Kawhi Leonard, arguably the most explosive athlete in the draft.
Richard Jefferson was never a good fit at small forward for this team, and the athleticism he was supposed to provide is in steep decline. Leonard will likely see minutes as a defender and athlete off the bench as he learns Greg Popovich's system.
Chris Singleton: Washington Wizards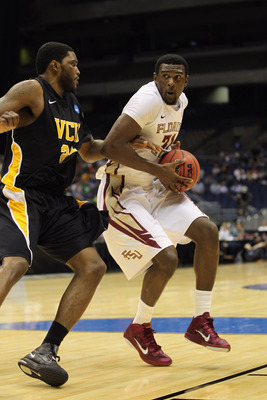 Jamie Squire/Getty Images
Ok, you can say it: I like the Wizards' picks. Coming into the NBA draft, I thought they needed two things—an athletic big and a perimeter defender. With Chris Singleton, they got the man generally accepted as the draft's best defender.
For now, he can be an offense-defense switch with Rashard Lewis at small forward. If the team is able to move Lewis (amnesty clause???), Singleton could step in as the defensive stopper and athletic fifth option on offense.
Nolan Smith: Portland Trail Blazers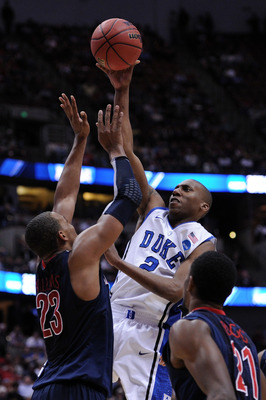 Harry How/Getty Images
What the Portland Trail Blazers need most is a new Brandon Roy. Smith probably does not have that much ability, but he can do a lot of the things Roy did for this team.
Smith does not have Roy's natural 2-guard size, but they have a similar pedigree. Both were heady four-year players with complete games and their senior-season stats are eerily similar. Smith can compensate for his size with his athleticism, will be a good passer, defender and even better teammate.
Kenneth Faried: Denver Nuggets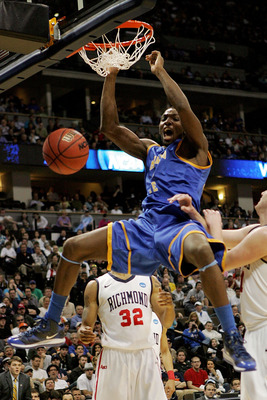 Justin Edmonds/Getty Images
The Denver Nuggets are likely ready to say goodbye to long-time power forward Kenyon Martin and will need to offer big bucks to keep center Nene Hilario. Toughness and rebounding will be at a premium for your 2012 Denver Nuggets.
Welcome to the NBA Kenneth Faried. The Morehead State product is the all-time NCAA leader in rebounds and averaged an incredible 14.5 to go with 2.3 blocks per game as a senior. His offense will leave something to be desired, but Faried's tenacity on the glass will find a role right away.
Keep Reading