LA Angels: Who from 25-Man Roster Will Stay and Who Will Go?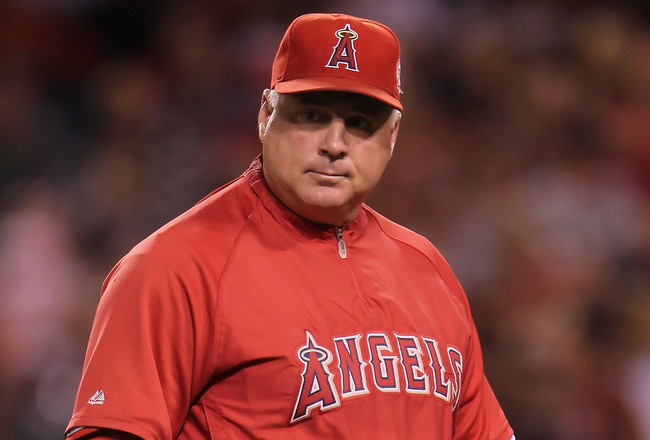 Jeff Gross/Getty Images
The Tony Reagins project officially coming to a halting end signaled an offseason for the Angels that could propel them into success or, clearly, into peril.
Overachieving at 86-76 this season, the Angels cannot feel content or comfortable.
In the Arte Moreno era, the team and its fanbase have grown accustomed to winning ballgames, winning five division titles in the last 11 years, as well as a World Series title in 2002.
A blend of a dominant farm system, a wealthy and dynamic fanbase and an owner willing to spend the big money to lock down top-notch free agents has changed the culture in Anaheim.
This is not the team that consistently lost 90-plus games in the '90s, including epic performances like the one in 1995, when the Angels blew a 10-game lead in the second half to the Seattle Mariners.
What was once a joke of a ballclub best known for a semi-star in Wally Joyner and the mullet of Chuck Finley is now a team with the ability to draw players like Vladimir Guerrero.
With Reagins out of the picture, the team will be looking to manager Mike Scioscia to land a splash or deliver a trade that'll clear up the indiscretions of past GM Reagins.
Vernon Wells, Outfielder: Staying Put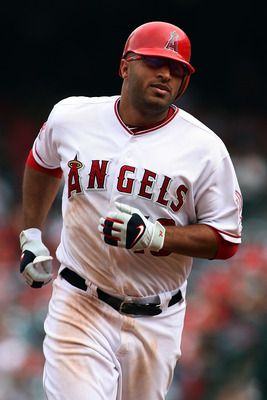 Jeff Golden/Getty Images
Baseball is filled with critics of grandeur and a fickle fandom. For Tony Reagins, this is more than true.
A guy attributed with creating Kendrys Morales, the extension of Jered Weaver and the signing of Torii Hunter is now unemployed due to a failed attempt with Wells.
It is genuinely hard to fathom the $63 million owed to a 33-year-old player who hit .218 with 25 home runs and 66 RBI this season.
Unfortunately for the Angels, it will be nearly impossible to move his contract unless the team picks up a large chunk of his salary, which seems highly unlikely.
Torii Hunter, Outfielder: Going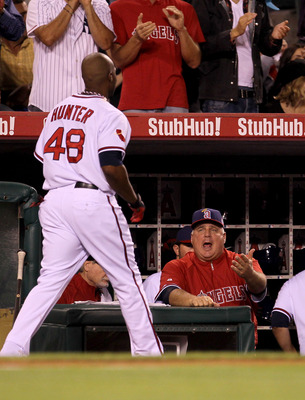 Stephen Dunn/Getty Images
Don't be fooled by Hunter's torrid September.
Despite this, he had one of the worst seasons in his career, losing speed and his ability to hit in the clutch.
Yet for a player of Hunter's caliber, he is still better than half of the starting outfielders in baseball. Even at 36, he has the clubhouse leadership and enough of a bat to fill holes in other lineups.
Teams like the A's and Giants could be interested if the Angels picked up part of the $18 million owed the veteran next season. This would clear up cap space to lock up another bat.
I could see the club using Hunter as a piece to deal for middle relief.
Alberto Callaspo, Third Baseman: Going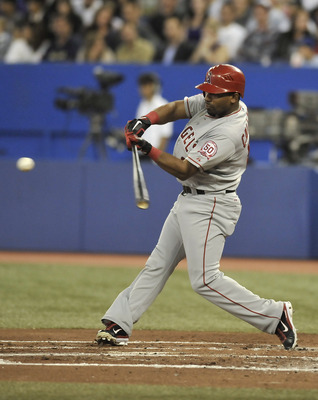 Brad White/Getty Images
Out with the old, in with the new.
If there was anything worse this season than James Loney at first base for the LA Dodgers, it was the weak-hitting third-base duo of Maicer Izturis and Alberto Callaspo.
It is not a matter of disrespect to acknowledge Callaspo is best suited for a utility role off the bench.
Callaspo was a sure hand at third and hit for a high average, .288.
However, his six home runs and 46 RBI prove the man is better suited for work in a Sears tux than he is Gucci or Prada.
Erick Aybar, Shortstop: Staying Put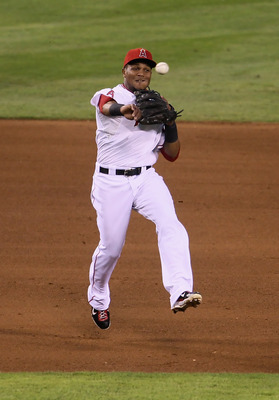 Jeff Gross/Getty Images
When the Angels offered Erick Aybar to the New York Mets at the All-Star break in exchange for reigning National League batting title winner Jose Reyes, the Mets scoffed, and so did Angels fans.
But why?
Why pay an enormous price tag to further drown ourselves in bloated contracts with players who underperform?
As much as I like Reyes, I do not think he is the right fit in Anaheim. We have plenty of speedy game-changing players like him with an ability to hit above average.
Keeping Aybar around makes sense on every level.
This season, the 27-year-old Dominican proved he can hold his own as the team's leadoff hitter, batting .279 with 30 stolen bases.
No, his numbers aren't as sexy as the Mets star's, but he is cheap, and unlike Reyes he is able to stay healthy for an entire season.
With the return of Morales and the hopeful signing of a big bat, cheap will be better than sexy—which is the main reason the team picks up his arbitration this offseason.
Joel Pineiro, Starting Pitcher: Going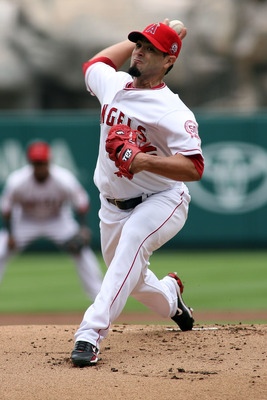 Jeff Golden/Getty Images
Why would we lock up a player any further who performed as such: 7-7, 5.13 ERA?
Point being, Pineiro has never fit in with the club. As great as he looked as a fourth or fifth starter, the 33-year-old has averaged close to 10 hits allowed per nine innings since joining the club.
The $8 million for the veteran could be used to eat up nearly half of Hunter's contract in order to move him elsewhere in exchange for relief pitching.
Done.
Howie Kendrick, Second Baseman: ?
Steve Ruark/Getty Images
It depends how much of a contract change a player of Kendrick's caliber is granted over arbitration this offseason.
The one-time All-Star, who's hit a solid .292 in six seasons with the club, has become a fan favorite and a lock in the early part of the lineup.
An injury-plagued past and a streaky, unmotivated and aloof approach at the plate have staved off what could be consistent .310-plus seasons with 20-plus home runs.
I vote the Angels lock him up if he is granted an upper-mid-level contract.
If granted more, the team fares well with Izturis and goes out and gets a third baseman.
If this is the case, Howie could be playing elsewhere next season and, like Mike Napoli, making the team pay for letting him go.
What do you think?
Kendrys Morales, First Baseman: Staying Put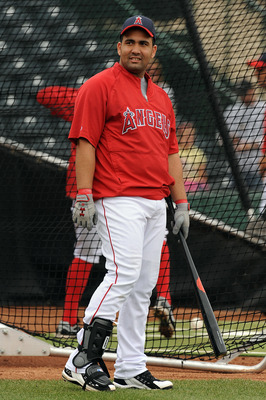 Norm Hall/Getty Images
Yeah, so what if the team has partially moved on with names like Hank Conger, Mark Trumbo and Mike Trout? Kendrys is and always will be the "prodigy," the sweet-swinging lefty with an ability to hit with smarts and with power.
It was just two years ago when the kid proved his worth, batting .306 with 34 home runs and 108 RBI.
So what's the issue? The issue is the guy has played in only 53 games the last two years and has battled a gamut of injuries.
Yet for the Angels, this could be a blessing in disguise.
Last February, Kendrys signed with longtime snide snark Scott Boras, who has the integrity of Swiss cheese.
Had Kendrys blown up this season and placed his name among the top five first basemen in baseball, the breakout year for Mark Trumbo would not have occurred, and Kendrys would be talking to larger market teams to the tune of $200-plus million.
Now, the Angels can act divinely, giving the kid another shot with a fair contract and allowing him time to work in the minors and get back to form before reinserting him into the lineup as a DH.
If the Angels can nab a big-market bat like Aramis Ramirez to play third, the team then will boast a stunning three-four-five of Morales, Ramirez and Trumbo, with speedy bats like Peter Bourjos, Aybar and Izturis or Kendrick at the top of the order and a six-seven-eight at the bottom with Trout, Wells and Conger.
Can you say WOW?
Kendrys stays. Bring on the fireworks.
Bobby Abreu, Outfielder: Going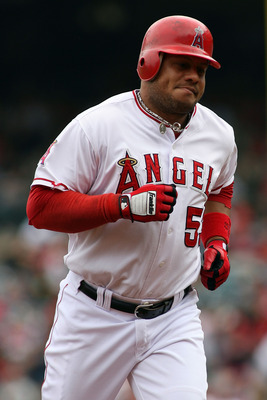 Jeff Golden/Getty Images
Despite an option to pick up Abreu's contract, the class act and quiet future Hall of Famer, two-time All-Star and clubhouse leader has played his last days in Anaheim.
Abreu has clearly lost a step both offensively and defensively, struggling this season with an average of .253, eight home runs and 21 stolen bases.
With the club desiring to play Bourjos and Trout every day, the team has lost a roster spot for the longtime 20/20 guy.
I expect to see him play out a one-year deal elsewhere, much like Hideki Matsui did in Oakland, showing the league he still has enough in the tank to nearly start every day.
We will see.
Keep Reading

Los Angeles Angels: Like this team?