MLB Trade Speculation: One Player Each Team Will Try To Deal This Offseason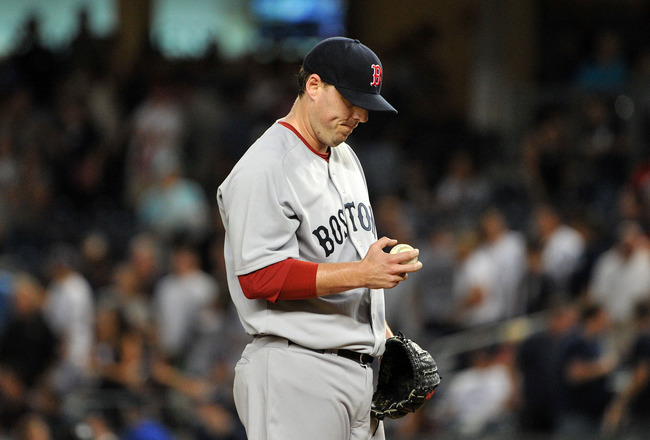 Christopher Pasatieri/Getty Images
One of the hardest jobs for an MLB front office is to unload talent. Knowing that a team is bogged down with contracts that they don't necessarily want or need, and figuring out what to do with those contracts, is a pivotal function of the front office that sometimes makes the difference between good and great organizations.
This year, each team has at least one such player that the team would love to move during the offseason. While there are merits to in-season trading, there are perhaps more merits to offseason trading because there is no risk of a player's stock increasing or decreasing.
With that in mind, let's take a look at one player that each team would love to trade during this coming offseason.
Arizona Diamondbacks: Chris Young, Outfielder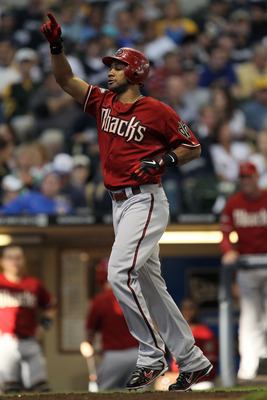 Jonathan Daniel/Getty Images
Arizona's talented young outfielder is going to get expensive very soon, with his salary set to be $7.2 million next year. He could be a great acquisition for teams looking for a rangy outfielder with great tools. While the Diamondbacks don't have any sure-fire trade chips, Young's hefty salary in coming years could lead to his trade.
Atlanta Braves: Derek Lowe, SP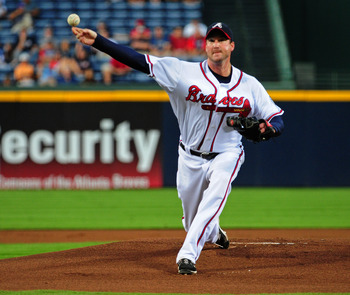 Scott Cunningham/Getty Images
The aging and increasingly ineffective Lowe still does have some value, especially to pitching-starved teams. He will come with a hefty price tag of $15 million for what could amount to a one-year rental, but interested teams may be able to sign him to a cheaper extension.
Atlanta is trying to create room in its rotation for younger starters, and Lowe may be a logical choice to be traded.
Baltimore Orioles: Adam Jones, Outfielder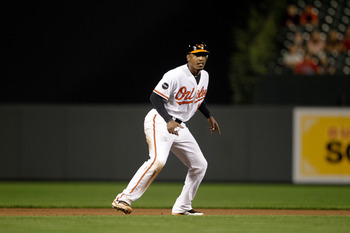 Rob Carr/Getty Images
A common threat so far is a high market demand for athletic outfielders. That is becoming the most in-demand position in baseball, with names such as B.J. Upton rumored to move in the past few months.
With Jones eligible for arbitration, the Orioles may look to move him before the center fielder gets expensive and while they can still get a great return for him.
Boston Red Sox: John Lackey, SP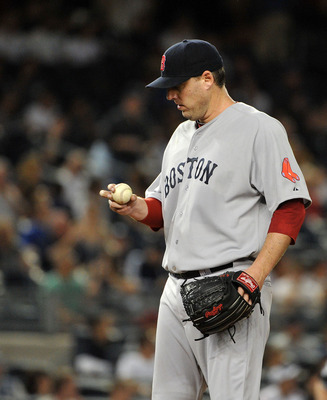 Christopher Pasatieri/Getty Images
It's no secret that Lackey's reputation is not very high. A temperamental starter with inconsistent performance may not seem attractive on an open market, especially considering this starter comes with a price tag of over $15 million. But Boston appears to have already soured on Lackey, and may look to move him to a team willing to eat his large salary and ego.
Chicago Cubs: Ryan Dempster, SP
Denis Poroy/Getty Images
Much like the other starting pitchers on this list, Dempster's high salary and low relative performance make him an attractive trade chip if you are the Cubs. Of course, the trick will be getting any sort of significant return for Dempster, whose performance the last few years has been anything but encouraging.
Set to be a free agent after next year, Dempster could be an arm for a team that won't have to trade much in return.
Chicago White Sox: Alexis Rios, Outfielder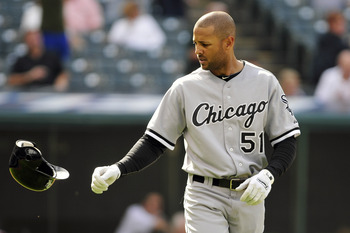 Jason Miller/Getty Images
To say that the White Sox got a raw deal on this one is a bit of an understatement. Rios, one of two White Sox big-money hitters who flopped this season, is owed a lot of money, especially over the next three seasons.
The rebuilding White Sox will probably try to deal Rios for some prospects and give a trade partner an outfielder with a lot of tools. The question is whether Rios will ever use those tools again.
Cincinnati Reds: Scott Rolen, 3B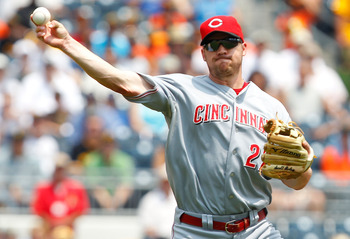 Jared Wickerham/Getty Images
The veteran third baseman still has a lot left in the tank, and could be a valuable asset to any team. With the Reds trying to clear space for their prospects, Rolen's $8.7 million salary could be moved relatively easily because of the value that Rolen adds. He is a veteran with a great bat and can still play a mean third base.
In return, the Reds could get any assortment of players, preferably minor league pitchers.
Cleveland Indians: Grady Sizemore, Outfielder
Jason Miller/Getty Images
Cleveland's oft-injured but still talented Sizemore is going into the final year of his contract. Rather than let him play out a year in Cleveland, it might be wise for the Tribe to deal Sizemore, who can be had at the right price.
If Cleveland's brass can convince a partner that Sizemore's dynamic ability is still there, the return could be surprising. Either way, he is too much of a risk for the Indians to lock up long-term.
Colorado Rockies: Ty Wigginton, Infielder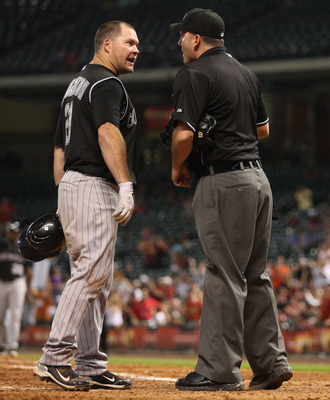 Eric Christian Smith/Getty Images
The journeyman infielder may not be a star in any sense, but he provides one thing that many teams place a premium on—utility. Wigginton can play third or first base, and sometimes even second, and has a decent bat. Colorado may look to move him, perhaps picking up a reliever in return.
Wigginton is owed $4 million next year, a respectable salary most teams would be willing to take on.
Detroit Tigers: Ryan Raburn, Outfielder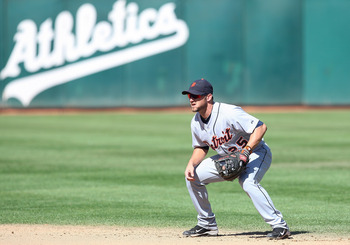 Tony Medina/Getty Images
Conveniently, an equally versatile player to Wigginton, Ryan Raburn, is also a very good trade chip for the Tigers. While Detroit has not found much of an everyday use for him, Raburn can play almost any position on the field and happens to be very good with the glove.
With a decent bat, Raburn could provide a lot of at-bats at a lot of positions for whoever would want to give him more playing time.
Florida Marlins: Leo Nunez, RHP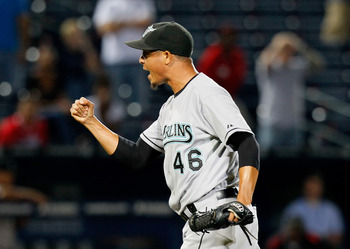 Kevin C. Cox/Getty Images
Leo Nunez (or is it Juan Oviedo?) has been an excellent closer for the Marlins thus far. But it appears that the young righty might be a little more trouble than he is worth, especially considering he will undergo arbitration this offseason and could get very expensive.
Nunez is a great closer, obviously a very coveted player by many teams. If the Marlins can make him someone else's problem for the right price, it would be worth it.
Houston Astros: Brett Myers, SP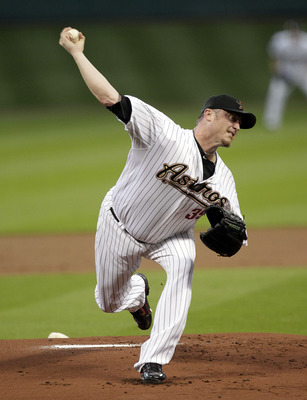 Bob Levey/Getty Images
Going along with the theme of expensive pitchers that could be moved, Houston will undoubtedly try and trade Myers, a solid and durable righty. He is no Justin Verlander, but Myers could fill a void in almost any rotation.
A top-of-the-rotation guy in Houston, Myers is probably more of a back-end starter in most other rotations. However, Houston wants to shed his contract and get some prospects, so look for Myers to be traded.
Kansas City Royals: Joakim Soria, Closer
Jason Miller/Getty Images
It is no secret that the Royals have been looking for a taker for their closer, Joakim Soria. The longer they wait, the more expensive Soria is likely to become for them and the less a potential return could be.
The good move would be to deal Soria now, when his stock is high, and get a few young arms in return. Kansas City has a very bright future. This move would help them move towards that future.
Los Angeles Angels: Peter Bourjos, Outfielder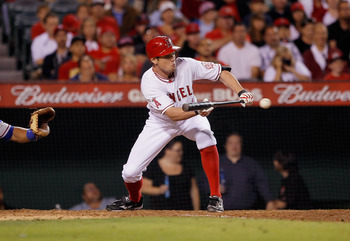 Jeff Gross/Getty Images
Surprised? Maybe you should be.
Bourjos is a very talented player, but the fact that he is the only thing standing between Mike Trout and an everyday spot in the lineup makes him an attractive player to trade. Because of his speed, defense and ability to get on base, Bourjos is an extremely valuable player, and would likely net the Angels some good talent, whether current- or future-oriented.
Whoever the new GM is should consider dealing Bourjos.
Los Angeles Dodgers: Scott Elbert, LHP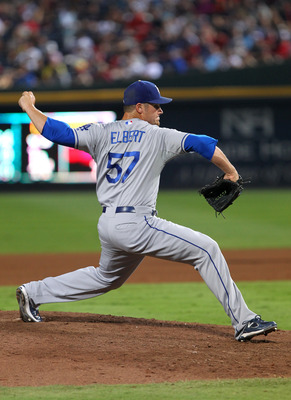 Joe Murphy/Getty Images
As fellow FC Jim Mancari noted, Elbert could be an interesting and underrated trade chip for the Dodgers simply because quality lefty relievers are such a sparse commodity. Elbert's 2011 season was a coming-out party, and while his stock is high, the Dodgers could unload him to a team that needs bullpen help to get some prospects and start the massive rebuilding process that L.A. is sure to undergo.
Milwaukee Brewers: George Kottaras, Catcher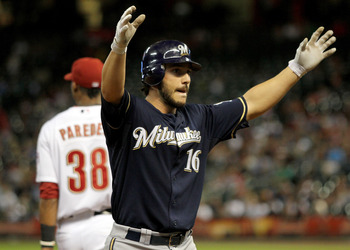 Thomas B. Shea/Getty Images
It seems that Jonathan LuCroy has a stranglehold on the catcher position in Milwaukee, making Kottaras an attractive trade chip for the Brew Crew. If the Brewers do lose Prince Fielder, the team will still probably not go into total rebuild mode. Because of this, trading Kottaras could net the team a good backup corner infielder to provide some depth for a team that, without Fielder, would still be very good.
Minnesota Twins: Denard Span, Outfielder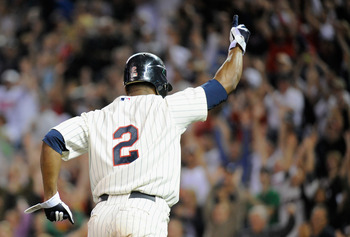 Hannah Foslien/Getty Images
With some great outfield talent in the Minnesota farm system, Denard Span is becoming expendable for the Twins. Because of the team's awful 2011 campaign, Span is more likely to be traded because of what is sure to be an extensive effort by the team to return to its contender form many of us are used to.
Part of this process will be trading Span for prospects. He will go to a team that needs a good, speedy outfielder, and whoever provides the best prospect return.
New York Mets: Jason Bay, Outfielder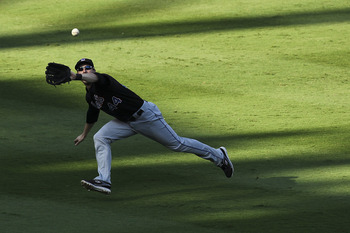 Daniel Shirey/Getty Images
While Bay's contract may be among the worst in the history of free agency, the Mets outfielder is not a complete dud. He can still provide some value to many teams in the mold of a J.D. Drew. The $18 million salary is unattractive, but the Mets may be willing to eat some of that depending on the return.
The Mets hit a home run by acquiring Zack Wheeler for Carlos Beltran. Now, they face a bigger challenge in getting a good return for the inconsistent outfielder Jason Bay.
New York Yankees: A.J. Burnett, Pitcher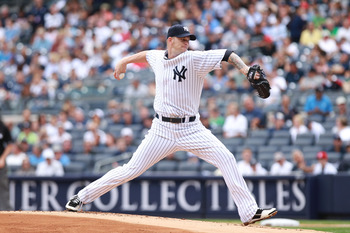 Nick Laham/Getty Images
With two years remaining on a five-year, $82.5 million contract that hasn't come close to being fulfilled, A.J. Burnett will probably stay in New York just because no team will ever want to on-board a petulant pitcher who has a five-plus ERA in the last two seasons.
However, if Burnett blows tonight's Game 4 performance, will the Yankees be willing to swallow most of his salary and trade him away to any taker as soon as possible? It's not implausible.
Oakland Athletics: Kurt Suzuki, C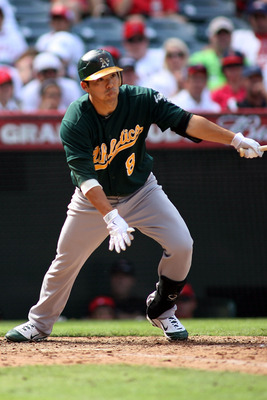 Jeff Golden/Getty Images
An offensively gifted catcher is a rare commodity, and plenty of teams would pay a premium for the chance to have a catcher who can contribute more than behind-the-plate skills. Suzuki is a logical trade target for many teams, as he fits the description of such a catcher. He adds a good, relatively cheap contract, and a team willing to trade him because of the presence of Landon Powell.
If Suzuki is traded, expect a return of an assortment of offensive prospects.
Philadelphia Phillies: Joe Blanton, SP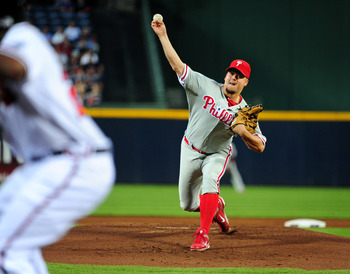 Scott Cunningham/Getty Images
Blanton is the lost pitcher in Philadelphia, a perfectly capable starter who has been missing most of the year and will be buried behind Philly's Big Four and Vance Worley. However, much like many of the other pitchers on this list, he can provide great value to a team willing to part with some depth pieces to acquire him.
Blanton has a $10 million salary, but part of that at least will be consumed by the Phillies as part of the deal.
Pittsburgh Pirates: Ross Ohlendorf, SP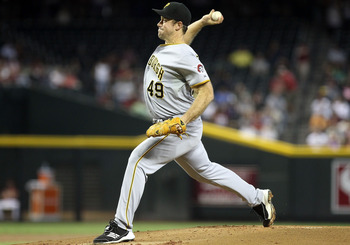 Christian Petersen/Getty Images
Ohlendorf had a terrible year this year, but he has a very friendly contract and could be worth a risk. Another team could see a potential long reliever or spot starter in Ohlendorf, who has had his good moments in the majors and could be traded for a relatively small amount.
From Pittsburgh's perspective, clearing Ohlendorf gives them more room to work with their abundance of prospects, and perhaps gives them a few more.
St. Louis Cardinals: Allen Craig, Utility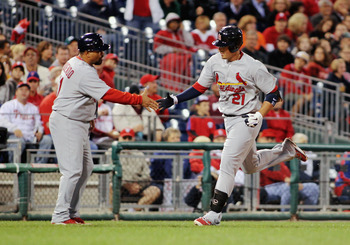 Len Redkoles/Getty Images
Craig's value lies as a utility player, a man who can play the outfield or corner infield. Because the Cardinals will likely be retaining Albert Pujols, the chances of Craig seeing any form of increased playing time are decreasing. He could be traded to a team needing depth or a utility player to start every day.
Though the return will not be much, the partner will be encouraged by Craig's low salary.
San Diego Padres: Brad Hawpe, Outfielder/1B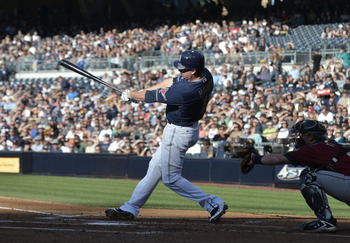 Denis Poroy/Getty Images
Hawpe has done relatively little the past few seasons, but many will remember that he was an All-Star in 2009 for the Rockies, and does have a bat that could potentially come to life. Because of that, Hawpe's salary of just over $1 million could be very attractive to teams looking for some power either off the bench or every day.
San Diego will look to receive some young hitters in return, a wise move for a team still in the process of retooling.
San Francisco Giants: Barry Zito, SP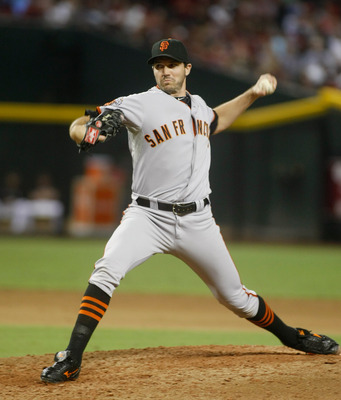 Ralph Freso/Getty Images
Haven't they been trying to trade him since 2005?
Seattle Mariners: Ichiro, Outfielder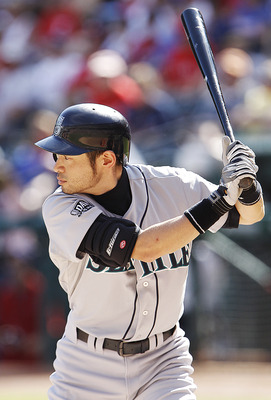 Brandon Wade/Getty Images
That's right. One of Seattle's most beloved players of all time is still a very good player despite aging, but his $18 million salary might be money better spent on a host of younger players.
The youth movement in Seattle has started and has shown encouraging results. Moving Suzuki for young, preferably proven talent would be a smart move for the Mariners. While they would lose a great player, they would also be setting themselves up for long-term success.
Tampa Bay Rays: Wade Davis, SP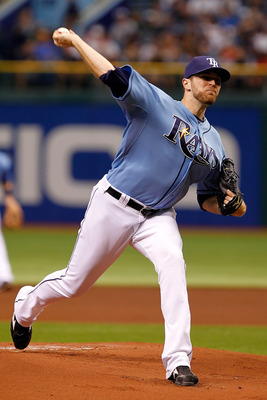 J. Meric/Getty Images
Tampa Bay has a problem that almost any team would love to have—they have too many good starters. With seven potential starters for 2012, including James Shields, David Price, Jeremy Hellickson, Matt Moore, Wade Davis, Jeff Niemann and Alex Cobb, the Rays need to move at least one pitcher.
Davis is the most sensible choice. He is a young, injury-free pitcher who has produced solidly for both of his full seasons. The Rays will look for some power bats in return for this middle-of-the-rotation starter.
Texas Rangers: David Murphy, Outfielder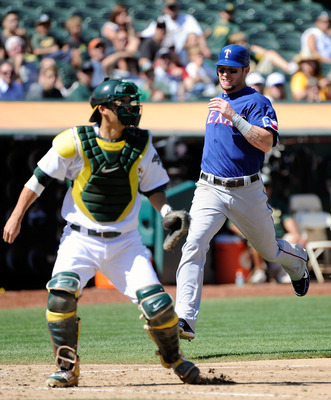 Thearon W. Henderson/Getty Images
In Texas, there is an overabundance of talented outfielders. Based on playing time, it would appear that David Murphy is an odd man out in Arlington. Despite that, he is still a very good player who can be a contributor on many other teams.
Texas would be wise to move Murphy, who could then prove his case for a big contract with a team where he will get some playing time.
Toronto Blue Jays: DeWayne Wise, Outfielder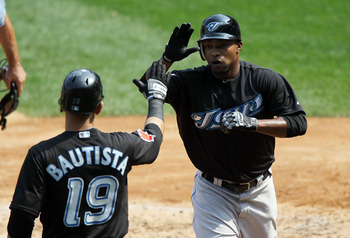 Jim McIsaac/Getty Images
When Toronto acquired Wise, it was clear almost from the get-go that he was a misfit in Toronto. A Blue Jays team that is all set in terms of outfielders really couldn't find a spot for Wise. Because of that, and the fact that he is still a very good leadoff-type hitter, Wise could be a good trade chip for Toronto this offseason.
He is well suited to ballparks with big outfields due to his range, and he should attract some buyers.
Washington Nationals: Adam LaRoche, 1B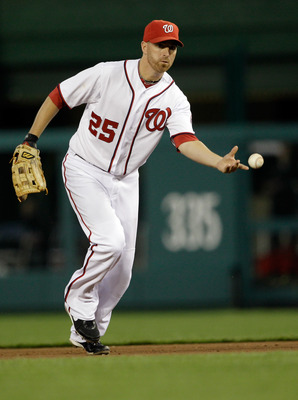 Rob Carr/Getty Images
LaRoche, who had a very good season in 2010, completely flopped in 2011, giving way to Michael Morse for the Nationals. LaRoche, however, is not as washed up as his numbers would suggest. He is still a very capable offensive and defensive first baseman, and Washington could get some decent return, possibly bullpen arms, for this veteran first baseman.
He is unlikely to become a starter anywhere, but he could be a valuable depth piece for whomever acquires him.
Keep Reading