Mark Sanchez: If You Thought Aaron Rodgers Was Embarrassed Before
October 5, 2011
Patrick Smith/Getty Images
What must super-quarterback Aaron Rodgers be thinking after seeing the horrendous performance by Mark Sanchez Sunday night on prime time television before a live studio audience?
Rodgers voiced his dismay at some of Sanchez's white-colored skinny jeans and tank top pictures in a fashion magazine earlier this year. I wouldn't be surprised if reporters asked Rodgers if he was embarrassed by Sanchez's play on the field.
The football and publicity-intelligent Aaron would probably reserve his opinions for a face-to-face encounter with Sanchez this time.
I'm sure the original rock-star quarterback in New York, Mr. Broadway Joe Namath, is embarrassed—not so much by the Sanchez photo shoot, by the shoots and misses on the gridiron by the third-year quarterback.
Coach Rex Ryan has to be ready to shoot his last wad as well. Contemplating a quarterback change for the brash New York Jets never came easier than after last Sunday night.
Sanchez's numbers weren't worthy to be praised. Not even if the game had been played on the true Sabbath (Saturday, for those who care) should Sanchez's statistics be worshipped by his most blind followers.
His stats from the Ravens game should be eulogized by the raptured Edgar Allan Poe.
Sanchez completed a preposterous 31.4 percent of his passes against the Baltimore Ravens—11 completions on 34 attempts. He rushed for an average of one yard per carry and lost three fumbles.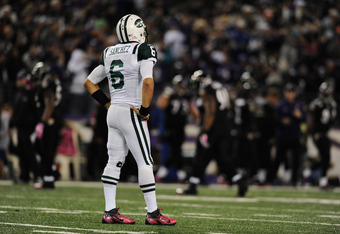 Patrick Smith/Getty Images
So far this season, he has passed for six touchdowns and five interceptions for a quarterback rating of 75.9. His career rating is 71.
Drew Brees' career quarterback rating is 92.1, Peyton Manning's is 94.9, Tony Romo's is 95.3, Tom Brady's is 95.7 and rookie Cam Newton's is 84.5.
Sanchez has fumbled the ball 25 times since he was a rookie. This year already, he's lost the same number of fumbles (four) that he did in 2009 and 2010 combined. He only lost one last season and three in his rookie season.
The obvious numbers reveal that Sanchez's digression is well under way. I don't believe he can lead the Jets to a Super Bowl this season, and I'm not alone. Jets fans have been voicing their disapproval of his play since the Jacksonville game.
If you're truly wondering if Sanchez will be benched, I don't believe so. His backups are Mark Brunell—who is 41 years old—and Kevin O'Connell—whom almost nobody's ever heard of, or wants to see throwing the ball to Plaxico Burress or Santonio Holmes, except San Diego State Aztecs alumni and fans.
To be fair to Sanchez, the Ravens were playing some of their best football of the season. When they followed their own quarterback Joe Flacco's careless fumble with a pick-six on the very next play, it was obvious they were on point.
The first play of the game for Sanchez also resulted in a sack-six point—a sack-fumble and a touchdown courtesy of the future Hall of Fame safety Ed Reed, who blitzed from the edge to start the show under the bright lights of Sunday Night Football.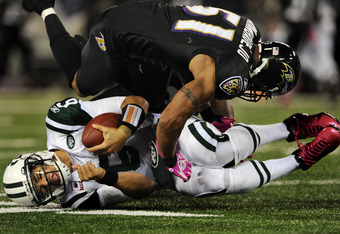 Patrick Smith/Getty Images
There were two future Hall of Fame former Hurricanes on the field—Reed and Ray Lewis. Sanchez felt their rushing storms on almost every play.
If Sanchez is playing starting quarterback at the end of the season, I'd be embarrassed for the Jets. If they want to be the best team in the league, then New York has to get a more efficient quarterback.
The Jets have one of the best defenses in the NFL, but their passing game is—rhymes with dissing—people off and embarrassing Aaron Rodgers. Aaron could be thinking Sanchez should either become a permanent model or play quarterback in skinny jeans-pants.
Contact Lake Cruise: Lakecruise@att.net