Colts vs. Buccaneers: 5 Second Half Adjustments Buccaneers Should Make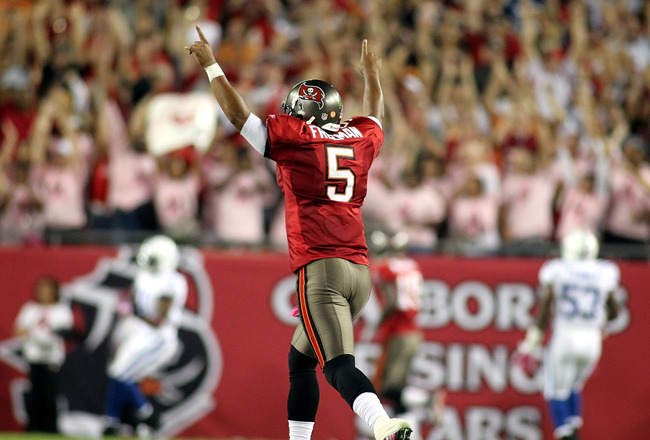 Marc Serota/Getty Images
To be honest this game has had a bit more excitement than expected. The winless Colts have showed some fight and lead the Buccaneers 10-7 at halftime.
Curtis Painter is playing better than expected and had one long touchdown pass to Pierre Garcon that may or may not have counted. It's unclear whether or not Garcon stepped out of bounds, but the play was reviewed and upheld.
Tampa Bay has looked out of rhythm and seems to be struggling against the inspired defense of the Colts.
Here's a look at what Tampa Bay needs to do in the second half to get a win at home.
Use the Screen Pass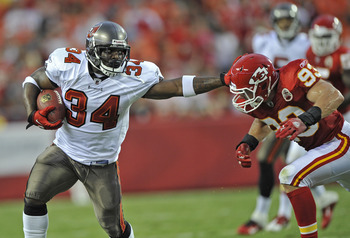 Peter Aiken/Getty Images
Earnest Graham has been mixed a few times this evening in the passing game, and one of those times went for a long play just towards the half. With LeGarrette Blount not finding a ton of running room, this may be a viable option to begin getting some skill players in space.
Get Mike Williams the Ball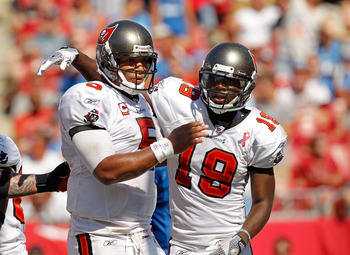 Mike Ehrmann/Getty Images
Mike Williams has had four targets and two catches on the night. Josh Freeman should be looking his way early and often starting in the second half. Williams is easily the most talented skill player on the Buccanners roster, and he needs to get more touches.
Get More Pressure on Painter
Marc Serota/Getty Images
The Tampa Bay defense has done an okay job and has forced one fumble. Painter hardly has any experience and with more pressure should be prone to mistakes.
Use the No Huddle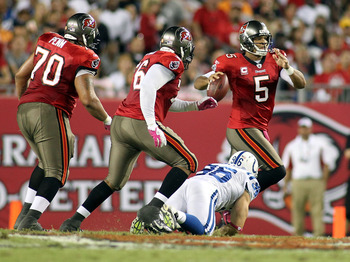 Marc Serota/Getty Images
The offense hasn't had much rhythm and going to the no-huddle early in the second half could be a way to get some. The Colts defense was already starting to look tired towards the end of the first half, and this could be a way to keep them on the field and drive down in a hurry.
Put Eight Men in the Box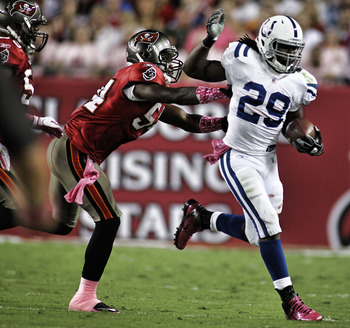 Marc Serota/Getty Images
Why stop at eight, even try nine. Make Curtis Painter beat you. Stop the run and force him to throw the ball. Tampa Bay's corners are good enough to be left on an island, and if need be, they can always proved the elder Ronde Barber with safety help.
Keep Reading