Stephen Garcia: Benching Adds to Legacy of Missed Opportunities
October 4, 2011
Streeter Lecka/Getty Images
The South Carolina Gamecocks came into this season with high hopes. With all the talent they had returning, there were many that had them pegged as a Top 10 team with an outside chance at competing for the SEC title.
Things this season started off well, but the Gamecocks were undone—as they so often have been over the last few seasons—by enigmatic quarterback Stephen Garcia.
Garcia came to South Carolina as the quarterback that was going to take the program to the next level.
Steve Spurrier pulled the four-star quarterback from Tampa out from under the noses of programs like Oklahoma and Florida.
But Garcia has given Spurrier and the Gamecocks one headache after the other.
Garcia has been suspended on five different occasions and his production on the field hasn't been anything to write home about.
In his three seasons prior, Garcia had tossed 43 touchdowns and 32 interceptions. Garcia's biggest issue has always been turning the ball over. Every step forward he took to improve in this area was always closely followed by two steps back.
This season, he currently leads the nation with nine interceptions. I'd consider this a step back.
Most recently, Garcia was a chief reason the Gamecocks dropped an ugly game to the Auburn Tigers. Garcia only completed nine of his 23 passes for 160 yards. He had a touchdown, but he also threw two interceptions.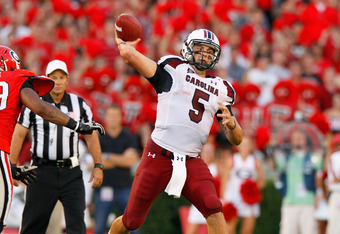 Kevin C. Cox/Getty Images
It was that performance that served as the last straw for Spurrier. Brad Senkiw of the Anderson Independent Mail reports that Spurrier is going to bench Garcia in favor of Connor Shaw:
Gamecock coach Steve Spurrier announced Monday that sophomore Connor Shaw will start against Kentucky, replacing ineffective fifth-year senior Stephen Garcia.
Shaw got the start in South Carolina's season opener. He has struggled in the time he has seen so far this season, but Spurrier clearly wants to send a message to Garcia.
I'm not sold that this arrangement will last. If Shaw was the answer at quarterback, Spurrier would have stayed with him longer earlier in the season. Garcia is the most talented quarterback on the roster and he knows the offense well. He clearly gives the Gamecocks the best chance to win.
The Gamecocks just wish more of those chances actually turned into wins.