SEC College Football Preview: Looking Ahead to No. 15 Auburn vs. No. 10 Arkansas
October 4, 2011
Streeter Lecka/Getty Images
How do you like your college football offense? Do you like watching a workhorse get 30-40 carries in a game? Or do you like watching a quarterback attempt 30-50 passes in a game? However you like your offense, the Auburn vs. Arkansas game should fill your Saturday with plenty of excitement. 
The Auburn Tigers
Auburn, the 2010 BCS National Champions, started the 2011 season with a comeback victory over Utah State, 42-38, at Jordan-Hare Stadium. The Tigers had to score twice in the final 2:07 of the game for the win and have been fighting for national respect every since.
The following game, the Tigers extended their winning streak to 17 games with a home win against 16th ranked Mississippi State. Auburn's defense stuffed MSU quarterback Chris Relf with 10 seconds to play at the goal line to hold on for a 41-34 victory. Still, no respect was given to Auburn. Everyone was waiting for an Auburn collapse as they only had five starters returning from last year's team.
Unranked Clemson brought Auburn back to reality with a 14-point beating in Death Valley. Finally the real Tiger team was exposed and no more late game heroics could save them. Or did Auburn just happen to lose 38-24 on the road to a really good team?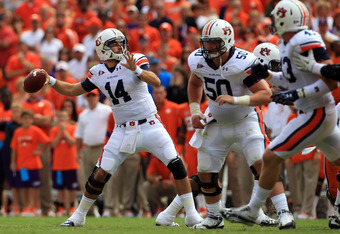 Streeter Lecka/Getty Images
Clemson has won three straight games over ranked opponents and are now ranked eighth in the nation.
Auburn was given an "adjustment game" against Florida Atlantic, winning 30-14, before starting a tough four-game conference schedule against teams that are all featured in the Associated Press Top 25; at South Carolina, at Arkansas, vs. Florida, at LSU.
Auburn fans would hope for a 2-2 record through this tough stretch. Auburn players are wanting more than that, they're for real and they want the rest of the world to take notice.
The Tigers had nothing to lose but everything to gain when facing No. 10 South Carolina at Williams-Brice Stadium in Week 5 action. The game would be a matchup of two of the top running backs in the SEC and in the nation, Auburn's Michael Dyer and South Carolina's Marcus Lattimore.
Auburn's late game heroics were far from over. A nine-yard Barrett Trotter touchdown pass with 1:38 left in the game would give the Tiger's a 16-13 win.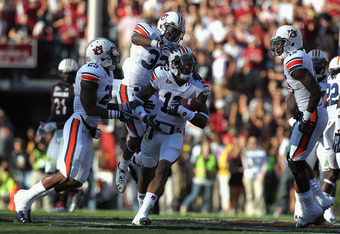 Streeter Lecka/Getty Images
Michael Dyer would win the running back battle over Lattimore, finishing the game with 141 yards and one touchdown while setting an Auburn rushing attempts record with 41 carries. Lattimore finished the game with 66-yards on 17 attempts and one score.
The Arkansas Razorbacks
How many injuries does it take to derail a promising Arkansas Razorback football season?
One injury was thought to be enough when All-SEC running back Knile Davis was lost for the season with a left ankle injury during fall practices. Much was expected of Davis after he rushed for 1,322 rushing yards and 13 touchdowns in what seemed like only half of a season last year.
Even with quarterback Ryan Mallett departed to the NFL along with three offensive linemen and their Mackey Award wining tight end, D.J. Williams, Arkansas was given national respect because of Davis and Bobby Petrino's offense. After the injury to Davis, Petrino was left with the task of finding another offensive option. Now college football fans are aware of Tyler Wilson.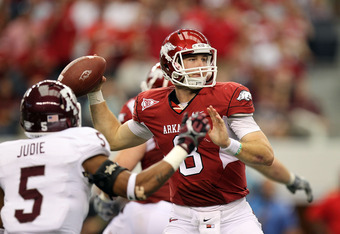 Ronald Martinez/Getty Images
Wilson has been more than impressive as the starting quarterback for the Razorbacks. With limited action in his first two starts, Wilson is still leading the SEC in passing yards (seventh in the nation) with 1,517 yards, second in the SEC with 10 passing touchdowns and has only three interceptions in 172 attempts.
Wilson's go-to receiver, Jarius Wright, leads the SEC with 28 receptions and in receiving yards with 478. Wright's 119.50 receiving yards per game is 10th best in college football.
The Razorbacks had other injuries to deal with on offense other than Knile Davis. Second-string running back Broderick Green, a senior, was thought to be lost for the season when he tore his ACL during spring practices. Dennis Johnson, a 2009 All-American as a kickoff returner, was hurt during the first game of the 2010 season missing the rest of the year. Johnson did not play in the first three games of this season and had limited action against Alabama while recovering from a hamstring injury.
Arkansas started the season with three wins in their non-conference warm-up games; Missouri State 51-7, New Mexico 52-3 and Troy 38-28. Through the first three games Arkansas was never able to find a rhythm at running back with junior running back Ronnie Wingo Jr. as the starter.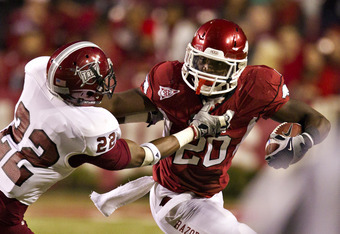 Wesley Hitt/Getty Images
Wingo rushed for 43 yards against Missouri State, 73 yards against New Mexico and 109 yards and two touchdowns against Troy. On short yardage or goal line plays Petrino was using true freshman Kody Walker (Jefferson City, Missouri) instead of Wingo.
Alabama was able to limit Arkansas to 17 net yards rushing, holding Wingo to 35 yards rushing on 11 attempts in a 38-14 loss. Arkansas's offense had become one-dimensional relying solely on the arm of Tyler Wilson.
Green and Johnson both made major contributions against Texas A&M which could be the turning point to the Razorback season. Johnson and Green were able to gain critical first downs in the second half using their tough and physical running styles. Green added two rushing touchdowns, his second touchdown proved to be the winning score for the Razorbacks.  
Arkansas' injury problems have not stopped with the offense. Arkansas has been without both of their starting defensive ends Jake Bequette (missed three games) and Tenarius Wright (injured against Alabama, out 4-6 weeks). Starting cornerbacks Issac Madison (injured against Alabama, did not play against Texas A&M) and Darius Winston (injured during the Texas A&M game) have both missed significant game time. Junior college transfer Robert Thomas, a defensive lineman, was hurt against Texas A&M as well.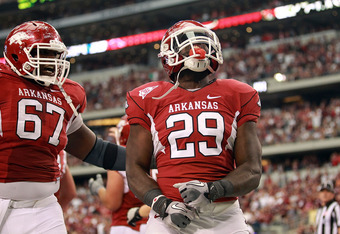 Ronald Martinez/Getty Images
Arkansas' early season has seen Petrino and defensive coordinator Willy Robinson plug and play around key injuries and inexperience on both sides of the ball. Through it all, Arkansas is now ranked 10th in the nation after a 42-38 victory over Texas A&M.
Key Matchups: Auburn vs. Arkansas
Can Arkansas stop Auburn's top running back, Michael Dyer?
Arkansas gave up 381 rushing yards to Texas A&M; Christine Michael 230, Cyrus Grey 95. Alabama ran for 197 net yards against the Hogs; Trent Richardson 126 yards, Eddie Lacy 61.
Arkansas' rushing defense is ranked 82nd in the nation allowing 168.20 yards per game.
Dyer is third in the SEC in total rushing yards with 567 and third in rushing touchdowns with seven. His 113.40 rushing yards per game ranks him 18th in the nation.
Arkansas is expecting defensive end Jake Bequette and cornerback Issac Madison to return against Auburn which should help their overall defensive performance. The Hogs will still be without defensive tackle Robert Thomas and cornerback Darius Winston.
Even if the Razorbacks are at full strength would they be able to slow down Dyer?
Can Auburn stop Arkansas' passing attack?
The Tiger defense is ranked 74th in the nation in pass defense allowing 232.80 yards per game. The only true passing team Auburn has faced this season is Clemson. Clemson quarterback Tajh Boyd threw for 386 yards and four touchdowns against Auburn.
The Razorbacks are 16th in the nation in scoring offense, averaging 39.40 points per game.
Jarius Wright (478), Cobi Hamilton (318) and Joe Adams (235) are all ranked in the top 15 in the SEC for total yards receiving.
Will the young and inexperienced Tiger secondary be able to keep up with the Razorbacks wide receiving unit?
Tiger cornerback Chris Davis was held out of the South Carolina game due to an ankle injury. Auburn will need every available body healthy come Saturday. 
Recent Series History
Over the last five years, Arkansas holds a 3-2 series lead over Auburn. Auburn has been ranked at the time of each game including their 2006 meeting at Jordan-Hare Stadium when Auburn was ranked second in the nation. This will be the second straight year that both teams are ranked at the time of their game and the first time the Razorbacks are ranked ahead of the Tigers.
2010 (12) Arkansas 43 at (7) Auburn 65
2009 (17) Auburn 23 at Arkansas 44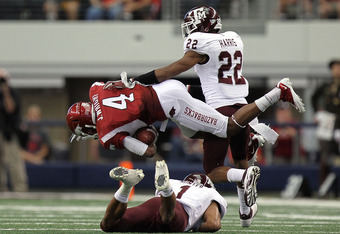 Ronald Martinez/Getty Images
2008 Arkansas 25 at (20) Auburn 22
2007 (22) Auburn 9 at Arkansas 7
2006 Arkansas 27 at (2) Auburn 10
* Rankings in parenthesis
Inside the Game
Auburn has two prized 5-star recruits from the state of Arkansas on their roster, true sophomore running back Michael Dyer (Little Rock Christian) and true freshman quarterback Kiehl Frazier (Shiloh Christian, Springdale). Auburn has been using Frazier in the Wildcat formation for a change of pace on offense.
Auburn offensive coordinator Gus Malzahn is a former Arkansas high school football coach (Shiloh Christian) and was the offensive coordinator at the University of Arkansas in 2006.
Outcome
Both teams are coming off upset wins in their previous game. Arkansas over then ranked No. 14 Texas A&M, 42-38, and Auburn over then ranked No. 10 South Carolina, 16-13.
Was Auburn's defense against South Carolina a sign of their maturation or a poorly executed offensive game plan by USC?
The Tigers will take credit for three Stephen Garcia sacks and his two interceptions. Garcia completed 39 percent of his passes, finishing with a total of 160 yards passing; and lost his starting job in the process. Don't look for Wilson to have similar results.
Marcus Lattimore was held to 66 yards rushing with one score. The Gamecocks also fumbled the ball three times, losing two while finishing the game two for ten on third-down conversion attempts.
The Razorback defense had only allowed one rushing touchdown prior to the A&M game. A&M had an amazing first half, racking up 404 yards of offense and 35 points. Through all of the defensive injuries, Willy Robinson made the correct halftime defensive adjustments making the second half a different game. Arkansas limited the Aggies to three second half points.
Ronald Martinez/Getty Images
The ability to pick up short yardage first downs with the run and control the clock with the running game in the fourth quarter is something the Razorbacks have been missing. Arkansas appears to have found their power running game with the return of Dennis Johnson and Broderick Green.  
Auburn wide receiver Emory Blake did not play a full second half against South Carolina. His ability to play will help shape Auburn's offensive attack. Auburn is already one dimensional with Michael Dyer. If Blake cannot play, Arkansas will be able to stack the box against Dyer.
Auburn's 74th ranked scoring defense yields 27.40 points per game.
Arkansas' defense only allows 22.80 points per game, ranking 48th in FBS. 
Final Score
Dyer runs but not enough as Tyler Wilson exploits the Tiger's secondary for a 38-24 win.