Boston Red Sox: Who Will Stay? Who Will Go?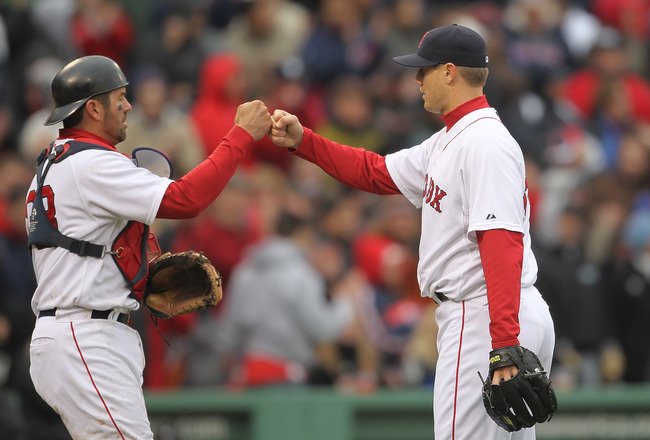 Jim Rogash/Getty Images
September has happened. Terry Francona is gone. Theo Epstein might talk with the Cubs.
As the dust begins to settle on Boston's disastrous conclusion to a once-promising 2011 season, the Red Sox front office will have to being the inevitable task of turning to page to 2012.
Boston's plethora of injuries and underperforming regulars over the final two months of the season opened opportunities for a variety of players, ranging from bench players to waiver-wire pick-ups and from players acquired via trades to some of the organization's top minor leaguers.
Heading into next season, the Red Sox have a number of players up for free agency and eligible for arbitration.
So...who will stay? Who will go?
Jonathan Papelbon (Free Agent)
Jim Rogash/Getty Images
STAY
Jonathan Papelbon hits the free agent market for the first time this winter.
Papelbon, who turns 31 next month, has played his entire career under one-year contracts, and he'll undoubtedly be looking for a lavish long-term deal this offseason.
Papelbon blew two saves in the season's final two weeks, including Game No. 162, however the Red Sox would be foolish not to re-sign the best closer in franchise history. Paps has proven with a string of successful seasons that he is an elite closer who can close in Boston.
The Padres' Heath Bell is a tempting alternative, however Papelbon is a proven commodity, which is a quality of immense importance at his position.
David Ortiz (Free Agent)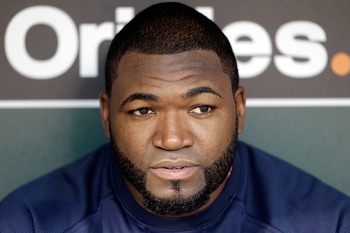 Rob Carr/Getty Images
STAY
David Ortiz proved he still has gas in the tank with his best season in years. His hash-line of .309/.398/.554/.953 are the best numbers he's posted in all four of those categories since 2007.
Ortiz says he wants to stay in Boston, but it will likely take more than another one-year deal to keep Big Papi a Red Sox.
A two-year contract with some sort of option for a third year would seem to be a reasonable demand for both parties.
Jason Varitek (Free Agent)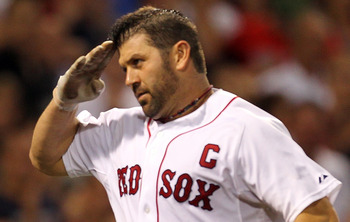 Jim Rogash/Getty Images
GO
Jason Varitek, 39, slid into his backup role this season gracefully.
Not surprisingly, Tek wants to come back for another season.
I do not see this happening with the Red Sox, though.
The Captain will be honorably discharged and will try to catch on with a team that values what he can bring to the table.
What Varitek has brought to the Red Sox organization cannot be overstated; however, he is best-suited with another club if he still has the desire to play.
When he retires, a coaching job in the Red Sox system is his for the taking.
Tim Wakefield (Free Agent)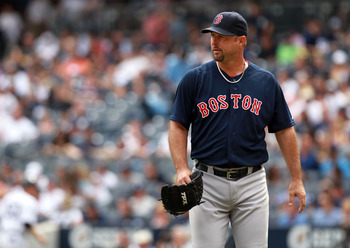 Nick Laham/Getty Images
STAY
Is Tim Wakefield done? The veteran knuckleballer hits free agency this winter, and he may very well retire.
The Red Sox front office ought to have enough respect for Wake to at least offer him a contract.
While it was a painfully drawn-out affair, Wake did record his 200th career win this season.
186 of those are with the Red Sox. Wake sits six behind Roger Clemens and Cy Young, who share the franchise wins record of 192. More than anything else, this milestone has to be what's fueling the aging Wakefield at this point in his career.
Wake hasn't been guaranteed a spot in the starting rotation in years, yet, with injuries and his own tenacity, he's garnered his share of starts over the past several years.
Terry Francona was a chief champion of Wakefield's. Will Wakefield be able to find the same opportunities without Tito at the helm?
I predict Wakefield will at least give himself a shot and the Red Sox will honor him with a one-year contract.
JD Drew (Free Agent)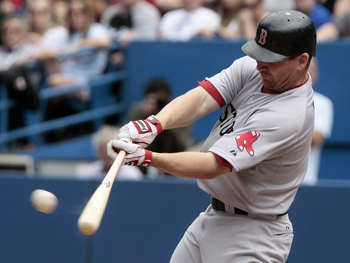 Abelimages/Getty Images
GO
In what will be a surprise to no one, JD Drew will not re-sign with the Red Sox this winter. His infamous five-year, $70 million contract has run its course.
Drew, who turns 36 next month, will likely consider retirement, regardless of what kind of offers he receives from other teams over the next few months.
Jarrod Saltalamacchia (Arbitration Eligible)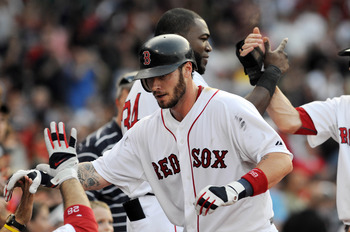 Darren McCollester/Getty Images
STAY
Jarrod Saltalamacchia came into this season with modest expectations and met them, if not exceeded them. He's no star, but he's a sure bet to return.
The Red Sox will pick up his contract.
Alfredo Aceves (Arbitration Eligible)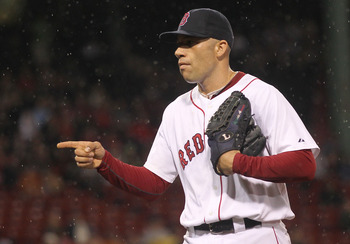 Jim Rogash/Getty Images
STAY
Alfredo Aceves was one of the few bright spots of a bleak September. He's a sure thing on the 2012 roster. He might be considered for the starting rotation next year.
Marco Scutaro (Free Agent)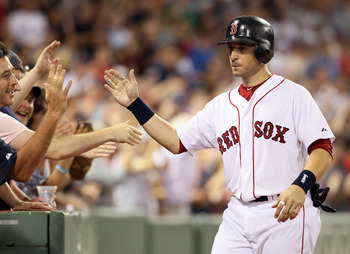 Elsa/Getty Images
STAY
Marco Scutaro has a dual option for 2012. The Red Sox could secure Scutaro for $6 million, or, if the Red Sox decline their club offer, Scutaro could choose to return to Boston at $3 million.
Bet on the Red Sox exercising their club option.
Next season's shortstop situation in Boston figures to shape up similar to how it worked out this past season. Boston will turn to the tandem of Scutaro and Jed Lowrie, who they stand to bring back, to bridge the gap to Jose Iglesias.
The Red Sox could make a run at another free agent (Jose Reyes comes to mind), but Boston would be wise to use their money toward addressing their woeful pitching shortcomings.
Jed Lowrie (Arbitration Eligible)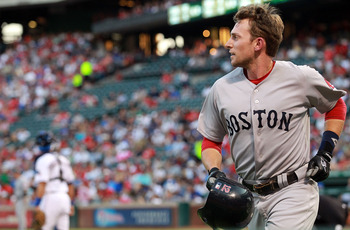 Ronald Martinez/Getty Images
STAY
Jed Lowrie's hot bat and clean health in April and May both proved too good to be true.
Lowrie missed significant time again this season and failed to regain a permanent starting role once he was healthy again.
But Marco Scutaro's health is also no sure thing. And neither is Kevin Youkilis'.
Lowrie will return in 2012 as Boston looks to bridge the gap to Jose Iglesias.
Mike Aviles (Arbitration Eligible)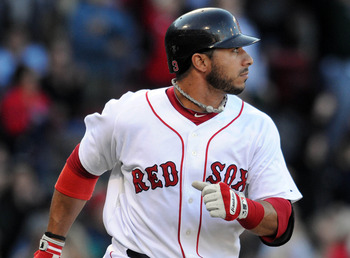 Darren McCollester/Getty Images
STAY
Coming over in a deadline deal with Kansas City, Mike Aviles played well in his two months in Boston. Even if Marco Scutaro and Jed Lowrie are both in the mix, there still figures to be a spot for Mike Aviles.
Between Aviles, Scutaro, Lowrie and Kevin Youkilis, it is Aviles who might be the healthiest of the four. And that counts for something.
Erik Bedard (Free Agent)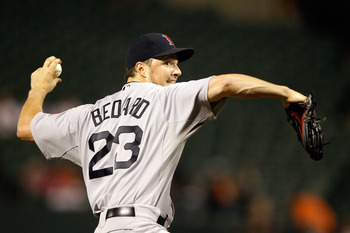 Rob Carr/Getty Images
GO
Erik Bedard was not brought to Boston to be their ace in the hole, so to speak. His results were middling, which, considering his track record in recent seasons, comes as no surprise.
The Red Sox need help at pitching, but Bedard is not the answer.
Matt Albers (Arbitration Eligible)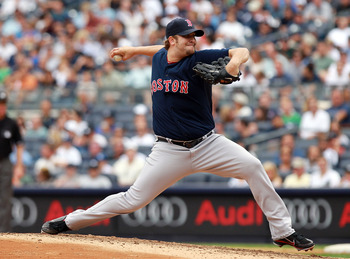 Nick Laham/Getty Images
STAY
Matt Albers seemingly oscillated between being untouchable and terrible. His overall numbers do indeed imply mediocrity, but he was seldom middling.
Boston's bullpen is thin, and while Albers is no great shakes, he is also cheap. (The Red Sox stand to bring Albers back for under $1 million.)
Franklin Morales (Arbitration Eligible)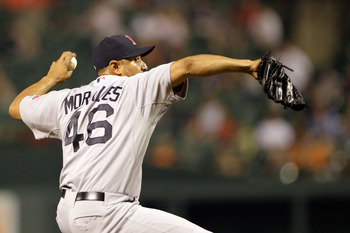 Rob Carr/Getty Images
STAY
Franklin Morales, 25, is a young, hard-throwing lefty with good stuff. There's surely a spot for him in Boston's bullpen in 2012.
Andrew Miller (Arbitration Eligible + Team Option)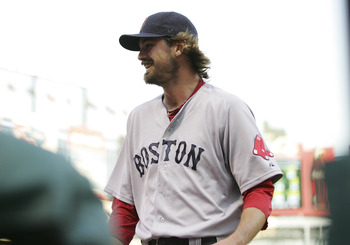 Rick Yeatts/Getty Images
STAY
The returns on the Andrew Miller experiment were certainly mixed, but, with Boston still firmly believing in his upside, Miller figures to be tendered.
Boston will be working from the $1.2 million that Miller earned this season. He is also out of minor league options.
Boston might elect to move Alfredo Aceves to the starting rotation and make Miller their primary long man out of the bullpen.
Conor Jackson (Free Agent)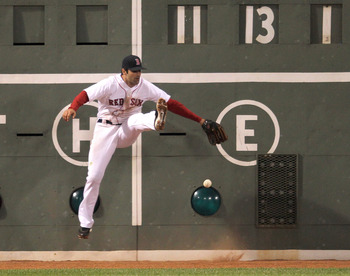 Jim Rogash/Getty Images
GO
Conor Jackson was acquired on Aug. 31 to buy time until an injured JD Drew returned.
Jackson was never part of Boston's long-term plans when he was obtained. He won't be part of the team's future.
Rich Hill (Arbitration Eligible)
Elsa/Getty Images
GO
Rich Hill, a Milton, Mass. native, was pitching well out of the Boston bullpen this spring before tearing an elbow ligament, an injury which required Tommy John surgery in June.
With significant rehab time ahead, Hill, 31, is not a worthwhile project for Boston.
Hill's comeback will likely happen with a non-contender who is more interested in taking a chance on him.
Hideki Okajima (Free Agent)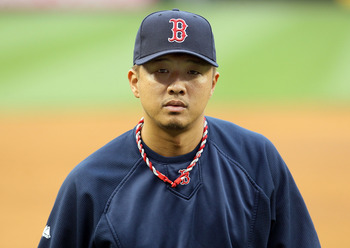 Jim McIsaac/Getty Images
GO
Once a stand-out reliever for Boston, Hideki Okajima, 35, pitched well at Triple-A Pawtucket after accepting a minor-league assignment back in May.
Okajima's success at Pawtucket may yet earn him another shot in the Majors, but its likely not with Boston, who appear willing to move on without him.
Okajima may also elect to return to Japan and pursue his options there.
Drew Sutton (Free Agent)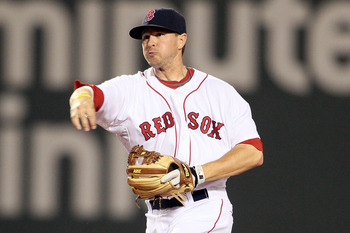 Elsa/Getty Images
GO
He had a nice midsummer stint with the Red Sox this season; however, with Jed Lowrie and Mike Aviles on the table, there is simply no room nor any desire for Sutton in the Red Sox system.
Keep Reading

Boston Red Sox: Like this team?