Philadelphia Eagles and 3 Teams That Will Climb Back Up
October 3, 2011
Rich Schultz/Getty Images
If you are a Philadelphia Eagles fan or you simply know an Eagles fan, I don't have to tell you that things haven't gone quite according to plan so far this season. The group that Vince Young called the "Dream Team" has been anything but.
They are sitting at 1-3, and it appears that their run defense has been uncovered as a weak spot.
But fret not, Eagles fans. Your team will bounce back, along with the two other teams on this list.
Philadelphia Eagles
The thing you have to remember about the Eagles is that they have played a really tough schedule so far. With the exception of the Rams, their one win, every team on the schedule is a "good team." The Falcons, Giants and 49ers all have the look of teams that will be in the postseason race before it's all said and done. 
The run defense is a concern, but it's nothing that can't be fixed or worked around now. No team is perfect. What's important from here on out is that they fix the holes, and you have to have confidence that they will do so.
Even if their defense isn't the powerful unit they thought it would be, they will still win plenty of games. Mike Vick appears to be dealing with his injuries well, and the offense has played well because of it. We haven't seen the last of the Eagles as a playoff contender this season.

St. Louis Rams
I think the St. Louis Rams will bounce back for the same reason I think the 49ers are a playoff contender. The NFC West is so mediocre that all of the teams will get some cheap wins against each other.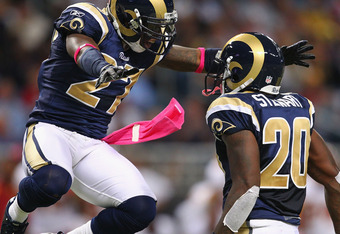 Dilip Vishwanat/Getty Images
The Rams have fallen to 0-4 on the season, but their schedule has been tough. Their one "easy" game has been against the Redskins, a team that has been much better than most anticipated.
At the beginning of the season, I don't think I was alone in thinking that the Rams would be a nine or ten win team. I think that is out the window now, but I'm not ready to write the Rams off as a .500 team. That may very well be enough to win their division.
Pittsburgh Steelers
Even in the Steelers' wins, they haven't looked quite right. The offensive line issues that have plagued their offense from time to time over the last several years have returned with a vengeance. Ben Roethlisberger has taken a beaten so far this season.
Their talented, physical defense, so long the Steelers' calling card, hasn't been quite as sharp either. I'm not going to go so far as to say that they have played badly, but they just haven't been as dominating as they have been in the past.
As far as I'm concerned, though, the road to the Super Bowl in the AFC still goes through Pittsburgh. As a team, they have been there and done that enough times to keep their role as favorites.